The John Egan Traditional Music Festival 2005
A highly successful Ballintogher Feis has just concluded. Judging of the art competition took place on Friday October 28th .There was a substantial entry with all the local schools represented.On Sunday October 30th the dancing competitions were held in the community centre and dancers came from all over the North West and Northern Ireland. The adjudicator was Margaret McBride from Galway and the accompanying musician was Bríd Donnolly from Monaghan. The music and singing competitions were held in the school and also attracted
performers from a wide area. Sean Sweeney and Sean Farrell from Manorharnilton
were the adjudicators for music while Ann Ruane judged the singing.
The beautiful village of Ballintogher County Sligo, hosted the 8th Annual John Egan Traditional Music Festival on the weekend starting Friday 4th November 2005.
The weekend began on Friday night, with the official opening of the festival in the Community Centre at followed by a traditional concert.
The Official opening was performed by Martin Enright, Chairman Sligo County Board Comhaltas Ceoltoiri Eireann.
The concert featured all the workshop tutors for the weekend plus musicians,dancers and singers from the Fred Finn Branch of Comhaltas and a host of musicians from the Sligo Leitrim area.
On Saturday November 5th, a series of workshops were organised to give people an opportunity to learn dancing steps, improve their skills on a musical instrument, learn some songs or to speak basic Irish.
Padraig Rynne from Clare conducted a workshop on the concertina, Michael Rooney took the harp workshop, Paddy Ryan on fiddle, Sean Carroll on button accordion, June Mc Cormack on concert flute, Colm O Donnell on whistle, Jarlath Brennan on banjo, Darragh Kelly on drums, Eileen Mc Cormack on bodhran. Grainne Kelly-Freyne conducted a workshop on ceili, set and two hand dances, Frank Finn took the singing workshop and Margaret Roddy lead the comhra group.
Numbers attending the workshops increased significantly this year. Following the workshops there was a singing session in Higgins Lounge at 4.30 pm and this proved very enjoyable. On the Saturday night there was a full house for the ceili at which the Swallow's Tail Ceili Band provided the music.

The Leitrim Ceili Band were featured in a special tribute in the Community Centre on Sunday evening November 6th.
At the function, many tributes were paid to the members of the Leitrim Ceili Band. A special souvenir booklet was produced by the hardworking organizers of the festival. The following article from the booklet is shown below.
Click here to see pictures from the weekend
The Leitrim Ceili Band
The Leitrim Ceili Band was formed in 1962. Some of the members were involved in other groups prior to the formation of the band. Mick Wynne, a publican in Drumkeerin encouraged them to form
the band. The original members included Kevin Mc Tiernan on flute, Michael Carroll on button accordion, Michael O Brien on button accordion, Joe (Lackey) Gallagher on fiddle, Michael John Mc Tiernan on drums and he also was the singer, Francey Harrison on flute. John Carroll was drafted in as drummer and singer and Pakie Deignan played occasionally with the band. The band was named by the late Fr.Owens.of Sooey. They played at ceilithe in all the local halls -Creevelea, Sooey, Ballinagar , Drumkeerin, Drumshanbo, Arigna and Tubbercurry. The 60s and 70s was the era of marquee dancing and the band played in marquees in Ballintogher, Sooey, Ballinafad and Ballyrush. In the early years the only band member who had a car was Michael O'Brien and he would transport the whole band to the different venues. When Michael Carroll got a car the transporting was easier . There was a bit of confusion about the name of the band as there was another Leitrim Ceili Band in Galway led by Joe Burke. Michael Carroll remembers the band playing in Tubbercurry and overhearing some people in discussion wondering which of the band members was Joe Burke -they were saying that he (Joe Burke) must have shaved off his beard and they concluded that the one who looked most like him was Michael O Brien. Michael Carroll did not give information to any of the group -he felt it might lead to a row if it was discovered that the band was playing under a similar name. Payment in the early days was 6 pounds for playing from 9 to 1 and Michael Carroll acted as treasurer and paymaster . When ceilithe began to decline and the singing lounges became prevelant the members of the Leitrim Ceili Band divided into smaller groups and have continued to provide traditional entertainment in new settings.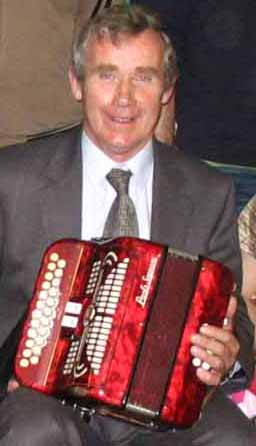 Michael Carroll
The Carroll family were reared in Tullynascreena. There were 12 in the family -2 boys Michael and John and 10 girls -Mary Ellen, Lily, Phyllis, Kathleen, Christina, Teresa, Ita, Patsy, Josephine, Winnie. Their parents were John and Mary Bridget. John played several musical instruments including whistle, flute and button accordion. His wife Mary Bridget Kelly was a near neighbour. The family used listen to the gramophone and to a radio programme called Job of Journeywork. Many local musicians visited the Carroll household including Sonny Jackson who played fiddle and accordion and Pakie Keegan who played button accordion. Other visiting musicians were Seamus (Sonny) Horan, Joe Lackey Gallagher, Alfie Joe Dinneen, David and Josie Sheridan, Hugh Daly, Denis McMorrow, Hughie Donagher and Pat Hugo Kelly. Michael Carroll Michael started playing music on a single row melodeon at the age of 10. The melodeon was bought in Kellys, Kilcock and was a Christmas present in 1953. He learned a lot of his music from his father. Michael first played with Martin Mitchell and Hughie Gillen who used visit the Carroll house. Other musicians with
whom he played in his youth included Michael Clancy and David Sheridan from Lavally and Michael O Brien from the Black Road. Michael Carroll is married to Margaret Mc Gloin from Glenade. They have 6 children 3 boys- Sean, Declan and Gerard and 3 girls Mary, Denise, & Noelle. All of his family were introduced to the music -the interest remained with Sean who plays the button accordion and Noelle who plays the flute.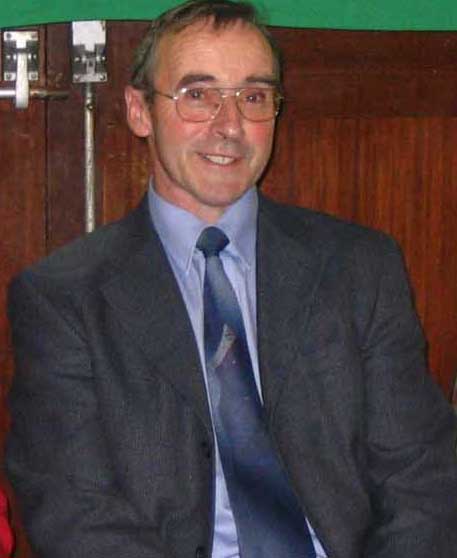 John Carroll
John was the drummer in the Leitrim Ceili Band and he also doubled as singer. He is married to Kathleen. She was originally Kathleen Regan from Drum East, Glencar and a member of another musical family, which includes well known accordionist, John. They have 4 boys Shane, Adrian, Kieran and Raymond. All his family have played music.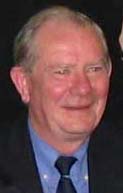 Kevin McTiernan
Kevin Mc Tiernan was born in Sligo town and the family moved to Lisgavneen Co. Leitrim. He worked for a short while in the forestry and in 1964 he joined the nursing staff of St Columbas hospital where he still works. His mother was Margaret Feeney from Killavoggy and his father was Charles McTiernan. He had two brothers Cathal RIP and Christy and four sisters Maureen, Kathleen, Margaret, Pauline. Kevin was interested in music from a very early age and at the age of 4 he remembers visiting his grandfather's house, Charlie Mc Tiernan who played fiddle, flute and melodeon, and his father holding him up to see and hear the gramaphone playing with the light from the oil lamp. Kevin also remembers the local men lilting tunes and singing songs while working out in the fields. For his 9th birthday he got a Clarkes Tin Whistle, purchased in Fureys, Drumkeerin for 1 shilling and 6 pence. At the age of 14/15 he started playing with Michael O'Brien of Corderry who was then living in Lisgavneen. There is a family connection between the Mc Tiernans and the O Briens. Kevin's Aunt married Michael's brother John O'Brien parents of button accordion player, Kevin. The first music group that Kevin was involved with included Seamus Horan, Tom Gallagher, Tom Sheerin, Joe Lackey Gallagher, Hugh Daly, Denis McMorrow, John James Doherty, Gerald Clancy and Malachy Gallagher . Kevin is married to Lily Carroll. They have 5 children, 4 boys -, Enda, Jarlath, Carl, Kevin óg and 1 girl- Mairead. Jarlath is a well known musician on the uilleann pipes.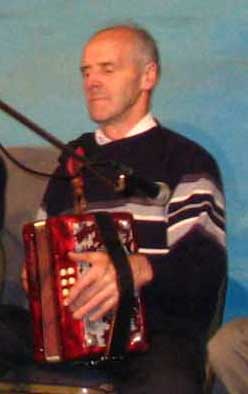 Michael O'Brien
Michael O'Brien Corderry, Creevelea, Co. Leitrim was born at Lisgavneen, Drumkeerin and moved to Corderry in 1967. He was one of a family of 10 -3 boys -Michael, John RIP, Jim and 7 girls Mollie, Bridie, Maggie RIP, Lizzie, Annie, Katie RIP, Nora. His mother, Brigid Kelly, was a native of Killargue, Dromahair. She was a fine traditional singer. His father was James O Brien. Michael loved music from a very young age and he used visit John Gallagher's house at Lugmelton, Drumkeerin, and listen to John playing the whistle. His sister Katie would bring records from England and these were played on the gramaphone. At the age of
seven he gave Michael lessons on his own whistle. Michael was , longing to get a whistle of his own and he was wondering for some time how he would get one. Michael's weekly task at the age of ten was to bring an ass load of turf to Drumkeerin. He would be paid 2/6(half crown) for the turf and out of that he had to bring two ounces of tobacco (half quarter) at 1/7p and the remainder was for his father's weekly card game in Keaveney's Shop. On one particular Tuesday before he went to Drumkeerin he asked his mother if he could buy a Clarke's tin whistle in Furey's Shop, Drumkeerin. Michael purchased the whistle for 2/6 and he had no money or tobacco for his father and he was rather nervous going home to tell the news -his father was a little angry having no smoke, but was subsequently delighted that Michael started playing music. When Michael was aged eleven or twelve, his sister, Bridie, brought a two-row button accordion from Dublin to Michael's mother. She was unable to play it, but after a few years Michael started trying tunes he was taught by Pat McTiernan from Lisgavneen. Pat's nephew is the well known flute player, Kevin Mc Tiernan. At fourteen years of age he played the fife in a Fife and Drum band in Drumkeerin. This band was organised by John James Doherty and some members of this band were John Gallagher, Pakie Ford on the big drum, Thomas Gallagher, Joe Gallagher, Denis McMorrow, Michael McKeown, Michael McPadden, Gerald Clancy. When Michael was aged about seventeen he bought his own Paolo Soparani in Geraghty's, Carrick on Shannon. It cost £26 and Michael says he got a free case with it. From the early 1960s Michael played with the Leitrim and the Bush Ceili Bands. One of Michael's musical partners for many years was the well known fiddle player from Tawynelea, Seamus Horan. In 1972 Michael married Philomena Foster from Dromahair. They have 3 children -Fiona, Damien and Colm. The music continues in the next generation and the family have recently released a CD of their music entitled Top of the World. Michael plays regularly with Harry Mc Gowan from Carrowmore, Joe Clancy from Ballymote and Pat Sweeney from Creevelea.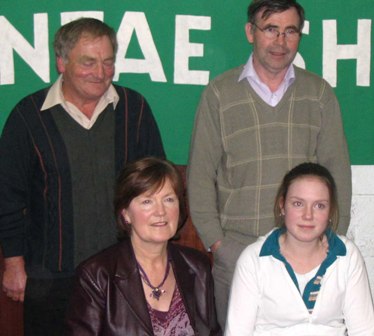 Family of the Late Joe Lackey Gallagher
Joe Lackey Gallagher was born in June 1918 in Cloonamurgal, Drumkeerin Co. Leitrim. He went to school in Lisacoghil. His mother was Mary Ann Barton, Greaghnaslieve, Drumkeerin. His father Malachy Gallagher was called Lackey, as there were a number of Gallagher families in the area. When Joe was born he was also called Lackey -hence Joe Lackey. There were 5 in Joe's family- John, Delia, May, Peter and Joe. He learned his first tunes from Seamus Horan's father- Jimmie Horan who played the accordion. Other musicians who were playing at that time included Dan (Fildy) McGowan, flute player, in Creevelea, Dan McNiffe who played flute and Hugh Daly. Joe bought his first fiddle in Tom McGivney's, shop in Drumkeerin for 10 shillings. He did a number of recordings on R. T .E. -He played on R T .E. on a childrens' programme called "Four Green Fields" and he received £5.00 for each session. He was also by recorded for radio by Ciaran Mac Mathuna and Seamus Ennis. Joe worked with the E.S.B. in Ballyshannon for a while and later with his own lorry he delivered coal from Arigna. He was involved in a number of ceili bands, the first being The Black Diamond Ceili Band. The drummer on this band was the late Stephen Fallon. Joe then set up his own band called Joe Gallagher's Band. Other musicians involved in the band were -John James Doherty -flute, Michael John McTiernan-drummer, Seamus Horan -fiddle, Hugh Daly-Accordion, Mick Leddy- Accordion. He became a member of the Leitrim Ceili Band in the early 1960s. Joe married Beatrice McMorrow from Creevelea in 1945. She was a neighbour of the late Seamus Horan. They had 3 children -Padraig who lives in Cloonamurgal, Drumkeerin, Patricia (Gallagher ) Colwell who lives in Ballyjamesduff, Cavan and Marian (Gallagher) Ward who lives in Dublin. Patricia' s family of four have a keen interest in music. Joe's fiddle is in Patricia Colwell's house and is being played by his grandchildren.. Joe died on lst Feb 1979 -He played music on the previous weekend for 3 nights -Friday, Saturday and Sunday just a few days before he died.
Francis (Francey) Harrison was born in Killavoggy. He was interested in traditional music from an early age and he was an accomplished flute player. Before joining the Leitrim Ceili band he played with Joe (Lackey),Gallagher-fiddle player, Hugh Daly-accordion player, Denis McMorrow- accordion player and Michael John McTletnan all from the Killavoggy area. His father was Owen Harrison from Killavoggy and his mother was Margaret Bruen was from Gleann, Arigna. There were 5 in the family -3 girls and 2 boys. Francy farmed and worked with the E.S.B. for some years. He died in 1991. His brother John Joe lives in the family home in Killavoggy.
Michael John Mc Tiernan lived in Tullycooley in the Killavoggy area. His son Padraig recalls him playing the drums and singing with many groups in the Leitrim area including The Merry Folk, the Joe Gallagher Band and the Leitrim Ceili Band. He also played with Pat Sweeney (banjo player) and John Hamilton, Manorhamilton. He worked as a postman in the Killavoggy and Dromahair area -he was known as the friendly postman. His wife was Kathleen O'Donnell from Drumkeerin. They had 3 children Eileen RIP , Ann and Padraig. Michael John died in 1993.
Click here to see pictures from the weekend