Main Page .. Our House .. Conservation .. Thatch .. Journal .. Contact Us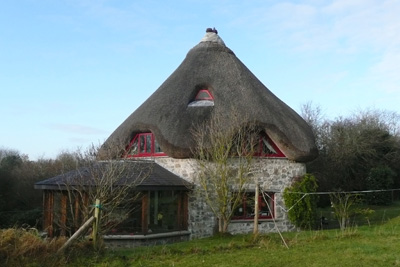 1988 the original farmhouse burnt down. We wanted to build a round house to replace it but after thinking about it a little we decided that, given that our ancestry locally is both Norman and Celtic, a multisided house would be a suitable compromise.
Eventually, liking the six sided cell structure as well as the numerology connatations of the number, we decided a hexagonal shape would be appropriate. We chose stone and thatch as they are the traditional materials of the locality.
Down went the foundations and the whole concept evolved with all the problems of design and construction being solved as we went along. The stone came from the old house, the timber for the roof from a friend's forest and the thatch we grew.
It was an absorbing project and took a few years.
We moved in in 1993.
The house is open plan with a central fireplace heating radiators around the walls . Bedrooms and office are upstairs and there is a loft for storage. Later we added a conservatory and all in all it is a great house to live in : being warm and bright in winter and cool and open in Summer.
All images and page content is (c) to the creators.