Walking the Labyrinth
An opportunity to discover this mystical tradition: the Christian Walking Meditation.
We are all on a journey- walking a sacred path - exactly where we need to be at each moment. The labyrinth is a metaphor for this journey, a symbol that creates a sacred space and place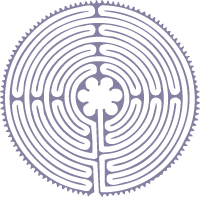 where we can be met by the 'One' who has lovingly brought us into existence. The labyrinth provides an opportunity for us to be met by the 'One' who wants to accompany us on our journey and desires to nurture our souls. For this reason, labyrinths have graced many of our great cathedrals since the Middle Ages. The labyrinth pictured on this page is a copy of the labyrinth laid into the floor of Chartres Cathedral around A.D 1220.
The power and potency of this symbol for spiritual growth has been deeply experienced by members of the Grace Dieu Team who for this reason invite guests to experience this transformation for themselves by walking the Grace Dieu Labyrinth.
---
Labyrinth Links
Here are a few links to other pages with information about labyrinths

Click a Button to Connect to a Link

St Louis Project - create your own labyrinth

Grace Cathedral Labyrinth

Virtual Labyrinth - walk the Labyrinth on-line