Museveni has ordered the army to resume full attack operations 30 April 03
Uganda's President Yoweri Museveni has ordered the army to resume full attack operations against the Lord's Resistance Army (LRA) rebels, formally ending a limited ceasefire that was declared in March so that peace talks could go ahead.

Unicef Deeply Concerned
By Abduction of Children As Ceasefire Breaks 30 April 03
The head of the United Nations Children's Fund today expressed deep concern over reports of renewed abductions of children and women by the Lord's Resistance Army (LRA) following the recent breakdown of a ceasefire in northern Uganda, and called on all parties to the conflict to do everything in their power to secure the immediate release of all kidnapped.

Renew Kony Talks, Govt Urged 30 April 03
RELIGIOUS leaders have asked the Government to find neutral ground for peace talks with Joseph Kony's Lord's Resistance Army (LRA) rebels

World Court Yet to Decide On DRC Case 30 April 03
THE Attorney General, Francis Ayume, has said the International Court of Justice (ICJ) is yet to decide on how the DR Congo case filed against Uganda for illegal occupation, should proceed

Rebels Attack Gulu Mission 26 April 03
The Lord's Resistance Army rebels on Friday attacked Gulu Cathedral, the headquarters of the Catholic Church in northern Uganda.

Rebels Attack Kitgum Mission 25 April 03
Rebels of the Lord's Resistance Army on Wednesday attacked Palabek-kal mission in Lamwo County in Kitgum.

Peace Process Crumbling in North 25 April 03
Talks have all but collapsed between Uganda's government and the troublesome rebel Lord's Resistance Army (LRA), as both sides take to the bush to resume full hostilities. But have they really blown their last chance for peace?

Time to leave Congo is yesterday 15 April '03
The Democratic Republic of Congo is posing more than a tactical problem. From 1995 to-date, between two and three million people have perished in the Congo. This is more than twice the number of people killed in the decade-long insurgency in northern Uganda, and more than three times the number killed under ex presidents, Milton Obote and Idi Amin.

700 Suspects Held Illegally, Says Rights Group 15 April '03
THE Foundation for Human Rights Initiative (FHRI) has said there are at least 700 suspects arrested under Operation Wembley being held in Makindye Army Barracks and other ungazetted places.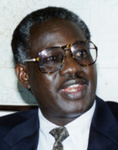 Gov't Expels UN Refuge Boss 15 April '03
Government has ordered the representative of the United Nations refugee agency to leave the country within days.


Acholi Deaths to Continue - LRA 14 April '03
THE Lord's Resistance Army Deputy Commander, Vincent Otti, on Saturday said the Acholi would continue to die if they supported the Government's stand that the peace contact zone be Lapul sub-county, Aruu county in Pader district only.

Museveni abandoned Luwero, says Ssemo 14 April '03
"Thousands of people were killed here in Luwero in the struggle for freedom and democracy," Mr Ssemogerere told people in Luwero district at the weekend. "[But] we are now experiencing Movement repression like we did in Obote II regime."

Oil Reserves - A fortune or a curse? 14 April '03
I know not of an oil rich country that is governed democratically. Nor where the rulers' terms are limited. Let those who value democracy watch out about the Tooro oil and resist extended terms. It is do or die; it is now or never - FOR "THIRD WORLD" UGANDA'S FREEEDOM AND DEMOCRACY!

The EU Condemns The Massacre of Civilians in Drodro, Congo 14 April '03
The European Union strongly condemns the recent acts of military aggression in and around Drodro, in the Ituri Region, in the North-Eastern part of the Democratic Republic of Congo, which culminated in the massacre of hundreds of civilians and expresses serious concern about the grave humanitarian consequences for the Congolese population.

American NGO Blacklisted for Inciting Refugees 14 April '03
THE International Rescue Committee (IRC), an American relief agency, has been blacklisted over allegations of inciting refugees against relocation from Kiryandongo to a new resettlement area in Nebbi.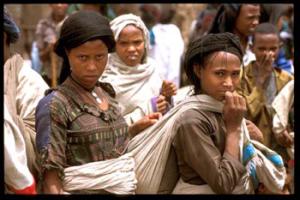 While the world's
not watching 14 April '03
Many members of Mr. Bush's own anti-Saddam Hussein Coalition of the Willing were criticized for having "poor" human-rights records. Among them were Uzbekistan, Azerbaijan, Colombia, the Dominican Republic, Georgia, Macedonia, Rwanda, Uganda, Ethiopia and Eritrea. Strategically located at the lower end of the Red Sea, Eritrea was visited earlier this year by Secretary of Defense Donald Rumsfeld and now maintains a major American troop presence. If Mr. Rumsfeld objected to Eritrea's imprisonment of journalists and government critics, his words had no discernible effect

Cheering crowds don't make an unjust war right 14 April '03
In 1970, I was on the streets of Kampala with hundreds of thousands of others screaming and dancing for joy the day Idi Amin came into power, placed there by the US, the UK and Israel. Mobs are not dependable nor good at foresight when momentous changes take place. Go re-read Shakespeare's Julius Caesar. And another lesson: Uganda was liberated by Ugandans and Tanzanians, with our encouragement, not by a foreign force supported by exiles living safe lives. Amin was as devilish a dictator as Saddam.

Museveni Must Read the Signs of the Times 13 April '03
Museveni's first executive order was to de-legitimise the activities of Uganda's former political parties, replacing them with the single party rule of the National Resistance Movement (NRM). For a while Ugandans agreed to get along, having for two decades suffered from unbroken and intense political turmoil, anarchy and civil war.

3.3 Million Dead in Africa's Bloodiest Conflict 11 April '03
With the world preoccupied with the war in Iraq, however, news of the killings in Ituri and the International Rescue Committee's latest report were buried on the inside pages of major newspapers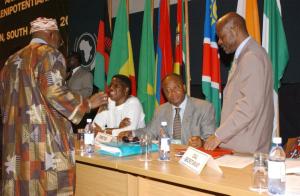 African Leaders Discuss Congo Bloodshed 10 April '03
Ugandan troops should leave Congo by April 24, the presidents of five African nations decided at a summit called to defuse violence along Congo's eastern borders.


Victims recall day of bloodbath 9 April '03
Drodro - A mound of freshly turned red earth lies in the middle of the village of Drodro, covering the bodies of some of the hundreds of people slaughtered over the course of three hours one day last week

Perpetrators Of Village Massacre Not Identified 9 April '03
UN officials in the region on Wednesday confirmed the massacre had claimed between 150 and 300 lives, revising sharply downward earlier reports from other sources that close to a 1000 people were killed.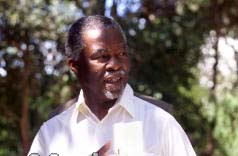 Mbeki's urgent bid to halt Congo killings 9 April '03
President Thabo Mbeki will hold an urgent meeting with his counterparts from Rwanda, Uganda and Tanzania on Wednesday to try to find ways of ending the killing in the eastern Democratic Republic of Congo which is jeopardising a fragile peace accord.


40 million starving 'as world watches Iraq' 8 April '03
Forty million Africans are at risk of starving but are not getting enough aid because the world is distracted by Iraq, the World Food Programme has warned.

Congo, UN to Probe Nearly 1000 Deaths 8 April '03
According to the agency, food shortages threaten 14 million in Ethiopia, 7 million in Zimbabwe, 3.2 million in Malawi, 2.9 million in Sudan, 2.7 million in Zambia, 1.9 million in Angola, 1 million in Eritrea, as well as millions more in Swaziland, Lesotho, Mozambique, Uganda, Congo, Democratic Republic of Congo, and the western Sahel - those countries in the dry belt south of the Sahara.

Congolese Fear Reprisals After Civilian Massacre 8 April '03
Human rights groups say up to 500,000 people have fled their homes in Ituri and 50,000 more have been killed in the past four years, as rival rebel factions, ethnic militias and the Ugandan army have fought for control of the gold-rich district.

1,000 killed, UN spots mass graves in Congo 7 April '03
The United Nations said on Sunday it had been told nearly 1,000 civilians were massacred by tribal militias with machetes and guns in northeast Democratic Republic of Congo last week and buried in mass graves

A Global Catalog of Wrongs 6 April '03
President Bush's Coalition of the Willing for the invasion of Iraq -- embarrassing company in a campaign whose aims include liberating the Iraqi people from dictatorship. Uzbekistan routinely tortures detainees and some have died in custody. Eritrea has ended freedom of the press and restricts religious freedom. Azerbaijan arbitrarily detains dissidents and rigs elections. Significant violations are noted in such other coalition members as Colombia, the Dominican Republic, Georgia, Macedonia, Rwanda, Uganda and Ethiopia.

Hundreds killed in Congo atrocities, rebel leaders say 6 April '03
A Congolese rebel leaders said Saturday that rival Ugandan troops and tribal fighters killed nearly 1,000 civilians in raids on three towns in northeastern Congo.

Denmark Donated Sh714m to Acholi 6 April '03
The Danish government has donated sh714m for the post primary education of 200 underprivileged children from the Acholi sub-region.

SA co strikes oil in Uganda 2 April '03
A consortium of Canadian and South African companies said Wednesday they had found potentially huge reserves of oil in western Uganda.

Uganda Urged to Withdraw Army From Congo 29 March '03
A team monitoring the peace process in Congo urged Uganda to withdraw its troops from the country Saturday, saying the military activity was threatening efforts to end Congo's 4 1/2-year conflict.

Africa left to starve
as aid flow evaporates 27 March 03
George Monbiot, London
As cash is poured into the war with Iraq and its aftermath, the world could soon be confronted by a humanitarian funding crisis graver than any since the end of the Second World War. According to George Monbiot, a London-based writer and visiting professor of environmental science at the University of East London, a worsening emergency is engulfing Africa, where aid flows have slowed to a tiny portion of what is required.

Some 400 DR Congo rebels
surrender to Ugandan army 27 March 03
ReliefWeb

Why Uganda backs US 27 March 03
"The UN Security Council loses its credibility if it cannot punish those who threaten world peace." John Kakande supporting the US in New Vision.

GuluFuture comment: Let's get this straight then. In order to support the UN, we have to back the US --which is defying the UN, and has started a war --which therefore ensures that we have peace? ! ?

US Hails Uganda 27 March 03
THE US ambassador to Uganda, Jimmy Kolker, has hailed the Uganda government for supporting the US war against Iraq.

Don't Divert Aid - MP 27 March 03
THE Lira woman representative in parliament, Margaret Ateng Otim, has warned local leaders in the district against diverting relief items meant for the internally displaced people to personal interest.

Amnesty International also
calls on the Ugandan People's Defence
Forces to fulfill the Ugandan government's obligations 20 March 03
Amnesty International also calls on the Ugandan People's Defence Forces (UPDF) present in Ituri to fulfill the Ugandan government's obligations under international human rights and humanitarian law to protect civilian life in the region. The UPDF have themselves committed numerous human rights violations in the province, including unlawful killings of unarmed civilians. UPDF personnel have reportedly sold arms to warring ethnic groups and have trained militias, including child soldiers. Repeated shifts in Ugandan political backing to the rival armed political groups in Ituri have also deepened and prolonged the crisis.

Rwanda to put troops back in
DR Congo if Uganda fails to withdraw 14 March 03
Rwanda warned Friday it would send troops back to the Democratic Republic of Congo (DRC) if the United Nations failed to secure the total withdrawal of Ugandan forces from the vast, war-ravaged state

Worst humanitarian crisis
for years in Pader district 14 March 03
An assessment conducted by the Ugandan government of Uganda, NGOs, local authorities and United Nations agencies (from 17-22 February) has revealed that over 240,000 people are now living in 13 "major camps" in the district.

Museveni orders temporary ceasefire 11 March 03
President Yoweri Museveni of Uganda on Monday declared a five-day cessation of hostilities in Wipolo and Koyo Lalogi, two locations in the northern Pader district, to enable the government peace team to meet commanders of the rebel Lord's Resistance Army (LRA).

Ugandans take DR Congo town 8 March 03
Ugandan soldiers have taken control of a strategic trading town in the north-east Democratic Republic of Congo

UPC exiles to return if party ban is lifted 8 March 03
Uganda People's Congress (UPC) exiles have indicated they will return if the Movement okayed multiparty politics. "I would be back home the next day if it [lifting of the ban] was officially announced tomorrow," Mr Godfrey Ayoo, the UPC bureau chief in Germany, said on Wednesday after reading reports that President Yoweri Museveni has recommended a return to multiparty politics.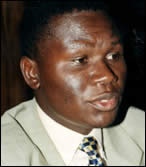 MP Says LRA Leader Committed to Ceasefire
7 March 03
Mao told IRIN that Kony had called him by satellite phone on Wednesday and made the pledge. He said the two spoke for over an hour.




Kampala, Kinshasa Say UPC
Claims of Bunia Massacres "Are False" 7 March 03
Lubanga told IRIN on Friday that after his troops had withdrawn from Bunia, Ugandan soldiers, among whose ranks he alleged were members of the Forces armees congolaises (FAC), "went on to massacre the population and pillage the town" as Ugandan tank crews who had been mobilised for the attack sat and watched.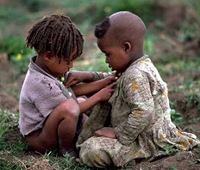 Red Cross Helps Thousands
Fleeing Fighting in DRC 7 March 03
The survival of thousands of people who have fled fighting in the Democratic Republic of the Congo (DRC) into Uganda's northwestern Nebbi District is at stake "if aid does not reach them immediately", according to the International Federation of the Red Cross.



MP Asks Government to
Explain UPDF's Role in Ituri 7 March 03
A Ugandan Member of Parliament has asked the government to clarify allegations that the Uganda People's Defence Forces (UPDF) participated in massacres in the Democratic Republic of the Congo's Ituri District.

Forests given to wealthy - Miyingo 7 March 03
Recently, Mukono North MP Rev. Peter Bakaluba Mukasa kicked up controversy in Parliament when he said forest reserve land had been given out to wealthy people, leaving the peasants without any compensation.

Accept Ceasefire, Says EU 7 March 03
THE European Union has added its voice to urge the Ugandan Government to accept a ceasefire declared by LRA leader Joseph Kony.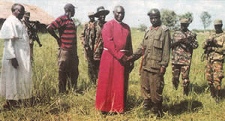 Kony Says He Is Committed To Peace
6 March 03
The Lord's Resistance Army (LRA) leader Joseph Kony has called Gulu Municipality MP Norbert Mao to say he is committed to peace.




Army Rapped Over Kitgum Executions 6 March 03
The global human rights watchdog Amnesty International (AI) yesterday accused the Uganda Peoples Defence Forces of violating international law. The criticism follows the execution, by firing squad, of three UPDF soldiers on Monday.

Museveni's Pledge
On Pluralism Not Sincere - Opposition 6 March 03
Two weeks ago, the media quoted President Museveni as saying that the 18-year old ban on political parties would affect foreign direct investment to the country.

Soldiers Executed After Unfair Trial 6 March 03
Amnesty International strongly condemns the execution of three Uganda People's Defence Force (UPDF) soldiers on Monday.

Museveni Dismisses Lra
Ceasefire Announcement 6 March 03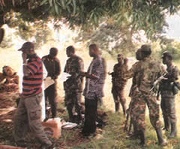 Respect LRA Ceasefire - UK 6 March 03


No Ceasefire, Says Museveni 6 March 03

Rights Body Wants Treason
Case Against Boys Dropped 6 March 03

LRA Hold Rally in Gulu 6 March 03

Museveni Backs US On Iraq War 5 March 03




Malnutrition Rates High
Among Displaced Children 5 March 03


Corruption Deters Investors - US Envoy 5 March 03

Tight Security for Treason Suspects 5 March 03

'For Once We Stayed Outside Till Midnight' 4 March 03

Soldiers Executed in Kitgum 4 March 03

Kony Declares Unilateral Ceasefire 3 March 03

MP Urges Uganda to Curb Raids 2 March 03

Featured Article
2003 a tougher year
ahead of the Acholi people?
Submitted by Anonymous
The Acholi people who are best placed to tell the real situation....READ



Featured Article
THE BLESSED MARTYRS OF PAIMOL
DAUDI OKELO AND JILDO IRWA
By Joseph Okumu
10th Jan 2003....READ




Archive: March - April 03

Archive: Late Dec-Early Jan 03

Archive: October News 02

Archive: September News 02

Archive: August News 02

Archive: July News 02

Back to main page