Hazelwood guesthouse & riding stables
Design your own holiday!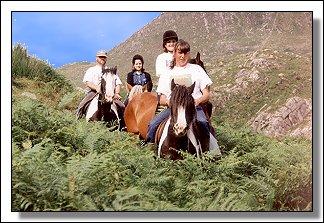 When you are on holiday the whole point is to be able to relax and enjoy yourself by doing exactly as much or as little as you wish.
That is why we make every effort to be as accommodating and flexible as we possibly can. With early booking, especially for groups of four or more, it is very often possible to customise your itinerary to a large degree.
The simplest way to go about this is to email us at Hazelwood Guesthouse.Tell us what you would like to do, eg how many days you would like to ride or whether you are interested in any day trips around Kerry. This will give us a good idea of what you would like to do and we will then check exactly how much it is possible to do within your proposed dates and e-mail you a quote specific to your holiday.
Please feel free to make any suggestions to us and do not hesitate to put anything in your itinerary, we will always do our best to accommodate you.