Specimen from forestry.

Sun and blue sky all day, but cool in the shade.
Last August I found a fallen Eared Willow leaf with a Pontania Wasp gall on it. When tidying my study I found it under some papers. On opening it, I was surprised find a live larva. It lives its entire larval life eating the material of the gall, surrounded by its own droppings. Sometimes these galls are parasitised, or they might have 'lodgers'. This one was in solo occupation. The wall of the gall was very hard - almost woody.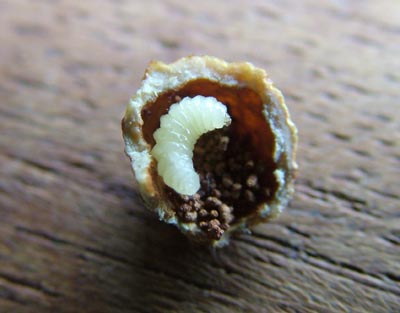 <Previous Home Back to Calendar Feedback Species Index This Day Last Year Next>