Hell's Kitchen Museum & Bar
Main Street, Castlerea, Co. Roscommmon
Tel: 0907 20181

Proprieter: Sean Browne
A Boyhood Dream........
Since his childhood days Sean has been a railway enthusiast. His interest began as a youngster when he travelled around with his uncle, the late John Joe Quinn. Having a sister in the Ban Garda meant making trips to Dublin. Sean would gaze out the window at Mullingar, feasting his eyes on the hundreds of steam engines ready for the scrap heap and dreamed one day of owning one. His life took another direction and he is nwo proprietor of Hell's Kitchen public House in Castlerea.
However, he never lost sight of his dream and visualised that one day it would be realsied. At closing time when most young married men would be going home, Sean began to enact his dream. Like a ghost in the night he would jump on the mail train and go down as far as Claremorris, in county Mayo, immersing himself deeper into something that had now really taken hold of him.
The great moment came. In 1994, Sean purchased a 1955 A55 diesel locomotive when the 'A' class diesel engine, which had replaced its steam predecessor, was being withdrawn from service. The locomotive cost £100,000 when it was first purchased (now £2million) but Sean, who was the only individual ever to approach CIE, got it at scrap value for £1600. It is 51 foot long, 14 foot high and weighs 62 ton. On 7th July1998 it made its final journey from from Dublin to Castlerea.
| | |
| --- | --- |
| A Railway Museum, the first of its kind this side of the border, was built to house the A55 and railway memorabilia. After a considerable amount of time and energy the museum was opened to the public. It is opened seven days a week and a Railway Preservation Society has now been formed in County Roscommon. | |
| | |
| --- | --- |
| Sean Browne's boyhood dream has finally been realised. His idea now is to encourage and enthuse others to share this unique experience and travel with him back in time along the railway network and perhaps become entralled with the vision of a historical era. | |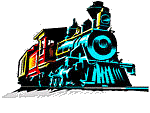 ---
Designed and copyright held by Eileen Sweeny
10 February 2000