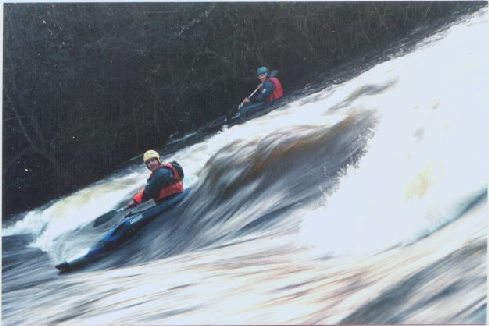 Is that David McCormack in a Kayak ? WOW!!!!!!!
Inny Kayak Club was started back in 1992 by the local paddlers in the area. Since then we have not grown considerably in numbers but we have all progressed and become better paddlers. At present we have 12 members ranging from 12 yrs - 38 yrs and from level 2 to Level 3 kayak instructors.
This page is a dedication to them and to the Sport of Kayaking!
Inny Kayak Club was originally set up by David Mc Cormack in 1993. It developed from the Longford Kayak Club which was based in Longford but had all its activities in Ballymahon. The membership in this club declined to an extent that it no longer existed as a club. This led to the setting up of the present club in Ballymahon.
This club operated for approximately three years on an active basis, however members moved away to work in other locations or attend third level colleges. A core group of members continued to kayak locally until an effort was made to revitalize the club.
Since then interest in the club has gradually grown to the extent that the club now has two qualified instructors and another two members in the process of qualifying. Improvements have already been made to the facilities available. The launching area at Newcastle is a safe accessible launching point developed by the Longford County Council, and similarly the newly built takeout point at Ballymahon bridge. The takeout point was created by the County Council after a submission from the club.
Further development of the club can now take place provided additional facilities are put in place. At the moment we are trying to expand our member base to form a larger core of regular paddlers. A club house is a much dreamed about item that we are striving to provide. The club is ideally located at this time to provide much needed leisure facilities and to develop the natural amenities of the river , canal and surrounding lakes.