Founded in 1983 by Kevin and Christine Cosgrave, the aim of the Dublin Folk Dance Group is to develop and promote friendship at home and abroad through the medium of music, song and dance. The group is unique in so far as it is family orientated with fathers, mothers, sons, daughters, uncles etc. being encouraged to dance and perform togeather purely for entertainment without competition.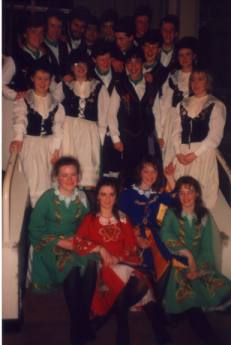 Group Photo of Dancers
The group is entirely voluntary and although the ages range from 6 to 60 the majority of the members are aged between 14 to 25 years of age.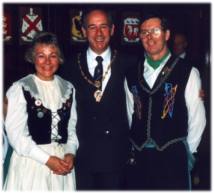 Christine Cosgrave, Lord Mayor of Dublin Ben Briscoe and Kevin Cosgrave (1988)
The group has been very successful to date with performances in the following countries, Belgium, Germany, Italy, Austria, Poland, Turkey, Finland and Norway. The groul has brought Irish culture to the above countries through live concerts, television and workshops. We have also hosed groups from Europe on a reciprocal basis.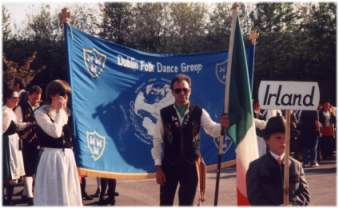 Begengung 1994 Festvial, Graz, Austria
The group, from its travels, has built up a large repetoire of International Dance, which they perform at various venues countrywide. From it's very nature the group has provided many of our young people the opportunity to visit countries they would only have read about. It also provides interaction and understanding between our youth and many young mainland Europeans.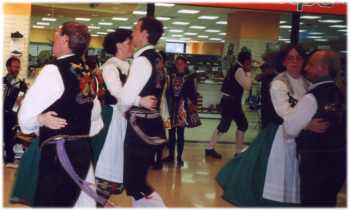 Irish Set DancingPerformance in Genoa, Italy
The aims and objectives of the group are to contine to promote our culture at home and abroad and to organise a European Folk Festival on a annual or bi-annual basis based in the Dun Laoghaire/ Rathdown area of County Dublin.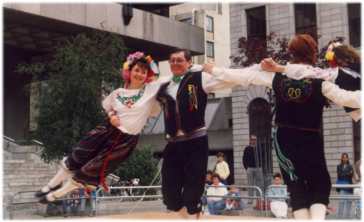 European Dance Performance in Temple Bar, Dublin