I.A.S. PUBLICATIONS
Both our publications are available as a benefit of membership. Sky-High is also available for purchase by the public.
---
Orbit - Newsletter is scheduled to appear at least six times a year. It features sky-notes, observation reports and articles. An electronic version Orbit - Newsletter is supplied free to members. A limited number will be printed for members that do not have e-mail.

Read some Sample Articles.

Editor: vacant.

Members may download the Orbit Newsletter (published 31 Mar 2009) here.
---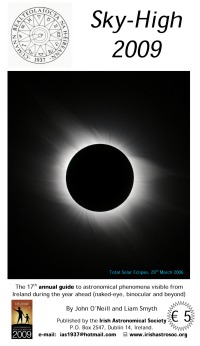 Sky-High is our annual almanac, now in its 17th year since its first publication in 1993. 24 pages in all. It features a colour gallery. In addition to items of a strictly almanac nature it also has interesting astronomical articles.

Sky-High is supplied free to members by post. It is also available for purchase by the public, still at the same price as last year.

What's in Sky-High for 2009:
Introduction; Celestial Diary for 2009; The Planets in 2009; Comets in 2009; Meteors Showers in 2009; Asteroids in 2009; Variable Stars in 2009; Eclipses in 2009; "A Brief Trip Southwards"; "Deciphering Star Names"; Epsilon Aurigae and more.

Editors: John O'Neill and Liam Smyth.

See Sky-High 2009 Update for updates and errata. Also, often Observer's Highlights picks an item featured.

Sky-High 2009 has now been published.
Orders for postal delivery "SkyHigh 2009", I.A.S., P.O. Box 2547, Dublin 14, Ireland.
Price €6.00 inc. p.& p.
All payments (made payable to "Irish Astronomical Society"), prepaid, in Euro.

Available at Eason's store O'Connell Street Lower, Dublin 1. (Astronomy Section in the Basement). Price €5.00.

---
Top | Home