Martin Sheridan - 9 Time Olympic Medalist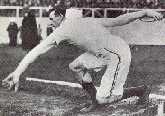 Picture from Foxford - Martin Sheridan
Martin J. Sheridan (1881-1918) born on March 28th, 1881 in Treenduff, Bohola, about 5 miles from Foxford, Co. Mayo. He was one of the great Olympians of the 20th century. Like many others he did not represent Ireland but his adopted country - the USA (Martin Sheridan UST&F Hall of Fame).
An all round explosive athlete Sheridan was unbeatable over a fourteen-year span, winning hundreds of athletic contests, including nine Olympic medals (five gold, three silver and one bronze) in discus-throwing, high and long jumps, shot-putt and pole-vaulting at St. Louis (1904), Athens (1906) and London (1908), twelve national and more than thirty American, Metropolitan and Regional Championships. There is a memorial in his honour at Bohola.
He was just 23 when he made his debut in Olympic competition at St. Louis in 1904. His first Olympic victory was in the discus.
After finding himself in third place before the final three rounds, he faced a big battle to get back into contenstion for the gold medal.
The fighter in him refused to give up, however, and he struck back with a throw of 125' in his fourth attempt, moving him up to second place.
He sent the discus spinning out to 128' 10" in his fifth throw. He did not improve in his last throw but neither did his nearest competitor, Ralph Rose. So the competition ended in the first the only tie in the history of Olympic discus throwing.
Three weeks after his win in St. Louis, Sheridan took back the sole ownership of the world record with a throw of 133' 6".
He was at his best before world records were officially recognized but from 1902 to 1911 he set no less than 15 new "World Bests" in the discus. His 1905 mark of 143-4 lasted for seven years. He might have thrown farther that day had he not had to withdraw because of an injury suffered the previous day in the pole vault.
He was a member of the first official American Olympic team, for the Intercalated Olympic Games at Athens in 1906. At Athens, Martin had no trouble in winning the discus freestyle. He went over 130' with his first throw, and eventually won with a fraction over 136'.
He created quite a stir when his second gold medal at Athens came in the shot putt. He also won Olympic silver medals in the standing long jump, the standing high jump and stone-throwing, and then a leg injury prevented him from taking an almost certain gold medal in the pentathlon.
On his return to New York, sportswriters acclaimed him as the greatest track and field athlete of all time.
Following his tremendous all-round display in June 1908, at the American trials for the Olympic Games, he was nominated to represent America in every field event at the 1908 Games in London. The great Bohola athlete took three Olympic medals at the games in Shepherd's Bush Stadium, two gold and one bronze.
Half the sites I've seen say that Martin failed to dip the flag to the King at Shepard's Bush, the other half say that Ralph Rose didn't dip the flag. Anybody know the truth?
Here are some versions:
Old Glory - Why Sheridan didn't dip the flag
Michigan in the Olympics
Rediff.com - the Olympic Fact Book
My Hammersmith
Salt Lake Tribune
All States Flag - Olympics
20th Century History -1908 Olympic Games