SIR JOHN BENSON

ARCHITECT

Sir John Benson
1812-1874

Sir John Benson, the architect of the Church of the Assumption, was born "in a comfortable one storey thatched house in the village of Collooney" in 1812. At an early age he showed architectural ability, and Edmund Joshua Cooper of Markree Castle, Collooney, sent him at the age of 21 to "a technical school in Dublin". This was the only architectural training that Benson received.


Benson first obtained a post with the Board of Works. Later he was appointed County Surveyor, first, for the West Riding of Cork (1846) and, secondly in the same year, for the East Riding. After that, he was appointed Surveyor of the County of the City of Cork (1851) and Engineer for the harbour and port of Cork. He held the latter two posts until his retirement because of ill health in 1873. Benson had always intended to retire to Colloney but death overtook him in London in 1874.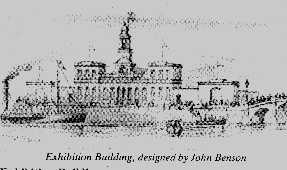 In 1852, despite very stiff international competition, Benson's design was accepted for the buildings to house the Dublin Exhibition of 1853. The Great Industrial Exhibition of that year was held on Leinster Lawn, now a car park for Leinster House, the home of the Dail. A magnificent 'crystal palace' was constructed to accommodate the exhibition. Benson supervised the construction himself, and at the opening of the Exhibition he was knighted by the Lord Lieutenant.



Benson's work in later years was confined mostly to Cork. His architectural legacy there includes Central Markets, Shandon Butter Market., Berwick Fountain in Grand Parade, St. Patrick's Bridge, St. Vincent's Church in Sunday's Well. Benson also helped in the remodelling of St. Mary's Catholic Cathedral.

Benson has left fine buildings in Sligo and Cork, also considerable engineering work including many bridges. The Church of the Assumption is one of his notable works. Collooney people have always been proud that their church has been designed by one of their own.