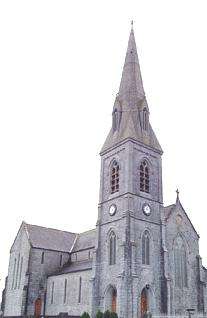 Collooney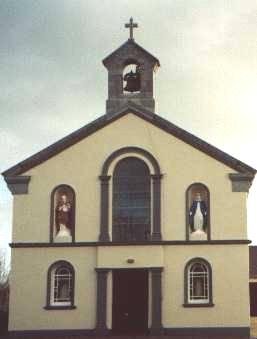 Ballinacarrow
COLLOONEY (KILVARNET) PARISH
COLLOONEY

CO. SLIGO
IRELAND
---
FÁILTE --- WELCOME
All the pages of the site can be viewed by starting from the links given under the seven headings below. (Probably the better way.) &nbsp Alternatively, one may use a directory to navigate the site.


1.   Location: Collooney (Kilvarnet) is a rural parish in the diocese of Achonry in the northwest of Ireland.  Ireland has twenty six dioceses of varying sizes.   Achonry is one of the smallest.



2.   Boundaries: The boundaries of the parish date from 1978, when a larger parish called 'Ballysadare and Kilvarnet' was divided. The present Collooney (Kilvarnet) parish comprises the ancient parish of Kilvarnet and part of the ancient parish of Ballysadare. The remainder of ancient Ballysadare became the modern (1978) parish of Ballisodare.  (The name of that village is nowadays generally written 'Ballisodare'.)

Rural parishes are generally defined by the townlands they contain. We give a list and map of townlands in the parish - probably of interest only to those with local knowledge!



3.  Name: The name 'Kilvarnet' was retained as part of the present parish title in order that the old parish of Kilvarnet (now centred on Ballinacarrow) might not be forgotten. (Yeats mentions Kilvarnet in his poem The Fiddler of Dooney . The poet sometimes came on holidays to his Pollexfen uncle in Ballysadare where the Pollexfen family owned the flour mills.)



4.  Churches: The parish church, The Church of the Assumption, is in Collooney, a village in County Sligo seven miles south of Sligo town.

The second church in the parish, The Church of St. Fechin & St. Lassara, is in Ballinacarrow, a smaller village a further five miles south of Collooney.



5.  Something of the Past: Brief histories of (1) Parish and (2) Locality; also The Battle of the Curlews 1599 and Bartholomew Teeling and 1798.



6.  Something of the Present: Parish schedules; Clergy and other Parish Personnel; Sisters of Mercy



Our web space has been provided by eircom net.
We are greatly indebted to the HTML editor Arachnophilia
---
If you wish to contact us by e-mail please click here.