Dean Patrick Durcan is remembered in Collooney as the Parish Priest who had a vision of a worthy parish church and who worked to see that dream fulfilled - all this at a most difficult time in Irish history, just before the Great Famine.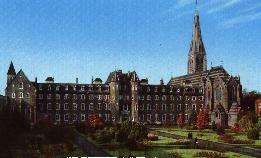 St. Patrick's College, Maynooth

Patrick Durcan was born in 1790. He was one of the first generation of students to enter Maynooth College (founded 1795). (Maynooth College is now a constituent college of the National University of Ireland and a Pontifical University as well as being a seminary.) After ordination he had various appointments in the diocese until in 1832 he was appointed Parish Priest of Collooney. Archdeacon O'Rorke in his history of the parish says, " ... for the twenty years he lived and worked in the parish ... there was not a more popular, beloved and respected Parish Priest in Ireland, or in the universal church."


In Collooney, Dean Durcan first of all availed himself of the new Education Act to build double schools for the parish at Camphill (1835) and Lisaneena (1837). Then he undertook the building of the Church of the Assumption on the site of the 1798 chapel. In spite of great difficulties, he saw to the work of raising the walls and adding the roof in 1843.


When Bishop McNicholas died in 1852, Dean Durcan was chosen as his successor and he was consecrated Bishop of Achonry on Tuesday 30th September of that year in the Church of the Assumption, Collooney, the consecrating bishop being his Grace of Tuam, Most Rev. Dr. John McHale.



From 1852 until his death in 1875 Bishop Durcan ruled the diocese wisely and well. His work in building and repairing churches was particularly outstanding, so much so that he was sometimes called (according to O'Rorke) "Patrick of the churches."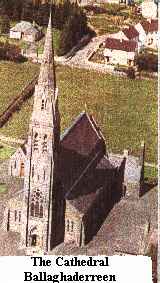 Bishop Durcan died on the 1st of May 1875 and was buried in the cathedral in Ballaghaderreen. Its construction too had been overseen by him.