When Archdeacon Terence O'Rorke died on 18th November 1907 he had been Parish Priest in Collooney for fifty four years. He looms large in the history of the parish, spoken about to this day.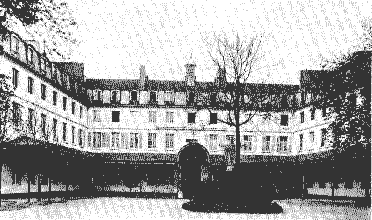 The Irish College Paris


Terence O'Rorke was born in Collooney in 1819 and had his early schooling there. He studied for the priesthood in Maynooth College where he was ordained in 1847. After post-graduate work in Maynooth he was appointed Professor of Theology in the Irish College in Paris. His stay there was short as, when Collooney parish became vacant on the appointment of Dean Durcan as bishop of Achonry, Fr. O'Rorke was appointed Parish Priest there in 1853.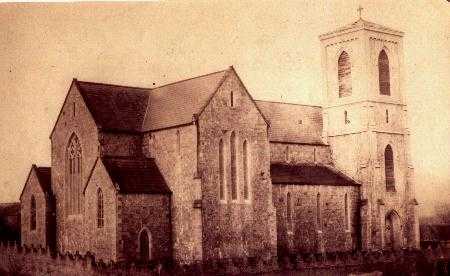 Church with uncompleted tower
1843-78



Fr. O'Rorke was a very active Parish Priest both pastorally and administratively - it was he that saw to the completion of the church tower to its full height. In addition he found time to pursue his own learned interests, especially in the then uncharted area of local history.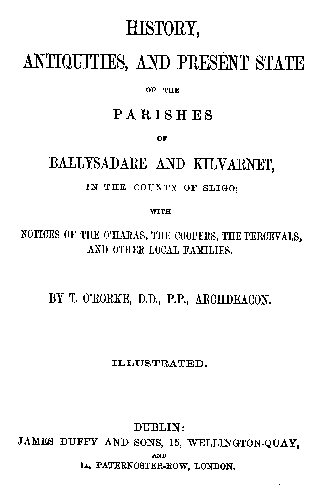 In 1878 he published his history of the parish, The History and Antiquities and Present State of the Parishes of Ballysadare and Kilvarnet. (Please click on the thumbnail to see the title page.) He followed this with his two-volume History of Sligo County in 1889. A noted preacher, he also published a volume of Occasional Sermons in 1899.



Archdeacon O'Rorke is buried in the south transept of the Church of the Assumption.  (The only other person buried in the church is Father Dominic O'Connor C.C. who died of the Famine fever in 1848.)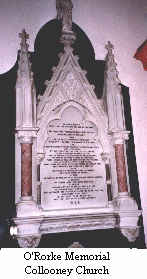 Back to Church of the Assumption
Back to home page