Welcome to Hearne's page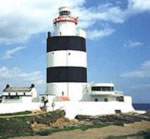 ---
Here we have some pictures of ON943, the former RNLB Claude Cecil Staniforth, now retired from her RNLI service. She was launched in 1958 at the Groves & Guttridge yard on Clarence Road, East Cowes on the Isle of Wight and served at Lerwick in Shetland until 1978. After some years at Arranmore in Donegal and in the relief fleet she was retired in 1985. She is now registered as the Naomh Seosamh and spends the summers at a mooring at Fethard-on-Sea on the Co. Wexford coast.
---
Powered by
See the original details of her building and registration
Her current details can be seen here
Her engine room details are here
Our picture gallery is here
View some other Barnett class lifeboats here
At the August bank holiday the city of Waterford holds a festival called Spraoi. Don't bother to look at the silly things that happen there.
Messing about in boats also involves sailing
And sailing can be spectacular when the Tall Ships get together. In July 2005 they came to us so we just had to join in and play!
Some images of us at play
Some wireless matters relating to EI9E are here
Have a look at the Fethard Lifeboat here
Find out more about the new Fethard Boat Club started in 2007