Keane of Kilnamona
Father Fred Hegarty
Fred, eldest son of Bill and Gretta (nee Keane) Hegarty, Newark, New Jersey, USA, (see Gretta) was born on January 27, 1927. Joining the Maryknoll Missionaries (www.maryknoll.org) he was ordained a priest in 1953 (ordination photo), after which he made his first visit to Ireland with his mother Gretta. Since then he has served in Chile, dedicating his life to the pastoral care and to fostering self help and development among the rural poor of that country.

Father Fred has made his home among the people he serves in Chile. Yet, he has maintained close contact with his extended family and has been a regular visitor back to his relatives both in the United States and Ireland - Kilnamona and Dublin. Over the years he obtained financial support from the Irish Government through its foreign aid programs and from Irish Aid and Church Agencies, and from friends and relatives for worthy rural projects in Chile.

- - - -

Resumé (extract, source unknown):


FATHER FREDERICK J. HEGARTY, M.M. Frederick Joseph Hegarty was bom on January 27, 1927 in New York City, son of William Francis and Margaret K. Hegarty. He had three younger brothers. He attended St. Joseph Parochial School in Newark, New Jersey, and graduated from St. Benedict Preparatory School in June 1944. As a seminarian for the Archdiocese of Newark, he attended Seton Hall College, South Orange, New Jersey, for two years; and then he studied for one year at Immaculate Conception Seminary in Darlington, New Jersey. He entered Maryknoll on September 14, 1947 and secured his Bachelor of Arts degree in Philosophy in 1948; his Bachelor of Theology degree in 1953; and his Master of Religious Education in 1953 at Maryknoll Seminary, Ossining, New York. He was ordained a priest on June 13, 1953.

The day after ordination, Father Hegarty left for his assignment to the Maryknoll Mission in Chile, South America. After Spanish language and cultural studies at Maryknoll Agricultural School in Molina, Chile, he was appointed Assistant Pastor of Our Lady of Fatima Parish in Talea. In 1957 he was transferred as Pastor to Parroquia de Nuestra Senora del Cannen in Chol Chol, a territory of 500 square miles inhabited by I 1,000 Mapuche Indians and Spanish-speaking people. In 1963 Father Hegarty was moved to Santiago, Chile and assigned to (Ml time niinis" !!) as national chaplain of Rural Catholic Action and spiritual consultant of the Institute of Rural Education for the formation of lay leaders in Community Development.


Through his programs he was able to provide basic education and technical instruction to rural workers over a wide area of Chile; helping them to achieve greater economic freedom and social stability. He was sought after by the Chilean Bishops who recognized him as a leader who understands the mentality and needs of the campesino people. He was full of missionary ideas. His Superior wrote of him: "He is engaged in so many works that it is difficult to know what he is about, but you knew it was good." Father Hegarty engaged in a period of special studies in New York in 1969.




On his return to Chile in 1970, Father Hegarty was chosen by the Chilean Bishops to help establish the National Rural Pastoral Institute. Together with a group of peasant leaders, rural professionals (agronomists, teachers, etc.) and rural pastoral agents, he set up investigation and reflection teams, programs in leadership training and training of rural pastoral agents. The Institute's formative years were during the first years of the military dictatorship. For some years this was the only place for leadership formation in rural Chile. When his contract with the Chilean Bishops terminated at the end of 1983, Father Hegarty returned home and received an assignment to the Development Department in January 1984. He served in the Development House in Washington, D.C. for three years. While serving there he studied for a doctorate degree at St. Mary's Seminary and the University of Baltimore.


Father Hegarty was again assigned to the Chile Mission Region on January 1, 1987, where he continues in the ministry of forming lay leaders in the Dioceses of Chillan and Concepcion. He serves as Chaplain and Consultant to the "Institute of Rural Education" Of his continuing work in Chile Father Hegarty said, "I work with poor farmers. Their greatest challenge is to find a place in a new liberal globalization process so as to live as children of God should in an organized way with a spirit of solidarity. We accompany 40 rural pastoral teams in their efforts to adjust their programs to the challenges the new Globalization Society presents them and the poor farmers. Our essential task is to share the good news of Jesus Christ with rural Chile."

Writing each Christmas to his cousins, Father Fred penned some thoughts and reflections over the years.

extracts are taken from some of these to hand (many are missing

- - - -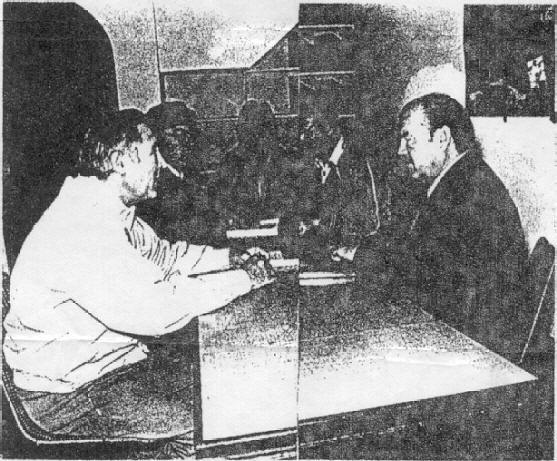 1956:- Chol-Chol, Chile. As pastor of a poor rural parish, one of the first persons Father Fred met was Gustavo Díaz, a local leader of poor faming but a drunkard who didn't know how to read. Helped by Fr Fred to discover that God had given him many gifts and abilities - he was a born leader and came to overcome his drinking. A point that united Gustavo and Fr Fred was an interest in labor unions, Fred through his father's work (see above) and Gustavo helped start the first big labor union organization in rural Chile. Later Gustavo became national president of the rural labor unions.
Above:- Fr Fred in discussions with Gustavo (poor 'original' facsimile copy).
1963:- Was recently assigned work as the national chaplain of Rural Catholic Action and the Institute of Rural Education. Gustavo was elected national vice-president (later to become president) of ANOC (National Association of Rural Organizations).
Late 1960's:- Skidding into an oil patch caused by a previous collision involving two cars, Fr Fred bumped into one of the cars. A passenger in the other (second) car of the first collision had already been killed. In Chile drivers involved in accidents can be hauled off to jail and to avoid serious charge the dead person is often placed in the drivers seat before the police arrive, as witnessed on this occasion by Fr Fred. Naively not taking the advise of a benign policeman to drive off from the scene, Fr Fred too was hauled off to jail where he spent some time, and later cleared in court.
1973:- Fr Fred was to be at an important meeting on the following morning some several hundreds of kms away but missed the last night bus out of Santiago. Resorting to hitchhiking, he went out of the city outskirts to a police road check point, who kindly got a lift for him with a reliable young couple. During the trip Fr Fred went to sleep in the back seat but at some stage the car had an accident hitting a beast, which was thrown into the air and landed on Fr Fred (both being propelled towards each other). Fr Fred was severely injured and deeply unconscious, and being apparently dead the young couple placed him in the driver's seat before the police arrived (see previous paragraph). Taken first to the local hospital with limited resources, he was transferred through the good offices of a clerical colleague to a Santiago hospital and recuperated in due course. On returning to the USA for a spell that year (still in facial braces), he was told by consultants there that his surgical treatment in Chile hospital was first rate, e.g. leaving no facial scars. Luckily the judge did not believe the young people's version of events when the case came to court (Note: by which time Pinochet had come to power in Chile).
1977:- "...My life consist of sharing Christ's richness with the rural poor of Chile and the Chilean peasant's richness with others."
1978:- Was Chaplain to the only Adult Agricultural School (in Chile). Nuns took charge of the nearby parish in Champa - where a rural leader had been murdered by military forces a few years earlier. One of the nun's was Gustavo's daughter and they both shared pastoral duties.
"Christmas 1978 has me thinking of my 25 years in the Priesthood. During the year I had three wonderful celebrations in Ireland, New Jersey and Chile... The fruit of my thought is that I should orientate more clearly these next years of my life to share Christ's message and strength with the poor Chilean farm workers... As part of this process of liberation I hope to share my life with these men and women...as a simple servant who is accompanying the poor as they discover new roads to human living in a society that is not favoring them at all."

1979:- Has been invited to Nepal and Bangladesh in January and February (1980). "Pray that I be able to share my experience in a truly Christ like way."

It was perhaps during that visit (or was on another occasion when the sisters visited South America!) that Fr Fred was asked to give a retreat to the sister confreres of Mother Therese. It seems that Fr Fred's sermon and retreat work load was proving too much for the sisters leading Mother Therese advising him to ease up as the sisters also needed rest from their labours to the destitute sick of Calcutta.
1986:- Pope John Paul II came to Chile. In Temuco when the Pope met with the farmers, Father Fred was among the invited special dozen guests near him.
1992:- Father Fred recalls his joy at meeting at the Chilean national airport Sister Bernardita, Gustavo's daughter (see above), leading a group of ten sisters to the missions in Facativa, Columbia.

1993:- There were four big occasions. In June Father Fred celebrated 40 years in the missionary priesthood. There were several celebrations in Chile and in the States. Big groups of Chileans wanted to show their gratitude to the Father 'for a man of God clearly identified with the poor farmers for such a long time, separated from his family and friends'. In July the Chilean bishops invited him as a part of a group of professionals to reflect with them on the situation of the poor farmers (small farmers being gravely disadvantaged as bigger farmers move ahead economically). As a trainer of rural leaders, this brought a big challenge into Father Fred's life. In September he was elected Coordinator of the Maryknoll Fathers and Brothers in rural Chile and Argentina. It was the first time Father Fred was elected Superior in Maryknoll. In October, Maryknoll celebrated 50 years in Chile in the constant service of the poor. Father Fred's new role was to support Maryknollers from Curepto to Jacobacci (710 miles) and be national Chaplain to the Institute of Rural Education from Vallenar to Castro (1,000 miles).

1994:- Father Fred visited the States and Ireland during March.

1995:- August. The ne technical world which is coming upon us has preference for a few, and suffering for many. A real minimun wage is $75 a week. Most of the people I work with receive $36 per week. But there are signs of hope. The poor farm people are developing new forms of production and commercialization, and their children are demanding educational forms more adapted to their needs.

1996:- "Chile is a nation beginning to prosper but in rural areas a recent study showed that 40% are in poverty of which 20% are in misery." (but) the smile on .... my own face speaks of hope.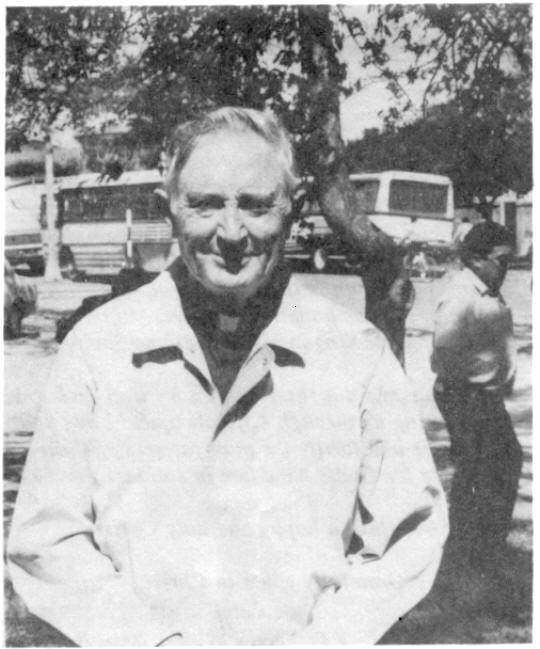 mid-1990's: Fr Fred's work needed him to travel extensively by bus throughout the length of Chile. Once in the mid-1990's a bus in which Fr Fred was a passenger ran into a column of dense gorse smoke. As the bus company had a policy of keeping schedule, the driver continued blindly at speed. Unfortunately coming from the opposite direction was another bus of the same company who also failed to reduce speed, both crashing headlong into each other. Many passengers were killed outright while Fr Fred (as usual asleep while travelling!) received multiple injuries and fractured bones. The badly injured were airlifted by helicopter to Santiago hospital where he underwent major orthopaedic surgery.
1997:- Father Fred visited Ireland in January. Climatic happenings in Chile which were significant to poor farmers - in Ovalle there had been a three year drought with the death of many sheep and goats; this year there had been an overabundance of rain which cut roads, destroyed bridges and canals and weakened mud brick buildings; a earthquake in October caused thousands of houses to fall.. In Padre Hurtado the course to train apostolic farm leaders continued to be successful. Fr Fred attached the following verses in a reflective mood on his life's Christian mission.

1:-
Leaning back, arms behind my head,
I look across the photos on my wall
All that comes to mind is
the promised hundred-fold, and
yes, I've been given that and more
pressed down and overflowing

2:-
I look at these people and the cards
from mom and dad on, down through the years
to these more recent friends;
everyone of them loved and loving and
I can only be glad and grateful
for this hundred-fold pressed down.

3:-
I picture those not actually before me, only
for lack of space, not there now
yet part of me, each a share in
my life and I can only be glad and
grateful for the fullness of life
that has been mine.

4:-
Photos, symbols, verses, a grave, a desert,
birds, flowers dried and pressed,
a word that is name in a language familiar
but not know, a name that
gives meaning to a whole group
before me and all that's written there: Jesus

1998:- This year youth are good news... 500,000 young people from all the America held a Continental Youth Encounter in Santiago. Our young farmers...were received by families, rich and poor, for a week's stay during the encounter. Returning to their home parish, young people from Peumo started a missionary program to reach out to others... Students from our technical school in Osorno built a simple home for a poor family in one day. During 1999 I have great opportunities to accompany and serve them.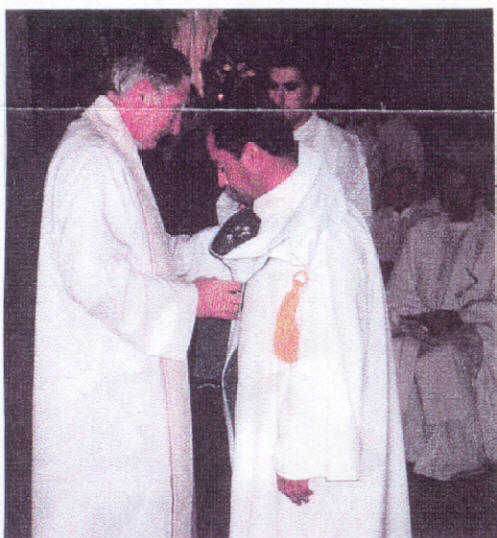 1999:- Here in Chile we are in the process of many changes. New life exerts itself in the economic, social, cultural and religious aspects of our lives. The photo over shows Fr Fred vesting Fr. Samuel Cereceda with a stole at his ordination - a former student of his at an agricultural school (illustrate these changes). He became pastor in a rural parish of Permuco. My own first experience of the parish was of muddy roads, one room schools and families in huts on subsistence living. Now there are nice simple houses with electricity, plastic covered green houses, five computers in a school with eight grades, paved roads and a solid community. However, the down side of globalization was traditional products not marketable, youth leaving in great numbers, etc. Personally Fr Fred continued as national chaplain of the Institute of Rural Education (IER) and Director of Rural Missions Solidarity (SOLMIRU) ( solmiru@entelchile.net ). "We help 25 parish teams like that of Fr. Samuel to discover new ways and methods of sharing Christ with the poor of rural Chile."
2000:- "Celebrating the presence of Jesus Christ in our lives all this (millennium) year has been an invigorating experience." Fr Fred with National Leader in the Rural labor Union (Mrs Candia) as delegates of the Chilean Church went to Rome in November for the farmers Jubilee. Back in Chile he attended the national Eucharistic congress of 300,000 (mostly youth).
Fr. Fred made a visit to the States, Europe and Ireland in April, 2000. On leaving Ireland, he wrote:-"Here I am packing my bags in Kilnamona, Co. Clare, Ireland starting my trip back to Chile. This six-week journey included a stop at Maryknoll, New York, visits to family & friends in New Jersey, New York and Connecticut, a series of mission talks in Perpignon, France, visits to foundations in Europe and almost two weeks of rest in Ireland. I have shared some good experiences, made good contacts for my mission work and received $10,000 for the work of SOLMIRU in Chile. I arrive back in Chile on the first day of winter."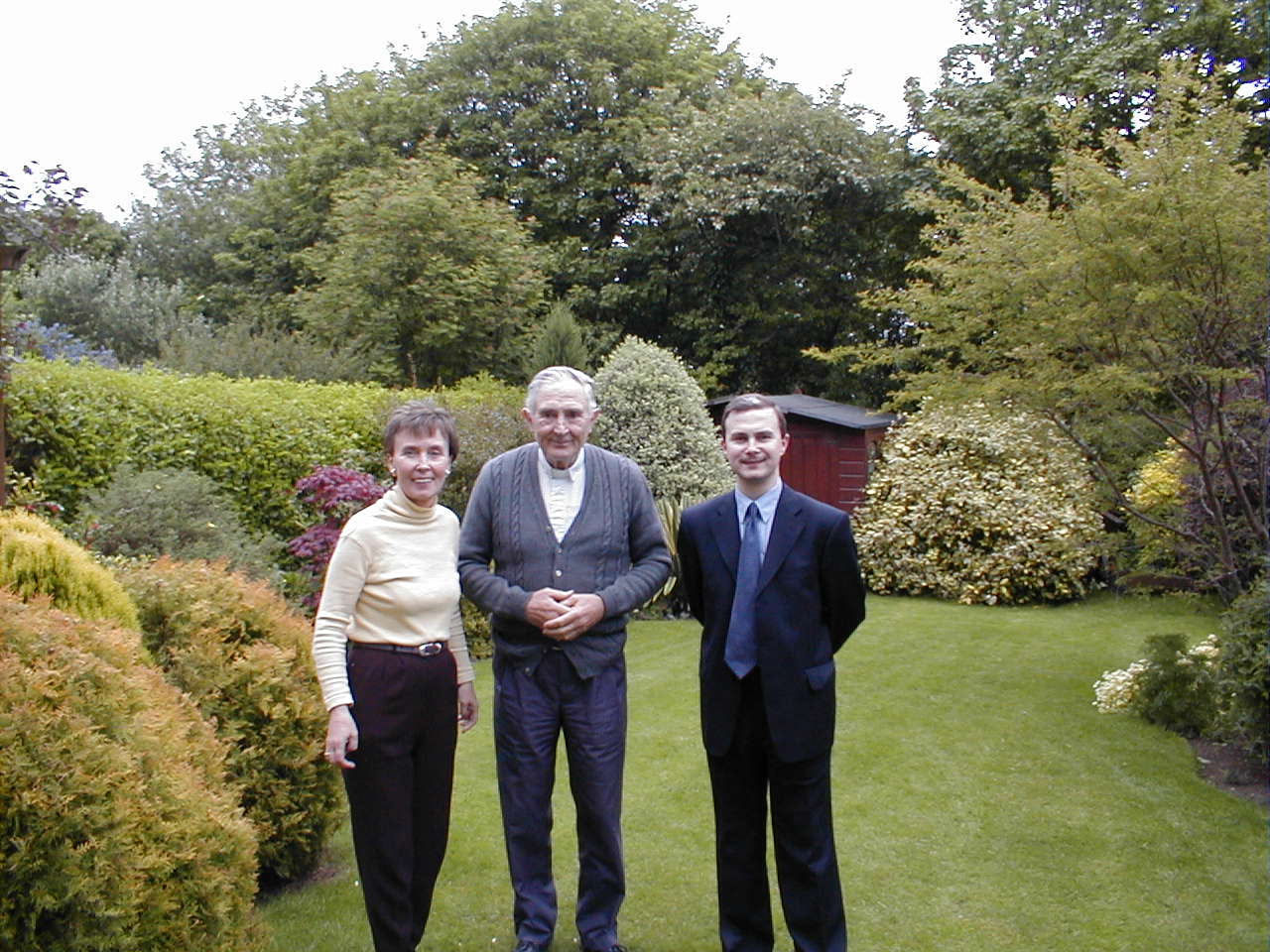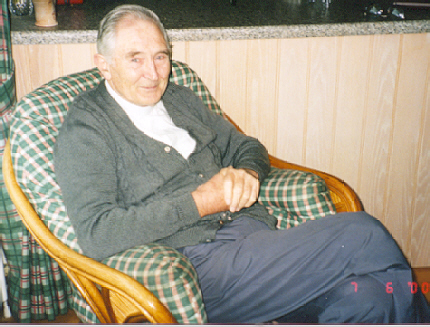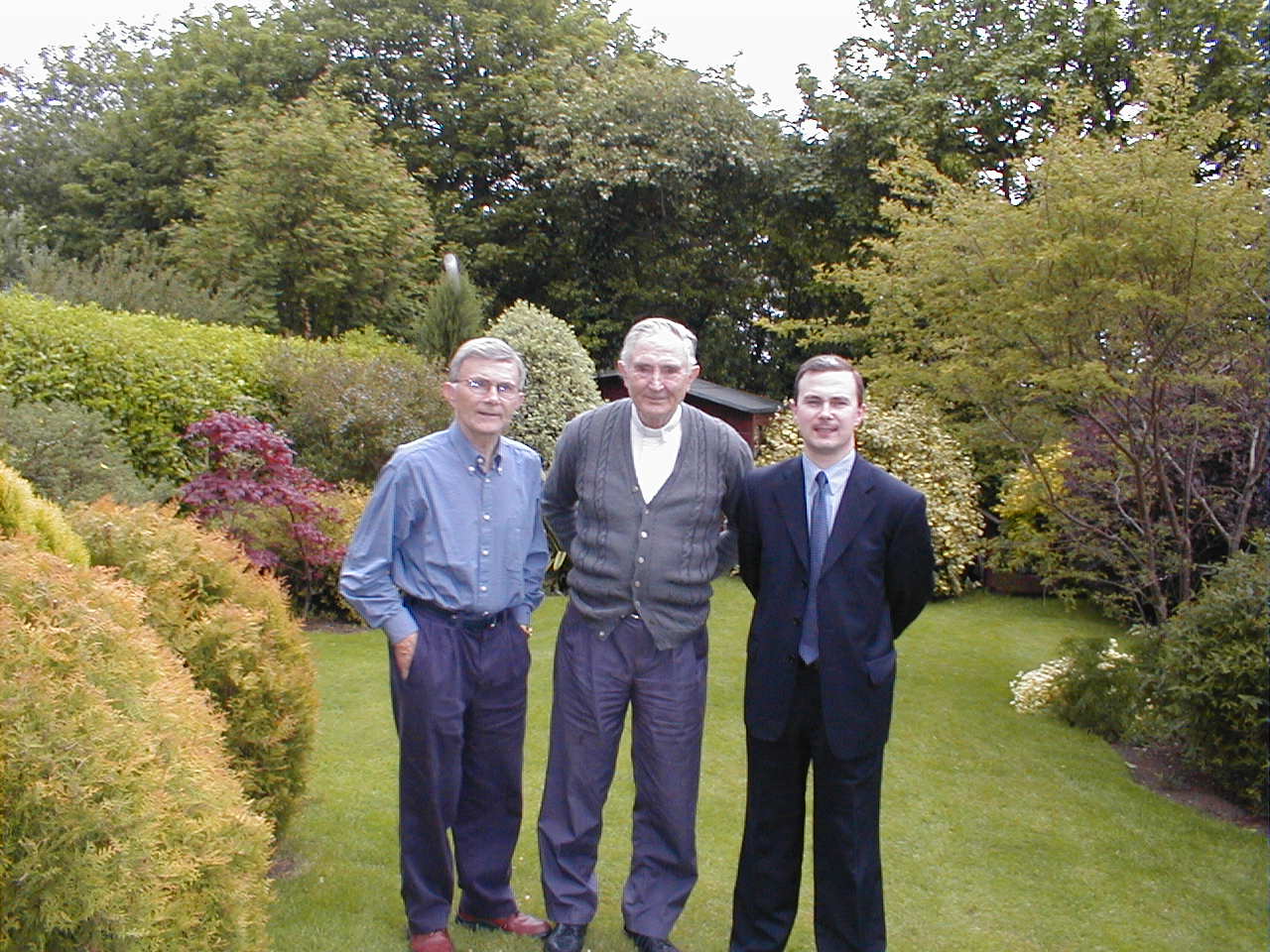 Fr Fred on a visit to Ireland during the millennium year of 2000. He is seen here from left with Maureen and Damian Keane; in relaxed pose; and with webmaster Tom and Damian Keane (photos taken Jun1, 2000)

2002:

Fr Fred celebrates his 75th birthday with his rural people in Chile.



2004:- Christmas:- With joy and confusion we come to this new nativity scene... as we again encounter out living God in a situation taking on the humble condition of identifying himself with us humans. In this we are invited to share with one another in the spirit of Jesus, promoting solidarity with the poor in rural Chile... My joy is in sharing Jesus, his simplicity and love with the poor Chilean farmers striving to give a new spirit to this world. My confusion is that we are ending this year with an eight thousand dollar debt.

2005:- Aged 78 yrs Fr Fred continues apace his life-long work for the development of the rural poor of Chile. During April he was invited to participate in a seminar in San Salvador in remembrance of 25th anniversary of martyrdom of Bishop Oscar Romero. Afterwards he travelled on to Europe including Dublin presenting projects on behalf of SOLMIRU (Rural Missionary Solidarity). Fr Fred is President of Solmiru.

The SOLMIRU objectives have Chilean national Episcopal and political backing and projects are initially based in some 40 townships. The aim is to draw on the leadership skills of experts, who have already come to leadership positions following earlier such programmes, in passing on their knowledge and skills to others. The expected results are that the poorer rural peoples of Chile are enabled to reach self-sufficiency, empowering them to operate effectively within a global capitalist system but informed by Theology and the Gospel.

Fr Fred visited Ireland and the U.S. during May.


2005:- Christmas. In general we are encouraging the globalization of solidarity from the local areas. Adapting to a free market process unfavorable to the poor farmer is difficult. 'Would you like to accompany us? Your prayers, your efforts to give a spirit of solidarity to your home nieghborhood and work situation, and your financial support are your tools.'


2006: Fr fred visited Dublin and Clare during first half of June before onward journey to Boston, Maryknoll Order Headquarters, New Jersey, and official engagements in Washington before returning to Chile.

2006 (cont.):- July 6: To go to Ireland is a great joy for me.... I come from the mission lands of Chile. There I share a great challenge with 40 rural parishes and many thousands of poor farm people. In this work you have been an important help. In a very changing world we help families and gremial groups to join in the effort to live with Jesus and His solidarity spirit.

2006 (cont.):- December 3: My task as national president (of SOLMIRU) is to inspire and defuse the life, example and teachings of Jesus so that we and forty parishes bring a tone of solidarity in a world which marginates the poor.

2007:- December 24: Christmas brings God closer to us in a simple way... To help the rural poor to accept the challenge to be missionary disciples with the humble spirit of Jesus is our big task during this year. I need your help and prayers... Let us continue with great love and solidarity.

2008: The Chilean Congress made Fr Fred an Honorary Citizen of Chile.

2008 (cont.) December: As a Church we want to live in our rural areas a a community of missionary disciples of Jesus Christ for the renovation of the life of our people.... During the year SOLMIRU trained missioners to defuse to defuse the Bishops' pastoral letter (on respect for human dignity and worth, solidarity, common good) and to promote community efforts in 15 rural diocese and through the national cooperatives, labour unions, neighbourhood groups and gremial organisations n a special way during 2009 we want to encourage and support 50 groups of your (young!) farmers who wanted to take on this challenge of being missionary disciple of Jesus in their local townships. Personally I want to thank you for your support through these 52 years of priesthoods.

Back in the Maryknoll retirement home, New York where he has since resided for medical reasons and signs of memory loss.

2010!: ... During the past year, I have several operations on the stint in my head and it has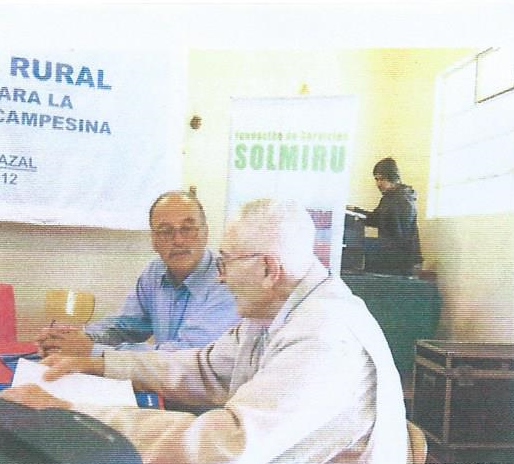 affected my memory for the past four months. I am now working from the Maryknoll location in the USA. In November, I spent 11 days in rural Chile. "Rural Missionary Solidarity" has become a strong force in Chile.
Fr Fred at the National Farmers Workshop with
Daniel Tapia, the new President of Solmiru, 2010
2013: Here we are celebrating the birth of Jesus Christ. It has been a few years since we have collaborated with prayers and gifts in transformation of the simple people of rural Chile... Our rural communities are taking on a spiritual service - in a special way our people are fighting for a sense of solidarity. Our groups of small communities are giving a good spirit to our neighborhoods.
updated April 17, 2009; last updated February, 2014