Keane of Kilnamona
BROTHER THOMAS MUNCHIN KEANE
(1908-1989)
by F. S. Keane
(from the Christian Brothers' Necrology, 1991)
Introduction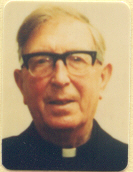 Thomas Keane was born in Ballyashea, Kilnamona, Ennis, County Clare, the youngest son of John Keane and Margaret Morgan. Margaret hailed from Knocknagruga, Ennistymon. Both John and Margaret were widowed. John's first wife was a McMahon from Dysart. They had one son, Matthew. Margaret, who was a Mrs Quinn, had no children. When John married in 1892, his sister Margaret married Michael Morgan, his wife's brother. At the time dowries were important in marriages among the farming classes. In these cases the dowry was considered to be "notional". No money was exchanged. The Keane farm provided adequate food and clothing, with few luxuries. Their ancestors were tenant farmers, as their lands had been confiscated and given to English landlords. This was rectified when the British Government bought back the land and gave title to the tenants on condition that they paid an annuity. The annuities were paid until de Valera came to power in 1932.
Both parents had Irish from their youth, but they spoke English to their family of six boys and three girls. The children of the second marriage were named Delia, Patrick, Mary, Michael, Margaret (Gretta), Andrew, Martin, John, and Thomas. With the exception of Tom, all the family were married. Delia, Mary, and Gretta married Patrick Carey, John Brody, and William Hegarty respectively. Tom's inclination to be sparing in sharing personal information was evident from the start. His exact date of birth is not certain. In a notebook kept by his father and grandfather he was listed as being born on 17 July 1908. His state birth certificate showed him as being born on 20 July. His baptismal certificate said he was born on 16 July.
His Early Memories
Despite restrictions, Tom's parents were good providers. In retrospect he could not understand how well the family was looked after. He remembered one complaint at dinner one day when he said, "Mammy, look at the bit I got." Almost invariably bacon was cooked for dinner. Ever afterwards Tom's favourite meat was bacon. Pigs were fattened and killed on the farm. A support system existed among the neighbours. In times of plenty food was shared; seasonal labour requirements saw people working on neighbouring farms, with no payment expected.
Tom retained vivid childhood recollections. Simple items like getting a bag of bulls-eyes, making carts with wheels from thread spools "which never turned, of course", running for protection to his mother when the first aeroplane flew over Kilnamona, contrasted with the sorrows of American wakes and the struggle for independence. He remembered his mother crying all day when his brothers and sisters emigrated. Four boys, Matthew, Michael, Martin and John, and two girls, Delia and Gretta, went to America.
School days in Kilnamona & Ennistymon
In 1913 Tom's sister Gretta brought him to school for the first time. He stayed with her in the girls' school for half the day and moved to the boys' school in the afternoon. The boys' school had a staff of two, a male principal and a junior assistant mistress, Lizzie Keating. Most of what Tom learned in that school was from her. She taught him in infants, first and second. Later Tom was sent to stay with an aunt Margaret Morgan, Knocknagraga, Ennistymon, so that he could attend the brothers' primary and secondary schools. The move to Ennistymon was influenced by the death of his mother in 1920. A lingering and frightening memory for Tom was the keening in Irish at her funeral.
In Ennistymon, not having learned Irish, Tom had a lot of leeway to make up to equal his classmates. However, his aunt and others helped him with spoken language, but they could not spell any word. A simple task of multiplying a sum of money in pounds, shillings and pence by six was initially a challenge. However, he soon picked up and was well able to keep pace with the rest of the class. In the secondary school he came under the influence of Brs. Henry Lucitt and Urban O'Brien. The latter was strict but highly efficient.
The simple pastimes in Ennistymon were very different from those of Kilnamona; there was no hurling, no rabbits to hunt, and no nuts to pick. Soirees (this word was used) in the homes were the usual form of recreation, especially at Christmas time. Set-dancing, music, singing, storytelling proved very popular. The main topic of conversation was the achievements of the local volunteers or the Irish Republican Army.

Memories of the Struggle for Irish Freedom
There were four garrisons in Ennistymon: the RIC, the military, the auxiliaries and the Black and Tans. There were frequent skirmishes and ambushes. After one ambush members of the garrison went on a rampage, burning, shooting and murdering. One of Tom's classmates was shot dead. On a number of occasions the Morgan house was raided by the Tans at break of day and all would have to get out of bed, wondering if any member of the household was going to he shot. On the day of the departure of the British, Parliament and Main Streets were lined with lorries full of RIC men, Tans, Auxiliaries, and soldiers. Tom joined a group that stood opposite the RIC Barracks watching the departure. But as they stood there the last act of the British before moving off was to fire a hand-grenade into the crowd, wounding several people. Tom and his companions ran down side streets and waited until the last of the army was gone.
In 1917 Tom's brother Pat received notice to join the army. He refused and spent time in Mountjoy jail for ignoring the conscription laws. On his release he was appointed Captain of C Company, 3rd Battalion, Mid-Clare Company, IRA. When the Treaty was signed on 6 December 1921 he decided on a military career and, although the home farm had been left to him, he wrote to America to offer it to Andrew. In June 1922 Pat was presumed dead following "action" at Dromoland. Everyone was surprised to see him return home six weeks later.
Joined Irish Christian Brothers
When Tom had completed the junior grade, Brother Paul Hogan called to the school seeking postulants. Tom volunteered to join up. He was influenced by the fact that a very good friend, Martin Conway, later Brother Fulgentius, had joined. "The Monastery" had a wonderful tradition of vocations to the brothers. One of Tom's cousins, Brother W. J. Morgan, is currently stationed at Nephin Road, Dublin (ed: now resides in Lahinch, Co Clare. Tom tells us, "The day I joined the Christian Brothers was 14 August 1923. I was sorry to be going, because we had made the last tram (cock/stack) of hay. The summer work was over and I could then rest. I set out from Ennis station for Baldoyle. Andrew travelled with me to Limerick. Of the eight postulants who joined the same day, I was the only one who persevered."
Novitiate Years
On arrival in Dublin they were met by Brother John Kelleher. The trip out to Baldoyle was on the top of an open tram, a vehicle Tom had never seen before. Tom enjoyed the ten months spent in the juniorate, under the director, Br. Louis Murphy, a very suitable man to take charge of seventy postulants. He was saintly, gentle, patient, and efficient. The even tenor of Juniorate life was disturbed for Tom when Pat visited him. The latter had come from Gormanstown Camp, County Meath, where he had spent about sixteen months. His trenchcoat contained the remains of clay from where they were digging an escape tunnel. In March 1925 Munchin received a letter from Pat saying that he and his newly-wedded wife, Bridget O'Dea, would call to see him. But neither Bridget nor Pat turned up. At the end of June 1924 thirty-one postulants moved to the novitiate in Marino. Brother Berchmans Reid conducted an eight day retreat and on 31 July 1924 clothed the novices in the habit. Tom himself recorded, "He labelled me Brother Munchin." He also remembered that Berchmans was strict but just and that he fed the novices well, filling them "with porridge and solid dessert". Munchin considered Berchmans very suitable for training advanced teenagers; his socius was not. He, in his young opinion at the time, lacked patience, common sense, and gentleness.
Having completed the novitiate, Munchin spent a year in the training college. The lessons he learned that year withstood the test of time. On 14 August 1926, he was sent on his first mission to Portlaoise. On his arrival there his trunk was not on the train. An elderly and somewhat forgetful brother who accompanied him forgot to put the baggage on board the train in Dublin. However, the station master was informed and the trunk was retrieved. The young brother's arrival at the monastery caused a bit of excitement, as the superior was away and the brothers were not aware that one of themselves had been transferred. Munchin, candidly and without pretentiousness, describes his early years as a teacher.
Primary Level Teaching
"I was given charge of infants and first class. I succeeded in my teaching because I followed carefully the notes which Berchmans Reid provided for teaching reading, writing, and arithmetic. After six months I was given charge of third and fourth classes, and after two years I was given sixth standard and made principal of the primary school. I was given two objectives by my superior, David Fitzpatrick: firstly to raise the standard of the religious education and secondly, to obtain the mark, 'Efficient' from the secular inspector. Our school was then rated the lowest in religious reports by the examiner. After a few years the school was graded excellent and first in the diocese. It was hard work trying to make theologians out of poor boys, some of whom had no breakfast. We had just gone under the Department of Education and we were very excited for our first general inspection. We came through well and were graded efficient. There was a very elusive higher grade, 'highly efficient', which required very hard work and often a few bottles of whiskey. With a view to getting highly efficient I taught the sixth standard through the medium of Irish. We reached a high standard, winning scholarships and passing exams, but we did not get the highest grade, chiefly, I think, as it would cost the Department more money. While I was principal I organized several hurling leagues in the school. I had three superiors while in Portlaoise, David Fitzpatrick, Rupert Coffey, and Boney O'Connell. They were all good religious but I consider Rupert Coffey one of the most likeable men I met. He was a very devoted schoolman, strict in the monastery, but very just, kind, and saintly. "
Final profession
Munchin was changed to the juniorate in Baldoyle on the 14 August 1933. On Christmas Day that year he took perpetual vows. He tells us, "I walked the six miles in to Marino, made my final profession, was embraced by the superior general, Pius Noonan, got tea, and walked back to Baldoyle to be in time for dinner at three o'clock." Munchin enjoyed teaching in Baldoyle as the pressures of preparing the boys for the department examinations did not then apply. In the evening he pursued his studies and passed the first arts examination.
Second Level Teaching Career : 1
He spent the school year 1935-6 in Mount Sion. His contribution to the educational scene in Waterford has seldom been equalled, and certainly not surpassed. That year he taught leaving certificate honours mathematics and Latin (apparently still with only primary school qualifications). He had charge of the senior hurling team, one of whom, Pat Fanning, later President of the GAA and also of the Christian Brothers Past Pupils Union, wrote,
". . . here, in Mount Sion, during three separate periods of service, he lived much of his working life, touching and profoundly influencing generations of Monastery boys. His service in Mount Sion began in the 'thirties and with interludes in other places, stretched through the 'forties, 'fifties, and into the 'sixties. He took pride in their achievements, but he will he remembered by many for his guarantee that any boy who worked at the books would not remain unplaced at the end of his school days. He took the guarantee seriously, and in my experience, never failed to meet that guarantee. His beloved boys were his only concern throughout his life."
Primary Degree Studies in University College Cork
Munchin commenced his degree studies at University College, Cork, in 1936. In those days he walked from the North Monastery to the university, the journey taking about half an hour. Each month he was given ten shillings (50p), from which he had to provide a mid-day meal costing about 4p per day at the university canteen. In 1938 he graduated with first class honours in Irish and Latin, with a pass in mathematics (ed. note: he choose maths as a subsidiary subject in degree year and thus by university rules a pass grade - it does not reflect his ability in the subject). Later in life he corresponded with friends in Latin.
Second Level Teaching Career : 2
In 1938 the destinies of St Joseph's all-Irish secondary school at Fairview, Dublin, changed when Munchin took charge. In the first year he attended University College Dublin (UCD) and was awarded his higher diploma in education. At that time the pupils went from St Joseph's to other schools to complete their education after intermediate certificate.
An Bráthair T. M. Ó Catháin with the Marino Intermediate Certificate Class of 1940. Charles J Haughey is standing second last row, third from the left.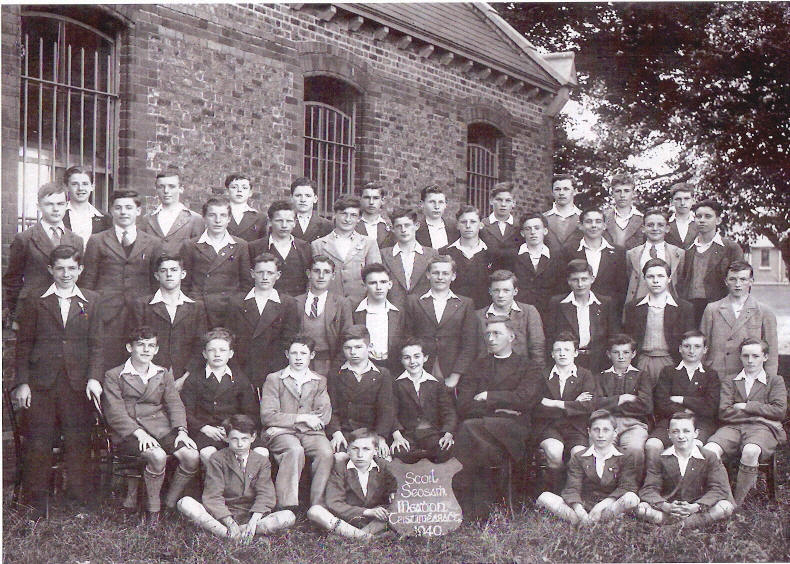 Munchin immediately started his own leaving certificate class. The superior of the O'Connell School was not too pleased at losing so many excellent pupils. He became so frustrated that he said to Munchin on one occasion, "I suppose you'll be taking the keys next." St Joseph's had excellent academic results. Successes at Gaelic games were equally impressive. Two of Munchin's past pupils distinguished themselves in politics: Charlie Haughey became Taoiseach (Prime Minister) and George Colley became Tánaiste (Deputy Prime Minister). Another pupil, Brother John Steinmeyer, was provincial in India. During the war, posts for school leavers were scarce. Just then the Irish Meteorological Service was established. Candidates with honours maths and honours applied maths were sought. Scoil Íosaif (St Joseph's) won eleven of the twenty places.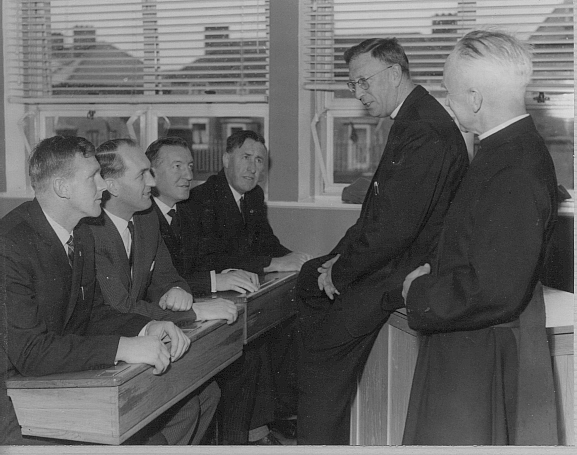 Munchin's leadership skills were not confined to school. In the community he was the originator of all things new. Superiors in St Patrick's, Marino, kept one eye on the community and the other on St Mary's, fearing a reprimand for even a suspicion of laxity. Such considerations carried little weight with Munchin. Paddy Cripps tells us what happened.
Brother Keane in 1965 with past pupils, second from left: Dublin Footballer, George Colley (Tanaiste [deputy prime minister] and Government Minister), Clarles Haughey (Prime Minister) and Kevin Boland (Government Minister), and then Superior of Marino Christian Brothers Schools.
The First Céilí
"Munchin got permission - no easy task - from Berchmans Cronin for all to stay up late and have a dance after night prayer on the night of Christmas Day. Berchrnans hesitated and finally granted permission, provided certain precautions were taken. 'Close the shutters lest we be seen from St Mary's.' Only Munchin could succeed in such a situation. He then taught us 'The Walls of Limerick' and 'The Siege of Ennis'; everyone had great fun. Munchin was great. He recognized the existence of us young monks. Some others did not. He was a master at the art of putting on the poor mouth and used it to get us to do jobs for him, like teaching mechanical drawing on a Saturday in St Joseph's.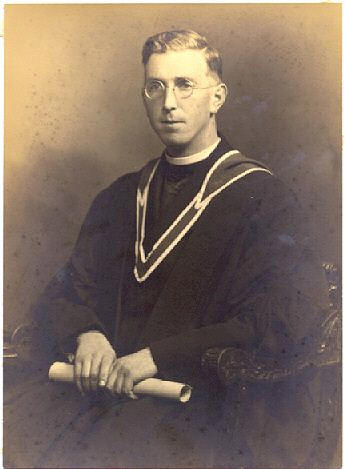 "He had a great senior hurling team in St Joseph's at that time. He organized us young monks into a team to give his lads match practice. I remember one game where Kevin Crosse was marking Charlie Haughey. Kevin, whose hurling was of the windmill variety, neatly removed one of Charlie's front incisors. Charlie remembers it to this day."
The busy years in Fairview gave place to a relatively quiet one-year sojourn in Doneraile. While concentrating on teaching his classes, Munchin continued his studies. UCC awarded him an honours MA in 1945, for his thesis, Na Bráithre Críostúla agus an Ghaeilge (The Christian Brothers and Irish).
Br Keane on his being conferred with an M.A. (hons.) at University College Cork (UCC).
Second Level Teaching Career : 3
He returned to Mount Sion (Waterford) in 1945. It was an all-Irish school and he took charge of the leaving certificate, teaching mathematics, physics, applied maths, Irish, and Latin, all honours grade. The results were wonderful, pupils obtaining many posts and university scholarships and first place in various subjects, including gold and silver medals one year for Irish. Munchin devoted the evenings to coaching the senior hurling team. His success in Mount Sion is easily quantifiable. If he is to be judged by the number of his past pupils in high positions in Church and State, the professions and commerce, his success was phenomenal. The system of continuous assessment ensured steady progress. No pupil could possibly fall behind the class. In mixed-ability classes there was no question of lower standards. Effortlessly the weaker boys levelled up to the higher standard.
Secondary Level Teaching Career : 4
In 1950 Munchin was appointed superior of Dungarvan. This was another all-Irish school. Here again very satisfac- tory results were the order of the day. One past pupil, Austin Deasy, became Minister for Agriculture. Cathal O'Doherty taught for more than forty years in the brothers' school in Dungarvan. In his experience Munchin was the best school man he ever met. With his staff he was fully cooperative. His advice to teachers was, "Never let your class think you are concerned about them. Do not seem to worry and they will work. " While Munchin proved an extremely cute man, he was never cunning or deceitful. If he had something to say he did so unequivocally.
One of the teachers liked a smoke. He occasionally excused himself and made his way to the toilets for a cigarette. The approach to rectifying the situation was indirect. One day when the teacher returned to class Munch said very simply, "If you have kidney trouble, Seán, you should go to the doctor." The psychology worked. Disapproving of unnecessary absences from class, Munch disliked callers who might upset his work. Any young teacher who worked with Munchin got a wonderful training, in contrast with anything offered by third level institutions. While the neophyte learned the tricks of the trade, there were elements of Munchin's system, which defied description and were unique to him. These were impossible to copy. An ex-pupil, whom he employed as a young teacher, while getting full cooperation, found it difficult to teach alongside him. Keeping at his even pace was not easy.
Munchin was essentially a generous man. At Christmas he provided drinks for the teachers at the end of term. However he was most careful not to provide too much. Having teachers consuming in excess was not encouraged.

Brother Thomas's UNIQUE Teaching Methods
In teaching Munchin used the Dalton method; students helped each other. He was essentially a wonderful motivator. His disposition was even; he never seemed to he cross. He knew instinctively at what pace the class could work most efficiently. He had an extraordinary capacity for getting boys to work, through his own example, thorough preparation, and an ability to motivate. The boys were conscious of making great strides in all subjects. Success generated success. The whole course was covered and all its aspects examined regularly. Practice in answering examination papers made it almost automatic to achieve high marks. Familiarity did not breed contempt, but brought forth efficiency and confidence. Before the leaving certificate examination, every possible public examination was attempted by everyone. The experience gained here was invaluable. After the exam Munchin asked the question, "Did you max it?"
In his teaching he was totally career orientated. Occasionally he castigated a pupil simply by saying, "You're letting me down." The errant pupil improved. Seemingly Munchin could read a pupil's thoughts. He used this gift sensibly in getting the boys to work. He introduced evening study in Dungarvan. This was self-supervised by the pupils. One night he caught students playing cards instead of studying. All were immediately banished from the school in the evening. The other boys were allowed to continue studying, on condition that such conduct was not repeated. The boys worked hard, were on their honour, and there was no repetition of the shirking. For the diligent boys the experience paid dividends.
Munchin was ahead of his time. The onus fell on the pupils themselves to shape up. Knowing the boys well, he invariably recommended to each what position would suit him best. If a student intimated that he wanted a position below his capability, Munchin vigorously discouraged him, and urged him to be more ambitious. Not alone did he act as counsellor, but in pre career guidance days, he suggested jobs to his boys, and went out on his bicycle to firms who might have vacancies. In reality it was career guidance by bicycle. Munchin somehow made the boys have pride in their homes. He visited each family. His purpose in this was to reassure the family, and to encourage them in furthering their son's education. On one occasion, Munchin individually brought a boy through the entire applied maths course. Not unexpectedly the boy did well. Because of his enthusiasm for Irish and his skill in the language, the boys experienced no difficulty in learning any subject.
Brother Thomas (behind man with hat in hand) attending the foundation ceremony of the Erin's Hope Monument in Ring, County Waterford soon after his appointment as Superior of the Christian Brothers Dungarvan in 1950. The Principal of Ring College, Seamus Ó hEochadha, also known as An Fear Mór, is turning the sod. Photo courtesy Co. Waterford Image Archive
Usually Munchin taught the fifth and sixth year classes together. In this way the boys covered the course at least twice in the two-year period. In a spirit of pleasing their teacher, the boys always attacked Munchin's work first. It seemed the natural thing to do.
Great love of the old Gaelic game of hurling
Wonderful encouragement was given to games, especially hurling. The school reached the final of the Dean Ryan Cup on four different occasions. Munchin played a magic role in promoting hurling in Dungarvan. Psychologically he prepared the boys for games against seemingly superior schools. Tactics were discussed in advance. The magic worked very well. The boys invariably took to the field full of confidence. When players sought advice on tactics, the reply would invariably be, "Do as Brother Keane told you." In his relations with the boys he was essentially a lovable rogue. Yet he always retained the students' respect. His harangue before a game worked wonders. When an opposing mentor was heard to say that the brothers' team were easily conquered, being "only Dungarvan", Munch turned the phrase to his advantage. Such a slur on his team's ability could not be countenanced.
Other Interests
On Saturdays he loved to go shooting with a local priest, Father Byrne. Due to wearing glasses, Munchin was not really a great shot. Folklore maintains that he never shot anything. Nevertheless he loved to spend a morning with gun and dog, Bran.
Excursions were made regularly in an old Baby Ford. So as not to arouse curiosity, the car was usually parked in a discreet place. At visitation it was put in the old hay shed. Bales of hay efficiently hid it from view. A cow, with calf, tethered in front, proved a most authentic camouflage to throw all prying corners off the scent.
Munchin, on his own initiative, had a plaque erected at the brothers' former school at Shandon. All that remains of the school is one wall, but the brothers' residence, built in 1811, is still in use.
Material on Munchin's days in Dungarvan was supplied by Jack Curran, Phil Duggan, Austin Flynn, Cathal O'Doherty, Sylvester Ó Muiri, and Patrick Yeale.
Dungarvan Tributes
The six years in Dungarvan were highly successful. The Dungarvan Leader, thirty-three years later, at the time of his death, published a tribute, of which this is part.
"Brother Ó Catháin taught in Dungarvan between 1950 and 1956 during which time popular Waterford TD and former Minister for Agriculture, Austin Deasy, was one of his pupils. Paying tribute to Brother Ó Catháin on Monday before he left to attend the funeral, Deputy Deasy said he was a superb teacher with a brilliant mind dealing with such difficult subjects as honours mathematics, physics, mathematical physics and honours Latin, while he was also an expert on ancient Irish manuscripts. He attributed his own success and that of his classmates to the training they received from Brother Ó Catháin."
Second Level Teaching Career : 5
Munchin spent one year in Westland Row, Dublin, before returning to his well-beloved Mount Sion in 1957. Here he was destined to remain for nine years. While the now familiar excellence at school work continued, Munchin found time for other activities. He taught céilí dancing to the boys and organized dances with the girls from the local convents. On a practical level he wrote a textbook in mathematics for leaving certificate. The school boys read the proofs, being left with the impression that they were writing the book. The text was in Irish, as Munchin's main aim was to assist the teachers in the various schools who were teaching through Irish. At this time also he had charge of the Sodality of Mary Immaculate. Pat Fanning describes him well.
"Munchin Keane was a remarkable man, in many ways a man before his time. In an era of stern discipline he was never known to raise a finger to any boy. But, he could, and did, raise an eyebrow and assume a pose of injured innocence. Those on the receiving end of that raised eyebrow believed they had done some fearful insult to their long-suffering teacher and mentor. That eyebrow worked miracles. In his day his teaching methods anticipated by decades the current emphasis on pupil-centred education. He was a mathematician of national repute. At the introduction of the new mathematics course in the 'sixties, he wrote in Irish the first mathematics text book of the new syllabus, Matamaitic na hÁrd Teistiméireachta. I recall his insistence that this important work should be published first and only in Irish. For he was, too, a great teacher of Gaeilge, and a great lover of the language and was happiest and most fulfilled when working in places like Mount Sion, Dungarvan, and St Joseph's, Marino, schools in which all subjects were taught through Irish."
Religious are not supposed to be ambitious, except for the higher things. Munchin was gravely disappointed that the superiorship of Mount Sion eluded him. It was an unfulfilled ambition. He was a member of the community when the post fell vacant. He was not appointed. Being a humble man, he continued on as usual enthusiastically with his work. The incoming superior received full co-operation and support from him. In fact it was a blessing for the new superior to have such an experienced brother in the community.
Second Level Teaching Career : 6
In 1966, Munchin tells us,
"I was next appointed superior of Templemore, County Tipperary. This also was an all-Irish school. I had another trouble-free six years there. I continued the céilí dances and gave all encouragement to the games master. We won senior B championship of Munster a number of times."
The Tipperary Star paid tribute to his achievements:
"He came to Templemore CBS as principal of the secondary school in the late sixties. During his time the school enrolment increased enormously, which necessitated increased classrooms, which were duly completed in record time.
"His commitment to the Irish language was well known and usually in the course of his daily duty the principal means of communication was Gaeilge. He had great pride in our native language and during his stay in Templemore he made tremendous efforts to increase the use and improve the standard of the native tongue."
In 1972 Munchin was transferred to Árdscoil Rís, Limerick. This was his first all-English school. He continued to teach leaving certificate honours in mathematics, physics and applied mathematics, till, as he said himself, "In 1984 I put down the chalk and retired at the age of seventy-six years."
We may ask what made Munchin such a successful teacher. His autobiographical notes give a clue.
"During my teaching I did not use corporal punishment. I always called a pupil by his Christian name and I did not insult or nickname a pupil. The pupils knew I was hardworking and just, and they in turn treated me very fairly and respectfully."
One of his superiors, Brother L. P. Reynolds, remembers those days.
Secondary Level Teaching Career : 7
"When I arrived in St Teresa's in Limerick in 1977 Brother Munchin was a member of the community. I very soon discovered that in him I had a very real friend and confidant. He was a tower of strength in community. His easy and amiable ways contributed towards making St Teresa's a happy community. Although over seventy years of age, he gladly continued to teach honours mathematics, physics, and applied mathematics to fifth and sixth year classes. He took RE with a first year class until he began to find these boys a bit too lively for him.
"A co-operation scheme saw our boys going over to the neighbouring Salesian Convent for art while the girls came to us for physics. Straight away they became 'my girls' for Munchin. When class organization demanded that the girls he divided into two classes, with Munchin getting only half the group, he took a very poor view of it! The boys thought the introduction of girls was a great idea until comparisons in results began to be made. Soon there were requests from the boys not to have their results made known to the girls. They very soon realized that they had to improve the quality of their work to stay on a par with the girls. Brother Munchin was greatly appreciated as a teacher by both boys and girls.
The final years
"He was very keen on his daily exercise and took regular walks along the banks of the River Shannon. These walks were temporarily interrupted about 1979 when he underwent a hip replacement to relieve the constant arthritic pain. The operation was a complete success. Within a short time he was back on the banks of the river again, greeting the acquaintances he knew from his daily walks."
In August 1988 Munch spent a week in Dungarvan really enjoyed himself, visiting old haunts, old friends, new acquaintances. Even at that stage he had little difficulty in singing old songs. When examining old school photographs, he could name every boy in the picture. In July 1989 he was moved to St Patrick's, Baldoyle. He bore his ever-increasing sufferings with unusual patience. One of his visitors was fellow Clareman, Dr Hillary, President of Ireland. On 5 November that year Munchin quietly passed to heaven in order to celebrate with the army of Irish saints their joint feast day on the morrow.
Brother Thomas - the person
In the course of a tribute in the St Helen's Province News we read:
"From his Clare roots came many of the great qualities that characterized his life - his loyalty to his Catholic Faith; his love of his country and its cultural inheritance; his devotion to his family and friends; his love of his native place and, above all, a native shrewdness, that, in the course of his life, gave rise to a whole saga of stories, some true, half true, and some entirely mythological. Early in life he discovered the value of apparent incompetence. With uncanny eye for the appropriate moment, he knew precisely when to abandon himself to the well of sympathy which his helpless 'incompetence' generated. As a teacher, this was his psychological weapon par excellence. By means of it, legions of youngsters were inveigled into hours of mathematical endeavour in order to give 'poor Brother Keane' a hand, or solve a problem for him. His ability to get others to do the work while he, like a great army general, commanded the battlefield, was his crowning achievement as a teacher. The success of his methodology was demonstrated by armies of scholars who went forth from his classroom with self-confidence and poise that carried them successfully through life, and evoked in them a kind of legendary awe of the wily old schemer whose masterly direction made it possible."
Another of Munchin's former superiors, Brother Jack Casey, was privileged to preach the homily at his funeral. I will share some of his thoughts.
"The Gospel today says it all, 'I tell you solemnly, in so far as you did this to one of the least of these brothers of mine you did it to me.'
"Facere et Docere - to do and to teach - is the motto on the CBS crest, and at the age of seventy-five he did his last year's teaching in the classroom. One brother is reputed to have said,
'While we were teaching, Brother Keane was achieving.'
"He looked forward always to going to Kilnamona after dinner on Christmas Day. One brother, when driving him home for the first time, asked him which way they were going and got the answer, 'Go out the gate and I'll tell you which way to turn.' He didn't give much information away.
"Even though Brother Tom has departed this life, his great work lives on and so do his friends. He had great friends all over the country and they were always very faithful to him, and that says something about his greatness. The nuns in Waterford, Templemore, and Limerick were amongst his closest friends, and they were very good to him. He used call Sister Jennifer in Limerick his niece and she became very close to him in his last few years. He loved being fussed over and he used ask her over to the monastery frequently to trim his hair or mend his clothes. About his hair he used say, 'Cut it anyway you like; it'll be prefect anyway.' He spoke to her about religion, about the period when he was really anxious for answers. He read every theology book he could get his hands on, but in the end he decided to stop and go back to the simple religion he got from his mother. He said three rosaries every day and never missed Mass or Office.
"I always marvelled at his phenomenal memory. He recalled dates, names, and facts at will, an ability he maintained right up to his death. It was sad to see him gradually give in to the cancer which he had since last Christmas. What really hurt him most was that he could not enjoy his meals any more. He was looking forward to Kilkee. However he realized that it was time to go to Baldoyle and get the attention which he needed. It was a sad day for us all when he left St Teresa's, and all his local friends were there to see him off."
I'll conclude with two tributes. The first is from his lifelong friend, Pádraig Ó Fainín, the second from one of Ireland's national newspapers.
"For the more one came to know this remarkable brother the more one came to appreciate the greatness of the teacher and the true simplicity of the man. Such were his achievements in the field of education that it is easy to forget that he was first and foremost a religious and son of Edmund Rice."
In an appreciation of Munchin and also Kilian Fitzgerald, "E. E. D.", writing in The Irish Times, concluded, "The brothers' cemetery [in Baldoyle] has rows of uniform headstones recording only their names and years of birth and death - like a military cemetery, fittingly somehow, for those under-valued, essential men, the NCOs of the Church. Their demands in life were few. They remain in the memories of their former students, who in turn, must also pass on.
Memory fades,

Must the remembered,

Perishing be?
"In this case one thinks not. Future historians will write in wonder at the unselfishness of men who built, taught, and asked so little for themselves."