Keane
of
Kilnamona
Pat Keane of Ballymongaun, Kilnamona
Summary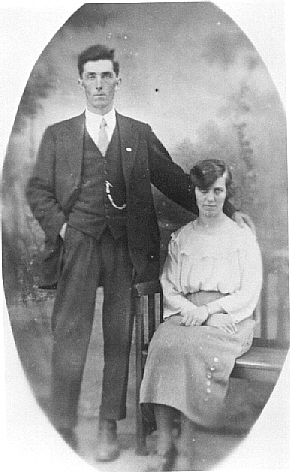 Born on April 6 1894, Pat Keane was the third child of Johnny (Matthew) Keane (second child by his second wife) (see parents). From an early age he joined the Irish Volunteers - Óglaigh na hÉireann - in the struggle for the freedom of Ireland in which he took a leading role. Intending to take up a military career on the formation of the new state when independence was achieved, and although originally expected to take over the home farm at Ballyashea, Pat relinquished title and invited his brother Andrew to return home from the U.S.A. Later, he took the republican side in the Civil War that followed independence and declined to join the army of the newly formed State. Pat received the Gold Fáinne while interred for post-treaty republican activities in the Gormanstown camp which entitled him to teach Irish to adults at night school. This he did subsequently in Kilnamona, Dysart and Toonagh. Pat married Bridget O'Dea, Ahasla, Kilnamona "whom he had been courting for years" (Br Thomas memoirs, 1987) marrying into her small farm in June 1925 (see marriage photograph). Bridget had studied dressmaking in Ennis for four years (see O'Dea) and a small income from same helped to supplement the family resources. All were excellent workers and applied themselves to extreme to their work as conditions were extremely tough.
-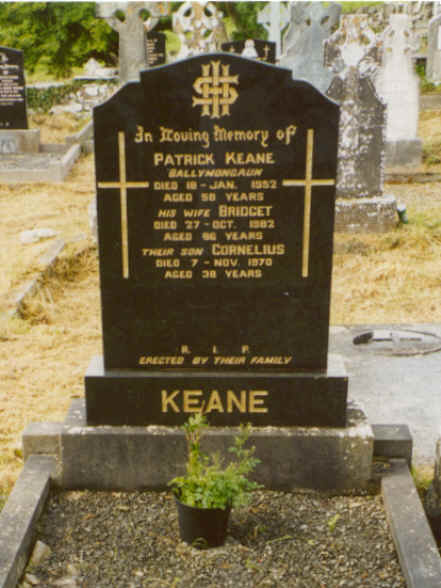 Pat and Bridget had ten in family, two girls followed by eight boys but the second last child died at birth (thus leaving a family of nine). Six of the family were born in Ahasla, the remaining four at Ballymongaun, where Pat had acquired a number of small farm holdings . In 1934 Pat "took his courage in his hands" and completed a new two-storied house at Ballymongaun, almost entirely on his own, being very gifted at that type of work "so that his children would be near secondary education in Ennis" (Br Thomas). He was also of a very academic nature, being well noted for his literary abilities. Pat died on 18th January 1952, at 57 years and Bridget (see O'Dea) survived him by thirty years, being 86 years when she died on 27 October 1982. Both are buried in the family plot in the old graveyard, Kilnamona (RIP). (more on Pat's farm).
Making a Stand... Military Career.... Anti Treaty Activities.... Internment Camp.... Academic Side of Pat.... Lighter Side of Life in the Volunteers.... Supervisor with Department of Agriculture.... The Penultimate Years.... Reader of News and Historic Events.... Life's Review....Rambling House Story.... War of Independence and Civil War: Pat's Testimonial Statement.... Truce Period.... Appreciation (Clare Champion).
Pat
(Patrick)
Keane:
1894 - 1952
Ballyashea/Ballymongaun, Kilnamona

Revolutionary and Nationalist!
Making a Stand
Pat's public life might said to start with his attendance at the inaugural meeting of the (original) Sinn Féin organization in County Clare held at O'Callaghan Mills in 1915. It seems only some dozen delegates from the county were in attendance, including 'Fagan' McNamara, Crusheen - both he and Pat represented the same extensive division of (mid) Clare (information kindly provided by Sean McNamara, son of Fagan; also see

for instance reference to Clare Battalion Division (2) Crusheen

, Inch, Ennis and District – S. Mac Conmara in charge

). Following this the Clare Sinn Féin organization blossomed with its first political success in the parliamentary bye election in East Clare of 1917 and general election of 1918. Pat was already a member of the Irish Volunteers (Óglaigh na hÉireann) which existed in most parishes before the summer of 1913 (see Witness Statement, WS 1324, by Joe Barrett in the National Archives, Dublin). Due to confusing orders from Dublin, Pat was not called upon to fight in the 1916 Easter rising, but was ready, 'attended meetings and standing to' (see Testimonial Statement below).
The First World War was entering its final phase and the British offensive in Europe was underway in 1917 (probably 1918!) when Pat 'received notice' to join the British army. Pat's mother was very upset one day because a peeler (police officer) had called to the home giving advance notice that her son Pat would be conscripted. Owing to concerted opposition from Church and Sinn Féin (De Valera), conscription of the Irish never took place (Br Thomas
remembers
).
C
lare was declared a Special Military Area in February 1918 due to agrarian disorder. In the spring of 1918, several men with their horses and ploughs could be seen tilling the land of the Landlord Crowe at Ballymongaun, Kilnamona. They were asserting the right of the Irish people to own their land. Next morning four men from the parish were arrested. Two participants (Mick Brody and Pat Keane) refusing to recognise the court were sentenced to three months in Mountjoy Jail (Mick Guerin and Tom O'Brien were released on promise of good behaviour). Br Thomas (1987) recalls that 'the rumour at the time (was) that the men in Mountjoy were going to be sent to the front but it didn't happen.' Later, Sinn Fein discouraged further agrarian action especially cattle rustling, 'in order not to distract from the war effort and took up the campaign against conscription' (e.g. The War in Clare 1911-1921, Michael Brennan, Four Courts Press, 1980). Clare was divided into three brigade areas in December 1918 (Brennan) while David Fitzpatrick (see ref. later) states that Mid-Clare Brigade was established on March 1st 1919
!


Military Career
Pat Keane was attached to the Mid-Clare Brigade of the Volunteers and in turn was Kilnamona Coy (Company) Section Commander (1919), Adjutant (1920) and Officer in Command (1921) with over 60 men under his charge (cf Pat's Application for a Service Certificate in Dept of Defence, 1935). While in the latter posting Pat was also a member of the A.S.U. (Active Service Unit), 3rd Battalion, Mid-Clare Company, IRA operating all over the Mid Clare Brigade area
.
Some of the more important engagements in which Pat took part included the disarming of seven soldiers who daily paraded through the streets of Ennis on the evening of June 23rd, 1920; the capture of guns from the Barracks in the neighbouring parish of Ruan in October 1920, under Joe Barrett, Adjutant, Mid-Clare Brigade (see WS 1324 and WS 1326, National Archives (NA), and Andrew O'Donoghue (AO'D) report 1 on web), and the highly dangerous transport of a consignment of guns from Ennis for the Monreel ambush near Miltown Malbay, December 18th, 1920 (WS1326; AO'D report 2), and a number of ambushes which were abandoned due the enemy not appearing.
The Ennis assault is interesting in that volunteers were specially selected for a task which required considerable co-ordination - any failure on the part of any of the volunteers could have had disastrous consequences for all. Intensive rehearsals were held over the previous 12 nights 'using a party of twenty one men with seven set aside representing the soldiers until each (was) thoroughly proficient in his particular duty' (WS 1324, also see Bureau of Military History or here). A signal whistle blast was given (WS 1135) and 'each member of the guard was attacked individually and simultaneously, so complete surprise, and overpowered at once... it lasted about two minutes' (WS, 1324; W.S. 1261). Success was achieved without loss of life on either side

.
Scrutinising closely Pat's own testimony (reproduced below) he states that 'on the 23rd June 1920, I was
posted with gun
at O'Connell St Ennis to hold up
a
British soldier
with rifle and bayonet on the occasion of the successful
disarming of the British Patrol
'. From the Witness Statements of the 1950s further details can be gleamed. According to Seán 'Keeffe (W.S. 1261, pp 14-19) the plan of attack was for the splitting up of the men into groups of three, each group of three were to overpower and disarm a designated soldier.
O'Keeffe listed Pat as one such member (of the total 21 listed) assigned to a disarming group (others from Kilnamona Coy. were Michael Hegarty, Patrick Brody and Joseph Barrett).

For the capture of the Ruan Barrack, Joe Barrett states that 'men, picked for coolness, dash and courage, and drawn from all areas of the Brigade area, were set aside for the immediate work of storming the barracks' (WS 1324, National Archives). Br Thomas in his memoirs writes: "He (Pat) took part in some way in the disarming of soldiers in Ennis and he also took some part in the taking of Ruan barracks."
Br. Thomas also remembers that Pat "was accused whether guilty or not of breaking peelers bicycles and throwing them into the stream that runs (near Kilnamona church) between Hegartys and Galvins", and that he "brought the rifles from the Monreal ambush from Kilnamona to Cloonagh, hidden under hay." For Pat's own account of his role in these engagements, see his Testimonial Statement appended below.
Pat's seems not to have been one of the 50-60 men (they were mostly from the 5th Batt, however) of the newly formed (November 1920) Battalion Flying Column under Joe Barrett although he was usually 'on the run' from the authorities. Apparently his O.C. responsibilities seems to have precluded this, e.g. he was also responsible for the security of the many Brigade Council meeting held in his area, e.g. that recounted in WS 1326 (AO'D report 3) of a meeting held in Patsie Hegarty's house, Kilnamona, early in May 1921 where a representative of GHQ Dublin sought increased harassment of crown forces by Mid-Clare Brigade (to take the heat off Cork!).
Over:- Mid-Clare Unit IRA activists, circa. 1921. Back row from left: Pakie Kerin, Darragh; Pat Keane, Kilnamona; unknown; Centre row: Jack Irwin!! (see Feedback, msg 40!), unknown; Front row: Vincent Barrett (in uniform); Thomas Callaghan*,Cloonanaha (with gun); Patrick McGough, Inagh.

*Thomas Callaghan took part in the Rineen ambush, but when the IRA combatants were withdrawing from the scene he inadvertently left a signed prayer book at the scene, and had to crawl back to the ambush site in order to retrieve it before it was discovered by the Tan forces. This had a lifelong adverse affect to his nerves. John's sister married Pat's brother Andrew in the mid-1920's (see Andrew).
-
Anti Treaty Activities
When the Treaty was signed on 6 December 1921, Pat decided on a military career and although the home farm was intended for him, he wrote to Andrew (recently emigrated to America) offering it to him. While Pat was on the republican side on the question of the treaty, local volunteer commanders whether they be Republican or Free-State assumed control from the departing British. Pat was selected for and served as a cadet in the Officers Training College at Ennis under Michael Brennan (later Major General Brennan) during February and March 1921, at which point John Keating took over as O.C. Kilnamona. Pat commanded the taking over of the Barracks in Lisdoonvarna from the evacuating British forces early in 1922 and subsequently he joined with Cmt. Joe Barrett (Kilrush) and Seán O'Grady (later

Fíanna Fáil

T.D., Clare member of Irish Parliament) at the Ennistymon Barracks. He was rigged out in full military uniform with Sam Brown belt and appointed Quarter Master of the barracks and later O/C with rank of Captain and over 60 men under his charge (cf Pat's Application for a Service Certificate in Dept of Defence, 1935).
Over: Pat

in the military uniform, May 1922 when during the truce on an officer training course under General Michael Brennan for a career in the new state army




Br Thomas (1989) writes: "On the day of the departure of the British all Parliament Street and Main Street was lined up with lorries full of R.I.C. men, Tans, Auxiliaries and soldiers. When we were coming out of school a group of us stood opposite the R.I.C. barracks watching the departure but as we stood there the last act of the British before moving off was to fire a hand grenade (Mills bomb!) into our midst wounding several of my companions. Those of us unhurt ran for our lives down side streets and waited until the last of the army was gone." Is this the same incident recounted in 'Politics and Irish Life 1913 -1921' (David Fitzpatrick, 1977,1998), which states that the Ennistymon barracks was given over on February 1st 1922 after Head Constable had publically denounced 2 constables for throwing Mill bombs at school children screaming 'Up Rinneen, Up the IRA' ?
Many alluring offers were made to Pat to entice him to join with the Free-State cause including a number of offers of a commission in the Free-State army, a large farm in County Meath, and the post of rate collector in Co Clare, which he declined.



Pat was in Ennistymon Barracks up to the end of June 1922 when the Free State soldiers, which far outnumbered them, gave notice that they were to attack the barracks. The Republicans withdrew setting fire to the barracks and from then were on the run. Subsequently he was missing and it was rumoured that he had been killed at an ambush near Dromoland. However, after 6 weeks everyone was surprised to see him return home (for more information see Pat's Testimonial below).
Pat remained on the run from the Free State authorities and for a time went into hiding at the O'Dea farm in Ahasla, which was remote from the main thoroughfare. This was subsequent to Cornie O'Dea's tragic death on 22nd August, 1922 (see O'Dea). He and fellow republicans used to meet clandestinely on those boggy wetlands. According to Willie Hegarty, Ahasla (2007, then aged 87 years) it seems that the Civic Guards (from the Maurice's Mills Barracks) arrived one day at the neighbouring Hegarty house on routine surveillance. On enquiring about the family further in the roadway, the Guards were told of the recent O'Dea sad bereavement leaving a widow with two young daughters. The upshot of this was that the police refrained from visiting the O'Dea house on that occasion.
- -
-
-
Over: Comrades in Arms: Formal photo of Pat (right) and his first cousin (once removed) Frank Keane, both active in the IRA. Probably dated ~1919/1920 as Frank (b. 1902) appears to be about 17/18 years of age and thus Pat (b. 1894) would be about 25 years!
-
The Republicans decided to retake the new Barracks at Ennistymon and Pat was asked to undertake the task. Br Thomas goes on to write (my brackets): "Pat then contacted Mylie Keane (cousin) who had joined the Free State army (known then as the National troops) as a soldier and was stationed at Ennistymon temporary barracks now the Ennistymon hospital. The plan was that on the night (during August 1922) Mylie while on sentry duty would allow the republicans access to the barracks. However a dispatch containing the information was found hidden in the sole of the shoe of Pat Morgan (Lavareen, Ennistymon, a cousin of Pat's on Morgan side) who was carrying the document." Pat arrived at Morgans of Knocknagraga (cousins) to prepare for the takeover of the barracks but owing to the information getting out (believed to be loose talk by Mylie to comrades in drink!) the house was surrounded by Free State soldiers in the early hours of the morning. Pat who had a revolver under his pillow, had time to push the revolver down into a sack of flour. However one of the soldiers found the gun and put it in his own pocket 'probably to sell'. If the revolver was found by one of the officers Pat would have been executed because of an official ruling to execute anyone carrying firearms."
[Shown below is the actual Old IRA medal issued to Pat in 1941 by the Government of Ireland as a member of the Irish Volunteers who were engaged in the War of Independence and who had given valuable service. Depicted on the medal is a Volunteer in uniform with gun standing to attention surrounded by crests of each of the four provinces with prominent ÉIRE (Ireland) and inscribed at the bottom with the words cogadh na saoirse (war of independence). The word cómhrac (struggle, combat) is inscribed on a bar attached to the pennant and this bar was issued to those only who had actually given active and armed service (see here)].

Internment Camp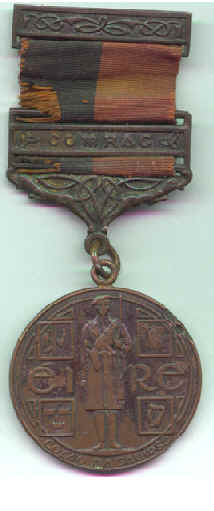 A report in the 'Clare Champion' of August 12th 1922 listed among the 21 arrests of irregulars in the Mid-Clare Brigade area were Pat Keane, Kilnamona and his cousin Pat Morgan, Lavereen, Ennistymon. (Ed.: The dating of this newspaper report (courtesy of Br Willie Morgan) seems to be at variance with that recounted by Pat in his Testimonial Statement reproduced below and with that of Willie Hegarty above in relation to the O'Dea recently bereaved family (Cornie O'Dea died on August 20) - the newspaper publication date needs further checking out!) A Clare Champion report on September 2nd told of a large number of republican prisoners rounded up and captured in the South Western Command area who had been transferred from Limerick prison to their destination of internment via steamer down the Shannon (land transfer must have been considered too risky). Pat was thus sent to Gormanstown Internment Camp, Co. Meath on 8 September 1922 ( "Location of prisoners Book" GC 8/9/22, Military Archives, Cathal Brugh Barracks; GC, Gormanstown Camp). Although no record of date of release is available, Pat's own Testimonial Statement (see below) states this to be December 1923, which is supported in part by the date on his Gormanstown Education Certificate reproduced below (October 10th 1923). Thus the length of his prison camp incarceration is reckoned as fifteen months. To put his release date in context: The republican ceasefire and dump of arms order occurred on May 24th 1923, and prisoners were gradually released (3,000 per month), those prisoners considered the greater danger to the State released later up to December 1923 or the general amnesty early 1924 (see in McGuffin (1973) his ref. 10).
One day, on a day release, Pat visited his brother Thomas, who had recently joined the Irish Christian Brothers (14 August 1923) and was a postulant at the Order's Baldoyle Novitiate, a village northeast of Dublin city. Brother Thomas recalled that his trench coat contained the remains of clay from the digging of a dugout or escape tunnel.
When completing (in the mid-1930's) his LIFE CERTIFICATE form, a requirement for military pension purposes, Pat dated his retirement from the Defence Forces (note: not the National Army) rather surprisingly as 1925 having Rank of Captain (Dept of Defence archives).
- - - - - - - - - - - - - - -
We are fortunate to have access to Pat's account of his activities during this period of national strife in his own testimonial statement when applying for a Service pension in 1935. For this go to here. Additional information supplied by Pat on that occasion vis-a-vis Kilnamona IRA company officers and men are listed in the Clare County Library website.
- - - - - - - - - - - - - - -

Academic Side of Pat
Pat was an educated person for that period. He attended the Christian Brothers Secondary School in Ennis for a period. Although he lived a distance of 5 miles from Ennis, he is said to have walked daily to school. It is not known how far he progressed in the secondary school cycle but in the 1911 census (National Archives, Dublin) he was described as a farmer's son (aged 17 y.) rather than as a scholar as his younger school going siblings were so described.

Apart from digging escape tunnels, Pat also productively occupied his time in the Gormanstown Interment Camp to become proficient in the teaching of the Irish (Gaelic) language. The certificate he received from there using the Gaelic form of Pat's name states as follows:

GORMANSTOWN INTERNMENT CAMP
EDUCATION
BOARD
CERTIFICATE
This is to Certify that Pádraig Ó Catháin of Cíll na Móna has been in regular attendance at the special Class for Teachers of Irish; that he has been examined and has satisfied the Examiners of his competency to teach Irish. He has twelve months practical experience in teaching in the Irish Classes and has successfully prepared Students for the Fáinne Examination.
Signed on behalf of the Board:
Seán Ó Ceallaigh, Chairman
Séamas P. Ó Cadhla, O.S.,
Director of Special Classes
John J. Lynch B.A. (Hons) N.U.I. Sec.,
Inspector of Irish Classes
Dated 10th Oct. 1923
* Seán Ó Ceallaigh (S.T. O'Kelly) became the 2nd and 3rd President of Ireland,
1945-59. (Click on inset to enlarge original certificate)


After release from Gormanstown Internment Camp, Pat taught Irish locally in Kilnamona, Dysart and Toonagh but he found that there was "no future in it" (Br Thomas, 1989). Later, in the mid-twenties, he was offered entry to the Teacher Training College to train as a national teacher. This would require a further year away from home. Being lately married and having the first signs of coronary thrombosis (at the age of 33 believed to be the result of outdoor hardship while 'on the run' from the authorities), he did not pursue it further.
Breaking away from the futile militant Republicanism, and turning to constitutional politics, he participated in the founding in Clare of the national political party of
Fíanna Fáil
(Soldiers of Destiny) under Éamon de Valera in 1926. This party came to power first in 1932 and still continues to be a major force in Irish politics. It is interesting to note that at the time of his untimely death in 1952, he was vice Chairman of the Clare
Cumann
(branch) of
Fíanna Fáil
and also Chairman of the local (Kilnamona) branch.



Lighter Side of Life in the Volunteers
L
ife in the volunteers was not always serious. A story is told that at an all-night vigil for a local deceased person, a young man from outside the parish was very vocal about his commitment to the cause of the volunteers expressing a wish to join the local column. At the wake, the matter was brought to the attention of Pat, the local Commanding Officer, and it was 'agreed' that he must first prove his valour. That very night, the task was set for him to wrestle a shotgun from a local land owner. However, if he failed, he was to be court-martialled and shot immediately by a firing party.
In the meantime Pat dispatched a local 'volunteer' to forewarn and assist the gun owner. It was little wonder the young aspirant failed in his mission and sentenced to be executed. The man was told to make his peace, while the firing party debated as to the appropriate firing distance from target. The poor soul was quietly advised to run away while the firing squad argued. He was never seen in the parish again.


Later Initiatives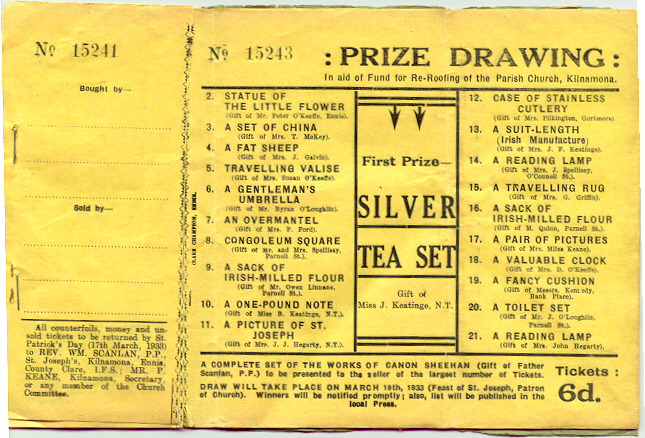 Pat participated in the life of the Kilnamona parish. He was for instance Secretary to the St Joseph's Church, Kilnamona, restoration project in 1933. Apart from re-roofing, the walls were raised by two feet and a gallery installed (this gallery was removed in a later renovation project in the 1970's, the numbers attending services being smaller due to the introduction of an extra week-end Mass after Vatican 2 and more mobile parisheners having occasion to attend Church Services in Ennis). An original raffle ticket, shown over, to raise funds for the restoration demonstrates wide support for the undertaking. (Historical note:- interestingly the return address on the counterfoil gives the state as I.F.S. i.e. Irish Free State). Until his death, Pat with neighbour Paddy Brody, assisted the parish priest in the seasonal collection of church dues (stipends) levied on parishioners at Christmas, Easter and harvest times*.
---------------------------------------------------------------------------------------------------
*Apart from their abilities (Paddy Brody was the district Rate Collector for the Local Authority), one might also speculate that this particular pairing may have been an astute move by the then parish priest as each represented opposite sides in regard to the Treaty and politics. The sympathy of the parish had broadly divided into two-thirds pro-Republican and one-third Free State. As a counterpoint interestingly Pat's own testament from 1935, it seems some 65% of Kilnamona volunteers remained neutral during Civil War, less than 25% were active on republican side and some 10% joined National Army or Civic Guards (see Clare Library).
-----------------------------------------------------------------------------------------------------

Supervisor with Department of Agriculture
Pat sat a national examination for Temporary Assistant Supervisor (Cattle and Meat) during the so-called Economic War between Ireland and Britain in the mid-1930's, when the market for Irish meat produce to England was shut off in a dispute over the unilateral ending by Ireland of payment of land annuities to the UK. This caused much depression in farming in Ireland over several years and led to the institution by the Government of a Free Beef Scheme to needy people, which required supervision and monitoring. Pat's employment in this position began on January 1st 1935 and was in the position for about three years.
The particular exam for entry to the post was of a high standard, competition was strong, even university graduates applying - his daughter Philomena recalls seeing the examination papers after Pat's death (which he had retained over the years), and although by then herself a trained National Teacher, deemed the maths and the English essay on mounting 'an agricultural show in your own locality' as particularly difficult (for the time).
There were 4,200 applicants for 120 places. Research with the Civil Service Commission has shown that following the written examination 285 were placed in the order of merit for call to interview. From this Pat secured 65th placing. Ultimately 141 names were sent to the Dept of Agriculture between 12/1934 and 12/1935 (File reference CS21/86/34). Pat as Temporary Supervisor (Cattle and Meat) over the next three years was posted to Cliften from January 1935 (where he lodged in the Ardbear Hotel), and later transferred to Tuam, County Galway (attempts to discover his personnel file among the many in the Department of Agriculture have been so far unsuccessful). During that time Pat's weekly wage was £5. 10s, a very good remuneration for the time (extracted from form which Pat filled for his Service Certificate, see below)!
During his period as Inspector, Pat acquired a Ford motor car, an unusual spectacle in the 1930's - probably two others existed in the parish at the time, the priest and the school teacher. In fact he seems to have graduated to a second car, one a two seater and the other a model T-Ford, probably both acquired second hand in which he regularly came home. He was also one of the first in the parish to acquire (in 1937) a battery-operated radio, or a wireless as it was known (This he had to relinquish for a time during Second World War years due shortage of batteries). Locals often gathered on summer Sunday afternoons to listen to live commentaries (by the up and coming famous gaelic games and racing broadcaster, Micháel O'Hehir) on the major hurling and gaelic football matches of the day - occasionally batteries were known to expire before the game ended which did not go down well with the frustrated listeners!

The Penultimate Years
Pat joined the Local Defence Forces (LDF, now known as An Forsa Cosanta Áitiúil), a volunteer reserve force founded at the onset of the 'emergency' years of the 2nd World War,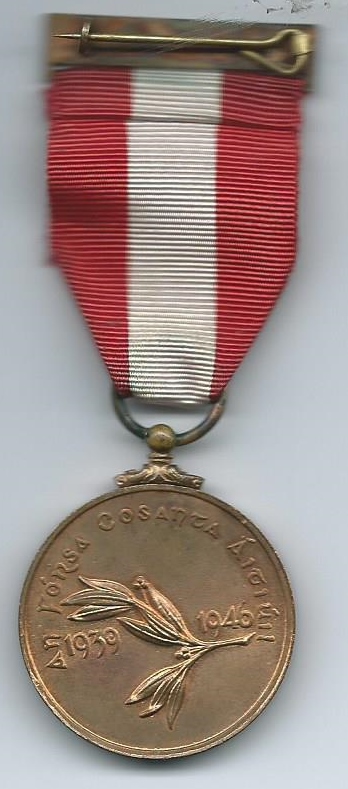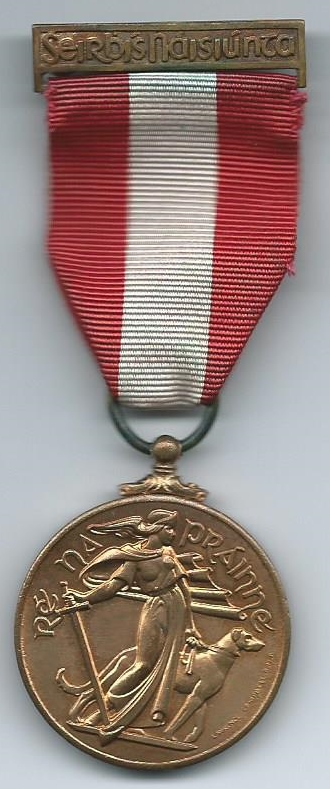 1939-1945. The LDF, a Part-time Defence Force (PDF), was organized on 'a regional basis and designed to support the regular army by point defence and guerrilla activities, surveillance, intelligence reports, road obstructions, etc'. His children remember army supplies for the unit (kaki army wear and other paraphernalia, e.g. carrier bags) stored for distribution in his home during the period, and also recall bicycle runners delivering dispatches to him as part surveillance and communication exercises. On enquiry with the Dept of Defence (2011) a certificate of Pat's Service record in the LDF of Óglaigh na hÉireann' (Defence Forces) showed him as having a Service No. of S/86876, Rank of A/Leader (Area Leader), date of Enlistment, 11 Jun 1940, date of Discharge, 31 Mar, 1946, and as having served 5 years and 294 days; Finally his Military Conduct was judged to be Very Good. As any medal he may have been awarded for his services was not available to this webmaster in 2011 (he perhaps did not apply for one at the time of their issue), on enquiry with the dept of Defence, Pat was deemed to be entitled to a replacement issue of the Emergency Service Medal & 2 Bars (L.D.F.); unfortunately the bars (which indicated multiple of years of service, not rank) were however no longer in stock (see medals above).
Postscript: Additional information has come to light regarding Pat's military potential as recalled in 2014 by his eldest daughter Angela (aged 88 years): in the early 1940s, i.e. during WW II, while in her secondary school years Angela recalls her mother telling her that her father Pat had been offered a post in the state army, i.e. Regular Defence Forces (RDF), but after due reflection did not take up the offer because of his ongoing heart condition. This would appear to have been the second time Pat was offered an officer post in the Irish army (the first being during the Civil War).
Pat supplemented his income to improve living conditions from the modestly small farm. He was one of the first producers in the district to supply milk to the newly built local branch of the North Clare community creamery in the mid-1930's (e.g. his milk supply Register at the creamery was numbered 1). He erected a substantial two-storied house in the early 1930's almost entirely with the assistance of a government grant (costs £150 less Government grant £80) and in the 1940's, he availed of farm improvement grants for e.g. the building of farmyard outhouses and double clad dry stone walled paddock enclosures.
During the 'emergency' years of World War 2, compulsory tillage quotas were mandatory for farmers irrespective of land suitability for cultivation. Pat took on extra off-farm tillage (i.e. fulfilling a neighbour's quota) to supplement his crop production - it was hard work for his young family manually snagging (thinning) turnips and fodder beet or to keeping those weeds and nettles at bay (one such cereal weed was known locally as praiseach (destructive) weed)!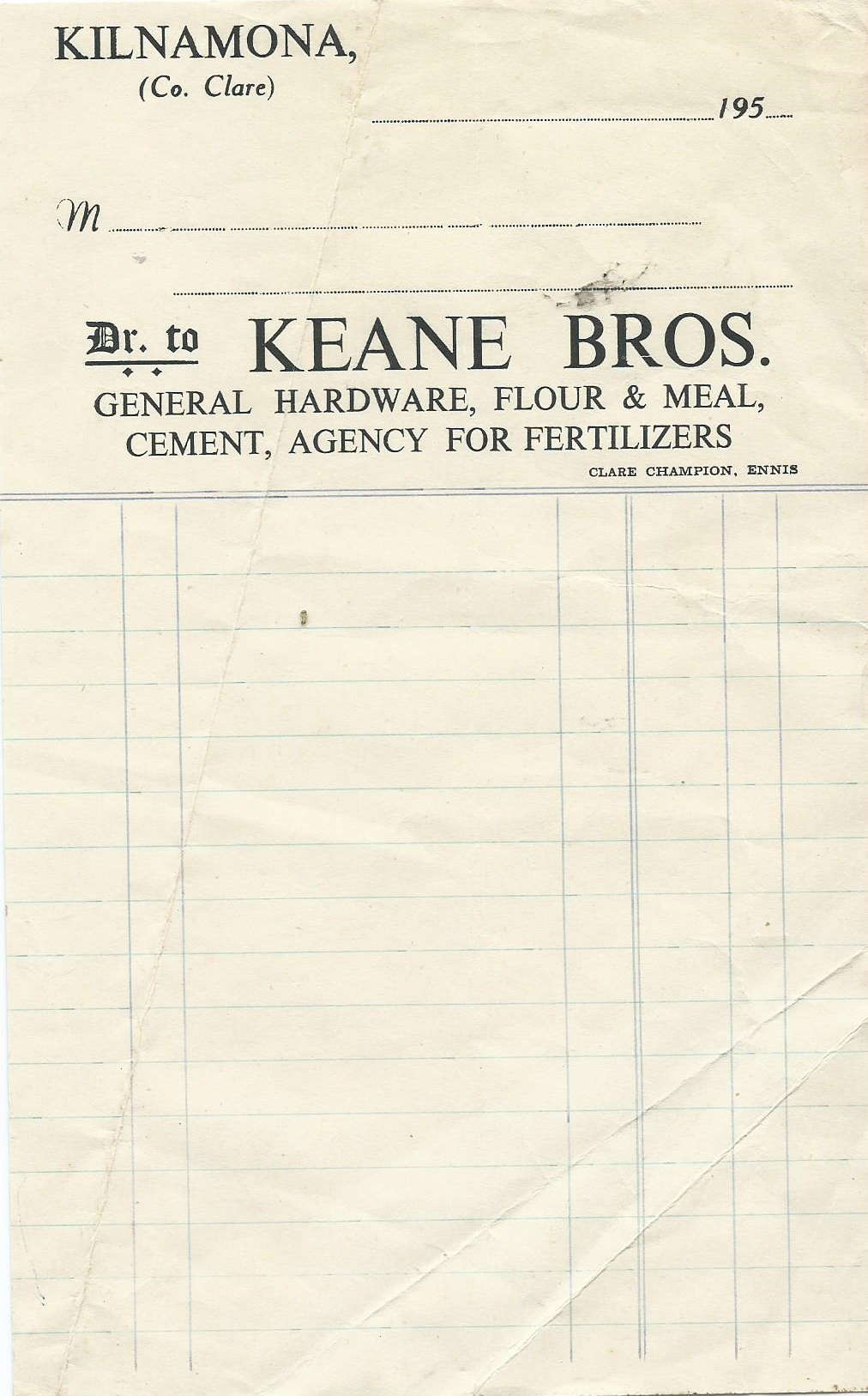 Periodic income was earned from the Clare County Council, for limestone quarried on his land (based on a volume or cubic yard basis) used in road maintenance. In 1942/43, he supplied fresh milk (more profitable than creamery returns) to an institution in Ennis; ceasing this operation after a season he returned in 1949 to twice-daily shop and house-to-house milk rounds in Ennis (the latter initiative being continued up to the mid-1990's). He set up a farm supply store at Ballymongaun providing animal feed provisions, fertilizer and limited hardware for sale to the local farming community. The purchase in 1950 of a horse drawn potato sprayer, then new to the market, for hire to farmers and manned by his young family, was another source of seasonal income. At the onset of the economic upturn of the 1950's, sadly, Pat died in 1952.
Over: Copy of a Store Invoice pad from the mid-1950s, a few years after Pat's death
Reader of News and Historical Events
Pat was a regular reader of the national daily newspaper, The Irish Press, which was available in Ennis some 4 miles away. If on any day a family member was not travelling to Ennis, a passing neighbour would be asked to oblige. He also liked to read the current books on the Irish war of independence that were being published for the first time in the late 1940's. He read aloud by the fireside to his family and gathered neighbours, one chapter per night, such books as 'My fight for Irish Freedom' by Dan Breen, T.D. (Teachta Dála, Member of Parliament) for Tipperary and 'Guerrilla Days in Ireland' by Tom Barry (Cork), etc.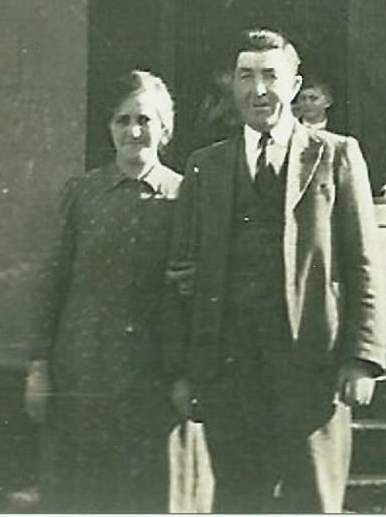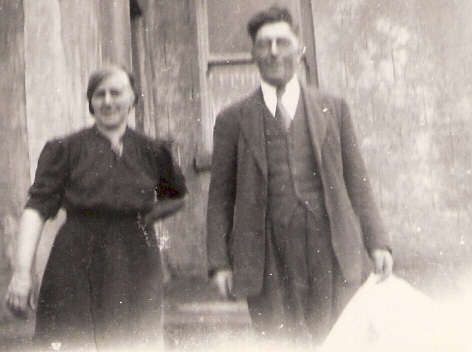 -
-
-
Above: Bridget and Pat, 1947 and with newspaper in hand, 1949. Photos taken by nephew John Kane, Waterbury, Conn. when visiting Ireland from the US army base in Germany, and again on a return visit on his honeymoon.
Not wanting to pass on extreme republican attitudes to his children, Pat rarely spoke of his military activities. However, in reaction to some ambush incident recounted in one of the books, probably Tom Barry's, Pat recalled to the listeners a similar engagement mid-May, 1921 in which he had taken part. This was an ambush laid for a group of Auxiliaries recently transferred from Cork who regularly travelled on tender between Ennis and Corofin. It seems that the then IRA commanding officer (as it happened it must have been under (mid-Clare) Brigade O.C., Frank Barrett (see report 4; or at BHM.ws1326.pdf on page 49 at Bureau of Military History)) had placed his armed men on either side of the road behind ditch walls across from each other. Pat reflected that thankfully the Tans did not pass the way on the day as otherwise the IRA company would have shot each other in the crossfire. It seems this may have been the last engagement before the truce.
Life's Review
Pat was not an extreme republican. Thankfully the divide in County Clare between republicans and Free State forces, was not as marked as in some counties. For example, during the civil war Pat made a successful plea to the Free-State forces (perhaps via Mick Hegarty*) to spare from court martial Mylie Keane, a local 'Free-State' soldier who as stated previously had agreed to assist in the retaking of Ennistymon barracks by republicans.
-------------------------------
*Mick Hegarty was Captain, 2nd in Command, 28 Batt., National Army, Gort 1923/4. His father Patsy was pay officer, but 'wouldn't wear uniform' (information supplied to the writer in 2005 by (the then one of only two still surviving from old IRA active times) Lt Colonel Seán Clancy, originally from Clonlara, SE Clare, then in his 105th year; Seán died September 2006).
-------------------------------
Locally, as a young man, Pat was thought of by the older generation as somewhat opinionated (at a time when young people should be seen and not heard by their elders)! Later in life, Pat was always on hand to help neighbours with the filling out of difficult official forms, e.g. grants or old IRA pensions, which required to be done from time to time. His eldest daughter, Angela, recalls that more than once in the late 1930s a 'queue' of former IRA men developed outside the front door of his home (probably on Sundays and probably when Pat was home on visits from his post in Cliften, i.e. 1936/37 ) to help in filling and witnessing their application forms for the Old IRA pension - results of his guidance was said to have led to many positive outcomes for the applicants (this can be verified, perhaps in the not too distant futere, when these such applications are released for public viewing). Through the years his advice was also much sought after on various mediation matters, with great success but sometimes incurring some knock-on embroilment*.
-----------------------------------------------------------------------------------------------------------------
*The lingering after effects of the civil war; the inevitable land disputes (Shallee, Ballymongaun distributions including a local resentment at his purchase in the early 1930s of Keating land at Caherbannagh; a petty contretemps (including being the object of gunshot warnings by hothead young protagonists) that spilled over into the wider parish in the late 1930's between the local principal national school teacher (with whom Pat was friendly) and the said teacher's neighbours.
-----------------------------------------------------------------------------------------------------------------


Pat's signature to a loan document, November 1928


Rambling House Story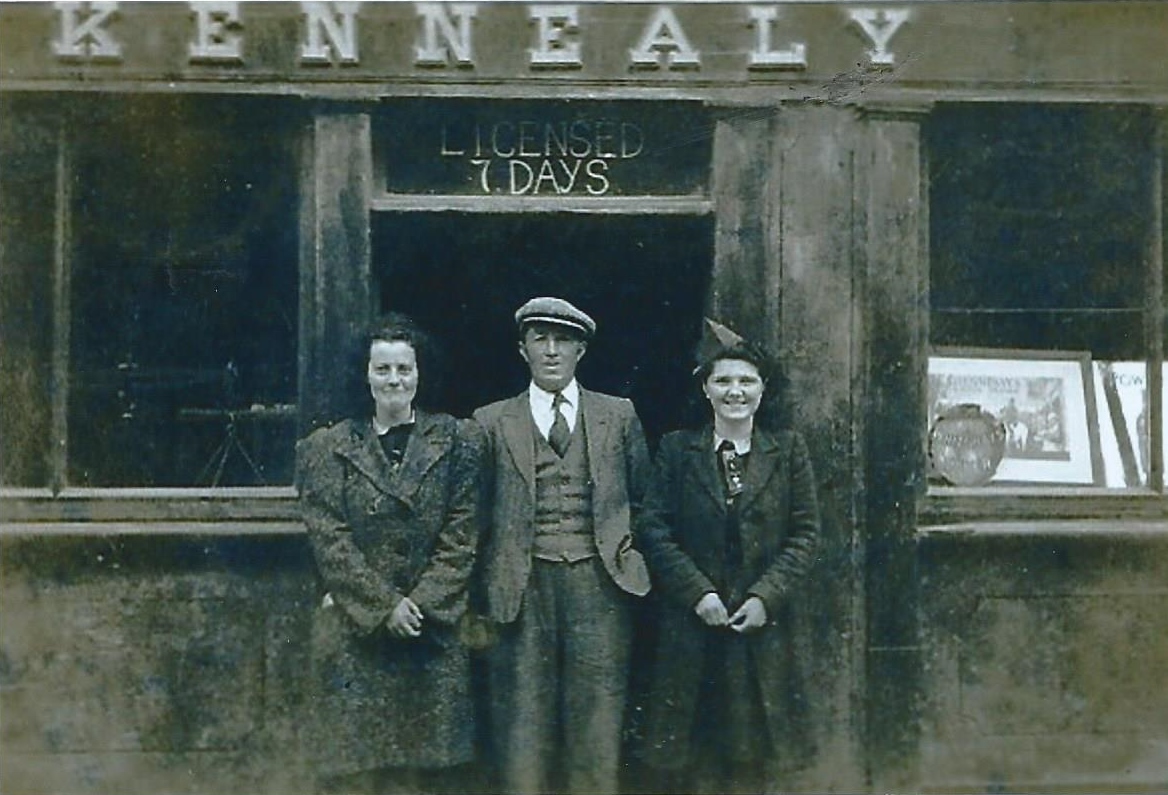 Before dance halls came into vogue, as was the custom of the time, wren-boy dances and soirées at Christmas time, and occasional dances at other times, were in their turn held in Pat's house (often agreed to after token resistance!). His house was also a focal point or 'rambling house' for the local youth for their nightly social gatherings, card playing, ring board games (perhaps an added attraction was the oft-times presence of two daughters!).
-Pat with daughter Philomena (right with school/digs friend Maura O'Gorman (left)) outside a store and bar in Parnell St. Ennis. Photo taken by Pat's American nephew John during John's first visit to Ireland while serving in the US army in Germany in 1947. (Note: although the shop was owned by Gerard and his sister Gelly (Geraldine) Duignan, their mother's original family name Kennealy was still retained on the shop front even for a further two to three decades.)
Pat did not always participate in the card games. Instead, he more likely continued to read his daily newspaper by the warm fireside. Now on either side of the fire were cushioned concrete hob seats where the children sat at night-time. One evening when a more youthful would-be card player arrived late, and no vacant chair to sit on, he was 'advised' by his elders to approach Pat for his chair inviting him to take to the hob. They awaited for what the knew would be a chastening retort ('go away you faiker!') to the naive aspirant.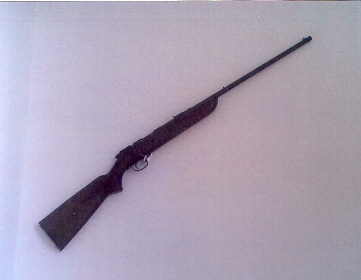 As was the custom among the farming community, Pat held a licensed gun for culling excessive wildlife on the farm and hunting. The point 22 riffle shown over was that owned by Pat and is still in the possession of a member of the family as a memento but disabled for licensing purposes.
The Final years

As well as the heart related condition, Pat suffered from sciatica in later years and annually holidayed for a week in Lisdoonvarna at autumn time to sample the curative waters of the sulphur baths, as well as other liquids one presumes! (photo of Pat taken in Lisdoonvarna in 1948). He died from coronary thrombosis after a short illness at Ennis general hospital at the relatively young age of 57 years on January 18th, 1952. His coffin was borne shoulder high from the hospital mortuary by his comrades and neighbours for over a half-mile before continuing onwards by hearse to Kilnamona Church. Pat's death occurred six weeks after his brother Andrew died, November 30th, 1951, aged 51 years. Another brother Martin had predeceased them in U.S.A. by two years, both brothers having succumbed to tuberculosis - the scourge of that era.
Photo of Pat taken in Lisdonvarna, probably 1950

Pat was buried in January 1952 in the old cemetery, Kilnamona (see first section) with military honours provided by Old IRA comrades and firing party under the command of Paddy Con McMahon, Ennis (former I.R.A. Mid Clare Brigade, 1st Batt. O.C.). Shown over is the spent bullet casing of one of the volley's fired on that occasion.


From the Clare Champion, January 26th, 1952
compiled by Bro. Thomas and local persons Paddy O'Keeffe and Mick Keane (Kane)


The death of Mr. Patrick Keane, Kilnamona, which took place after a brief illness, at the Co. Hospital on Friday 18 inst., removes one more veteran from the ranks of the Old I.R.A.


The deceased man was an energetic organiser of the Irish Volunteer Force in the early days, and in Easter 1916, he was in his place when the Volunteers in Clare expected the order for insurrection. In 1918 he was sentenced to three months' imprisonment for what was described in the Court as "a tornado of folly which had gripped the country and had swept the people off their intellectual hinges", but which eventually achieved the independence of Ireland.
On his release he was appointed Captain of A Coy., 3rd Batt.,Mid-Clare Brigade, where his enthusiasm and organising abilities were responsible for making his Coy. the most active and efficient in the area. He took part in practically all the major engagements within the Brigade area, including the disarming of the British soldiers in Ennis, the taking of Ruan Barracks and the Monreel ambush. When the Treaty was signed, he was a commanding officer in the taking over of the Lisdoonvarna Barracks from the Black-and-Tans. Afterwards he was transferred to Group Headquarters in Ennistymon, where he remained until the burning of the barracks in June, 1922. Two months later he was arrested in Ennistymon, and having spent a short term in Limerick Jail he was removed to Gormanstown Camp. During his term in jail he perfected his knowledge of Irish (Gaelic) and thus was certified by the present President of Ireland, Mr. Sean T. O'Kelly, as a qualified teacher of Irish. He then devoted his spare time to teaching the language to the youth of his own parish, Kilnamona, and to those of the adjoining parishes of Dysart and Toonagh.




At the foundation of the Local Defence Forces, he was the first to answer the call, and thus inspired the youth with the courage to defend the freedom already won. In his political career, he had occupied the position of Vice-Chairman of Comhairle Dail Ceanntair (for Co. Clare).




On Friday evening the remains draped in the tricolour and accompanied by a very large following, was brought to Kilnamona Parish Church, and on Saturday morning, Solemn Requiem Mass was celebrated by Rev. Fr. Hayes*, and the coffin was borne by his Old Comrades of the I.R.A. to the cemetery. A firing party of the Mid-Clare Brigade, under P.C. McMahon, Ennis, fired three volleys over his grave, and thus gave the deceased the honour of a military funeral.
Thus has passed one who has truly imbibed the spirit of Pearse and who, notwithstanding alluring prospects, never deviated from these principles.
---------------------------------------------------------

*Catholic Curate, Inagh; Fr Patrick Baker, Parish Priest of Kilnamona, was terminally ill with cancer at the time, dying some three weeks later.

First published April, 2001; last update May 6, 2014