ELECTRIC GROOVE TEMPLE
---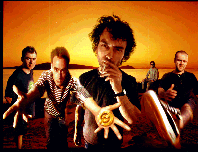 Vince Charles - Rhythms
Steve McCarthy -Guitar and Synths
Andy Purcell - Rhodes and Synths
Julian Grey - Bass
Justin Vickers - Percussion
Biography / Latest News / Reviews / Discography / Live Dates
---
The Electric Groove Temple are a human fueled fusion of Dance, Trance, Dub and Funkadelic vibes- a headjam for the feet, uplifting to the soul. Unlike many acts of their genre, The EGT use no sequencers or DAT in their live shows, relying instead on the life and power in human rhythms and performances.
The band has become a firm live and festival favourite, having toured and gigged extensively all over Europe on their own and with Dreadzone, Zion Train, Transglobal Underground, Revolutionary Dub Warriors, Back to the Planet, and countless other acts.
With the release of the bands debut album, "Sequence Me", the future and spirit of the Electric Groove Temple is brighter than ever. Welcome to our world!
---
Spring Tour of France
The Groove Temple have been busy working on new tracks, and are continuing their slow but steady climb. "Sequence Me" has been picked up for distribution by Musidisc in France, and with the help of their great agent, Florent, the band is performing 12 live dates to back up the release. Check out the live dates section for exact details...
The stunning debut album "Sequence Me" was released September 30th 1996 on Trichone Records, distributed half heartedly by SRD in the UK. The bands first full length release sees the band sticking to its live roots and adding a touch of studio wizardry to their already awesome live power.
Order the album via your local record shop, any branch of Andy's Records in the UK or check out the TRICHONE PAGE to order it directly. Yes, the link works now !
A European tour in October has been confirmed with Transglobal Underground and Fun da mental. For details, please check the Live Dates section, as we will update it regularly!
---
The following are confirmed dates as of February 1997:
Upcoming Electric Groove Temple Live Dates: JUNE 1996
Weds 5 Cavern Club Exeter / Thur 6 Plymouth University / Fri 7 Pirate Inn Falmouth / Sat 8 Club Bud Blue Mountain Club Bristol / Wed 19 Boat Race Cambridge / Fri 21 Brixton Academy / Sat 22 Sundance Festival Norfolk / Sat 29 Gush Greenham Common
JULY 1996
13 Splash Club London / 20 WOMAD festival Reading
AUGUST 1996
3 Earth Energy London / 8 Juice Joint Club Ivor Bach Cardiff / 9 Freedom of Sound Enzos Salisbury / 10 Brighton Freedom Festival / 23-26 Harvest Fair Fishguard Wales
MARCH 1997 (FRANCE)
15 Festival, St Etienne / 17 Canal Plus TV / 18 Yellow, Toulouse / 19 Rockstore, Monpellier / 20 Jimmy, Bordeaux / 21 UBU, Rennes / 22 Chabada, Angers / 25 Cithea, Paris / 26 Usine, Reims / 27 Lune des Pirates, Amiens / 28 Noumatroff, Mulhouse / 30 Festival, Strasbourg
---
Pre Release Reviews
Melody Maker May 18 1996 THE ELECTRIC GROOVE TEMPLE are a group of techno-dub fusionists from Reading whose self produced album "Sequence Me" combines the organics of live instruments and the technology of sampladelia. The result is an energy filled, smoke-fuelled hypnosis which is far better than their awful name suggests. Packed full with all manner of highs and lows, this album displays more than a little house for the rock n' roll crescendo while never straying too far from its foundation of shuffling funk grooves.Currently looking for a distribution deal, the Temple's debut album should be in the shops soon. If not, you'll have to go see them live and hassle the merchandising stand.
THE ELECTRIC GROOVE TEMPLE (Lasers Edge)
Sequence Me. Eat Static jams with Santana on Aldebaran IV.
Brilliant new British psychedelic/techno ensemble that is currently unknown but that should only last for the next five minutes or so. The Electric Groove Temple take parts of The Ozrics and Eat Static sound and lace it with healthy doses of a Santanaesque guitar/percussion sound. The keyboardist, Andy Purcell, is not content to merely play out trippy, bouncy techno synth. There is lots of that identifiable sound but he also melds that with loads of electric piano and other keys. Steve McCarthy blows off lysergic guitar leads - one after another. The drummer, Vince Charles, is augmented by a percussionist, Justin Viccars. This disc has got rhythms galore! A reasonable comparison would be Ozric Tentacles' "Sploosh". One listen to this disc will have you pounding your feet on the floor and your head against the wall. Any candidates for a better psychedelic release this year? I doubt it... Mark this one off as essential.
THE ELECTRIC GROOVE TEMPLE: Sequence Me (Trichone) Reviewed by DJ Johnson (Cosmik Debris)
I avoid reviewing trance, techno, hip hop and house, even though I have a secret fondness for some of each. Usually, it's just too synthetic for me to get worked up enough to write about. It's the whole MIDI thing, y'know? It has a place, I like some of it, but I'm painfully aware that smoke and mirrors are involved. When "Sequence Me" arrived at the Cosmik office last month, I was a bit wary. The title screams MIDI, right?
The first thing I noticed was that the MIDI job was incredible. Then I noticed that the guitars sounded live. I decided to e-mail the label and ask questions. Glad I did. I found out there isn't one nano-second of MIDI on this entire CD. They admit to plenty of overdubs, but all of them were done by living, breathing people. This is very impressive.
"Sequence Me" is dark, lush trance music performed by Vincent Charles (drums), Steve McCarthy (guitar/keyboards), Andy Purcell (Fender Rhodes and other keyboards), Justin Vickers (percussion) and Julian Grey (bass). The Electric Groove Temple seems to be fueled by a vast array of influences ranging from Pink Floyd to Tangerine Dream--maybe a little Bill Nelson for flavoring, maybe not--to Eno and beyond. Recorded in an old farmhouse in Wales, this is a CD with digital clarity and analog warmth. Each track deepens the trance. Purcell's expressive combination of Fender Rhodes and volume pedal swirls around Grey's near-reggae bass line in "Circadia." By the time the rest of the band adds their collective 6-cents to the track, it's a fusion as unique as you're likely to hear. "All Day Breakfast" slowly pulls you along the soundscape through what sounds like a serious wind-storm, depositing you in the psycho-funk interior of "7/8 Loop." The tracks flow effortless into and out of one another, building tension and drama at every turn.
Adam Whittaker's engineering and co-production deserves equal billing with the musicians. Hey, Adam! Hell of a snare sound! Send me the recipe, please. And send us some more from this trancey band. Had this been recorded by two guys with four computers in some basement, I'd be impressed. Knowing what it really is, I'm dazzled.
---
Discography
While "Sequence Me" is the first full length official release by the Electric Groove Temple, several other cassette releases are likely to still be available from a number of outlets on the underground/DIY scene. Track them down, they're well worth a listen !
SEQUENCE ME TCNCD004 Released Sept 30 1996 on Trichone Records. CD/MC
Track listing: Transistor Sister, Mr Benns Ambient Kitchen, Circadia, Sequence Me, Sorbitol Street, All Day Breakfast, 7/8 Loop, Wasp Remover.
EARTHED, NEUTRAL, LIVE (cassette)
A studio quality live recording, captured at the bands legendary "Temple Ball" club night at the TUC Club in Reading in early 1995.
Track Listing: Corduroy Banana Hoops, Inner Church, Mr Benn, Transistor Sister, Sequence Me,
002 (cassette) (1994)
Demo recordings, including: Corduroy Banana Hoops, Delerium Jam, Inner Church, Pumpkin Pie. Two of these tracks, plus a little info on the band were (and still might be) featured on Cerberus
001 (cassette) (1992/1993)
Very rare demos, including Spaces, an early version of Transistor Sister, Funky Groove, Ohm Riff, Burst the Bubble, Bone Arse Track.
EXPO (Beechwood Music) 2 tracks on a compilation sampler of unsigned acts
---
Biography / Latest News / Reviews / Discography / Live Dates
---
Web Page Design by
Jacko
Email