Experiment No. 4
Conductive Liquids
Experiment: To discover what substance makes the best electrolyte.
Materials:

You will need:

4.5v Battery
Three lengths of wire
Paper Clip (x2)
Light Emitting Diode (LED)
Petrie Dish (x5)
Vegetable Oil
Tap Water
Bottled Water
Salt Water
Coke
Labels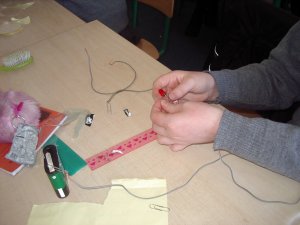 Method:
1) Twist one end of a wire around each paper clip.
2) Hook one paper clip over each terminal of the battery.
3) Twist the wire that is connected to the + terminal of the battery
around the plus terminal of the LED (the longer terminal)

4) Fill a petrie dish with:
(a) Tap Water
(b) Bottled Water
(c) Salt Water
(d) Coke
(e) Vegetable Oil
5) Twist a third wire around the minus wire of the LED.
6) Place the loose ends of the wires in each plastic petrie dish in turn.
Result: When you place the wires in the different substances, the LED lights up (or does not). If you leave
the wires in the salt water for too long, it starts to fizz and then turn yellow. Our results are in the table below:
| | |
| --- | --- |
| Substance | Amount of Conduction |
| Tap Water | Low |
| Bottled Water | Low |
| Salt Water | High |
| Coke | Low |
| Vegetable Oil | None |
Conclusion: We concluded that Salty Water conducted electricity the best and therefore made the
best electrolyte.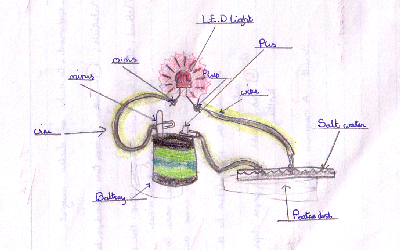 To discover why salt has this effect on water, please click here.
---
Our Experiments