Experiment No. 3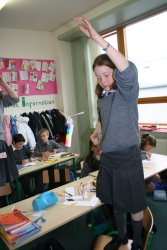 Make your own airplanes
Experiment: To take a look at flight in action - by making some paper airplanes.
Materials:
You will need:

Some A4 paper
Paperclips, Blu-tack, etc. (for extra weight)


Method:
This is quite a simple experiment really. We made a number of the paper airplanes that can be found on Alex's Paper Airplane website and tested them in different ways to make them fly better. The photos here are some helicopters.
We made large ones and some very small ones to see which had the quickest spin.
We also made a few very aerodynamic planes - built for speed - and others that were built to glide gracefully (!).
---
Flying Counters | Under Pressure | Make your Own Helecopters | Pressure Matters | Bernoulli's Principal