Under Pressure" Experiments
1. Air Pressure 1 (Balloon/Cup) | 2. The Cartesian Diver | 3. The Ball/Bottle Experiment | 4. The Card and Glass Experiment

5. The Floating Ping Pong Ball | 6. Floating Ball in a Cup! | 7. Make a Barometer
Air Pressure 1
Experiment: To 'stick' an empty cup to an inflated balloon - higher pressure air (balloon and surrounding air) vs. lower pressure (cup)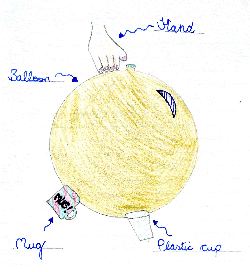 Materials:

You will need:
Balloon
Paper cup
Mug
Lots of puff!
Method:
What you have to do: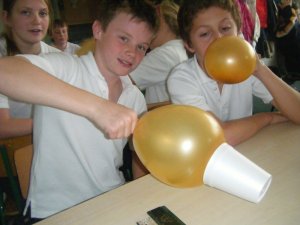 1) Blow up the balloon just a little bit.
2) Put the cup against the balloon and blow it up even more.
3) Pinch the neck of the balloon and see what happens.
Result: The cup sticks to the balloon. Even banging it hard on the table failed to dislodge it!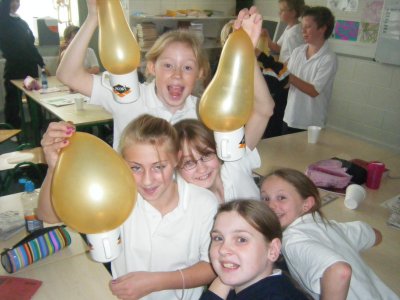 Conclusion:

The cup does not fall off the balloon because the air in the balloon is at higher pressure than the air in the cup. The inflating balloon creates suction as it gets bigger, so less of the balloon is actually inside the cup. This lowers the air pressure, - the suction is actually the pressure of the air outside the cup "pushing" the cup into the balloon and causing it to stick.

Try to see how many paper cups you can attach to your balloon. Try also with a mug - but be careful!
---
Sixth
Class Experiments
1. Air Pressure 1 (Balloon/Cup)
| 2. The Cartesian Diver
|
3. The Ball/Bottle Experiment | 4. The Card and Glass Experiment
5. The Floating Ping Pong Ball
|
6. Floating Ball in a Cup!
|
7. Make a Barometer