Page revised 23 August 2001
EDWARD LAW
ARMS, CRESTS & MONOGRAMS
AUSTRALIAN GOVERNMENT.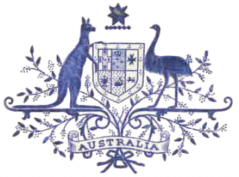 National Arms
The six states of Australia: New South Wales; Queensland; South Australia; Tasmania; Victoria and Western Australia, all had centres of government in their capital cities. Examples of crests for the centres of regional government are shown below.
Rottnest Island lies in the Indian Ocean off Perth and the Government Cottage there was a holiday resort for the Governors of Western Australia from 1848 to 1919.
Return to HOME PAGE
or to TOPICS PAGE to view further pages.