Page revised 20 July 2001
EDWARD LAW
ARMS, CRESTS & MONOGRAMS
ETON COLLEGE.
Founded in 1440 by Henry VI as The King's College of Our Lady of Eton beside Windsor, Eton College is the best known and most prestigious college in the British Isles. It warrants a separate page for its crests because of the variety in numbers which are encountered.
The arms of the college were granted by its founder in 1449. They are: sable, three lilies argent; on a chief per pale azure and gules on the dexter a fleur-de-lis and on the sinister a lion passant guardant.

When King Henry founded the college he made provision for 70 free scholars. Now, some five and a half centuries later, there are over 1,250 scholars.
The achievements of those who have passed through Eton are legend. Among old Etonians are counted eighteen Prime Ministers including the great Duke of Wellington.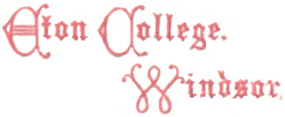 Return to HOME,
to TOPICS PAGE
or view PUBLIC SCHOOLS