Page revised 18 August 2001
EDWARD LAW
ARMS, CRESTS & MONOGRAMS
FRONTISPIECES
Several of the purpose-designed crest albums were published with a frontispiece comprising a group of crests. The most attractive of these are those published by Stanley Gibbons and Co. in their National Album series, one of which is illustrated below, which deserved the complimentary notice they received in their advertisements for the album:
The Frontispiece consists of a number of most artistic designs, by MACMICHAEL, the Queen's Engraver, beautifully stamped in relief in some of his most brilliant and recherché colours.
James Macmichael is noted in 1879 as an engraver at 42 South Audley Street and 207 Kings Road, Chelsea, with royal warrants from Queen Victoria and the Princess of Wales.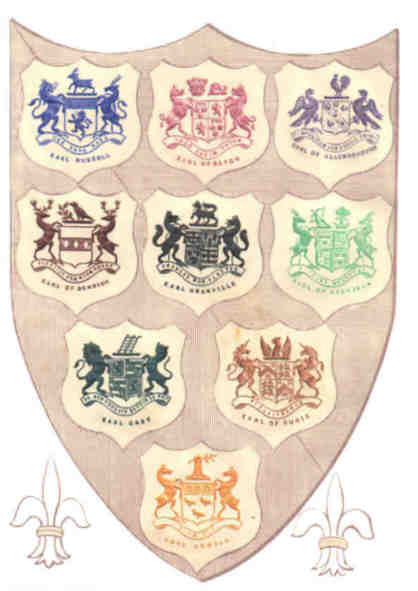 This frontispiece is from THE DAGMAR HERALDIC ALBUM, one of a series of crest albums carrying the imprints of E Marlborough & Co., of London; Stafford Smith & Co., of Brighton ; and D Appleton & Co., of New York, but almost certainly produced by Stafford Smith & Co.
The frontispiece of their ALEXANDRA HERALDIC ALBUM features sixteen crests of ships of the royal navy. That of THE VICTORIA HERALDIC ALBUM has fifteen regimental crests as well as the royal arms.
Illustrated below is the frontispiece of a small crest album issued by Marlborough & Co. and Stafford Smith & Co. at a somewhat earlier date.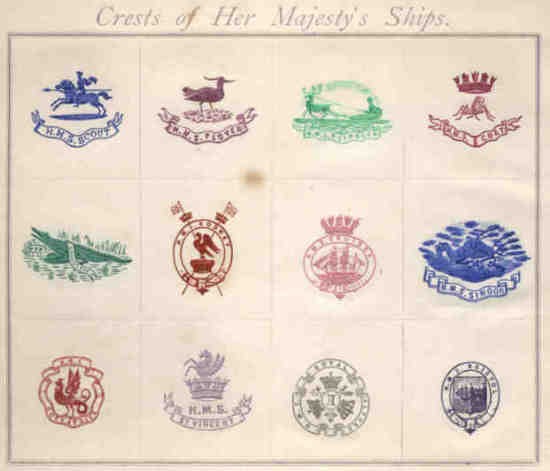 Return to HOME PAGE
or to TOPICS PAGE to view further pages.