EDWARD LAW
ARMS, CRESTS & MONOGRAMS
LONDON HOSPITALS
The collection contains a good selection of crests of infirmaries and hospitals. Illustrated here are some of those for London.
The Charing Cross Hospital was founded in 1818 as the West London Infirmary and Dispensary and given its present name in 1827. Dr Livingston, the explorer, was a student of its medical college. The Greenwich Hospital dates from the seventeenth century; its premises, designed by Wren, subsequently housed the Royal Naval College down to 1997. The Royal Hospital of St Bartholomew, founded in 1123, is better known nowadays as Barts. Middlesex Hospital had its origins in 1745, and the school of medicine associated with it was founded in 1836.
The crest of the Bridewell and Bethlehem Hospitals carries the arms of Christ's Hospital and Bridewell Royal Hospital on the left and of Bethlehem Royal Hospital on the right. Christ's was founded in 1553 and Bethlehem in 1247; its name was corrupted to Bethlem and Bedlam. The coloured arms at the centre are of Kings College Hospital. The site of St Thomas's was taken for London Bridge Station when it removed to its present location close to Westminster Bridge. Charles II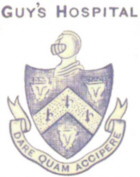 founded the Chelsea or Royal Chelsea Hospital in 1682 for military veterans.
Bethlehem, Chelsea, Barts and St Thomas's were all Royal hospitals, being founded or administered by the Crown.
Guy's Hospital was founded on its current site in Southwark early in the eighteenth century by Thomas Guy.
| | | |
| --- | --- | --- |
| | | |
Edith Cavell nursed at St Pancras Infirmary in the early years of the twentieth century. The Westminster Hospital Medical School which was founded in 1834 now forms part of the Imperial College School of Medicine.
For more hospital crests see PROVINCIAL HOSPITALS
Return to HOME PAGE
or to TOPICS PAGE to view further pages.
Page created 9 June 2001