EDWARD LAW
ARMS, CRESTS & MONOGRAMS
SPECIALITY INSURANCE.
It has been noted in connection with both general insurance and life insurance that new enterprises might find a way into the very competitive industry by targeting specific geographic areas. Another possibility was to create a new risk or to market general risk insurance to a particular group.
The earliest type of insurance, marine, was a specialised market. When the Royal Exchange Assurance was founded in 1720 it was primarily to undertake marine insurance.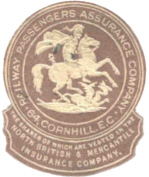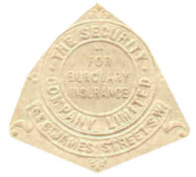 The coming of the railways was seen as an opportunity by one enterprising company, whilst another, The Security Co. Ltd., made a speciality of cover against loss from burglary.
The four crests below are of companies who were aiming at particular customer bases.
Return to HOME
or to TOPICS PAGE
Page created 12 April 2001