Page created 18 July 2004
EDWARD LAW
ARMS, CRESTS & MONOGRAMS
PUBLICATION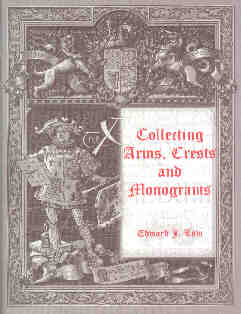 In 2003 the first ever book on the Victorian pastime of crest collecting appeared. Written by Edward Law, it was published by Kilkenny Archaeological Society in connection with the exhibition of crest albums and associated material at Rothe House, Kilkenny, Ireland, the sixteenth century headquarters of the Society.
The author received the prestigeous Ephemera Society Award for the book in 2004:
1

Citation for the Ephemera Society Award.

Until recently, among the most denigrated subjects for ephemera collecting has been that of crests and crest albums. Yet those brightly coloured die-cut crests are a familiar sight at our ephemera fairs; and the albums too have survived in reasonable numbers, although, sadly, often dog-eared and battered. But in spite of an appraisal in the Encyclopedia of Ephemera, the subject has not inspired the serious collector.

Not, that is, until 1996, when these little coats of arms, crests and monograms aroused the curiosity of retired accountant Edward Law. As a professional genealogist, Edward was naturally intrigued by them. And as collectors know, one thing leads to another: seven years later

2

Edward's collection was the basis of a remarkable exhibition held in Kilkenny, Ireland. To accompany this the Kilkenny Archaeological Society published Edward's comprehensive book, giving the history of the subject, and lavishly illustrated in colour with items from his own collection.

Edward now owns over two-hundred crest albums, ranging from the commercially produced to beautifully embellished hand-painted ones. And the albums are backed up by original packets containing loose crests, advertisements, and the elusive sample sheets. This collection has been the springboard for research into crest-album publishers, the printing methods used and an overview of the pastime overseas. The subject has an overlapping interest too, for collectors

3

of poster-stamps, cigarette cards, printed stationery, and picture postcards. The results of Edward's research appear on his colourful and informative website, and have been published in a number of articles: members will recall the one on crest-album publishers in the Ephemerist last year.

The Ephemera Society Award is designed to draw attention to original work done on unusual or neglected aspects of ephemera. For advancing our knowledge of the delightful but near forgotten pastime of crests and crest albums, and making the subject known to a wider public, we are delighted to present Edward Law with the Ephemera Society Award.

Amoret Tanner.
The book is available from the publisher, Kilkenny Archaeological Society, as are examples of the commemorative crest, die-stamped on stiff card. Click HERE for details.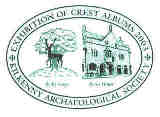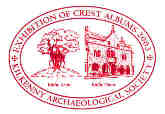 Return to HOME
or to TOPICS PAGE