EDWARD LAW
ARMS, CRESTS & MONOGRAMS
PUBLISHERS & NEWSPAPERS
There is an interesting selection of crests for publishers and newspapers some of which are now hardly remembered whilst others are still household names.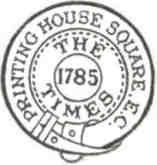 It is only fitting that the first illustration is that of The Times. Founded in 1785 as the Daily Universal Register it was pre-eminent among British newspapers. In 1855 when its competitors printed no more than 7,500 copies it had a circulation of 50,000.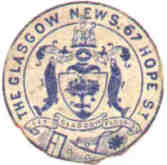 The Glasgow News, the first Conservative newspaper in Scotland was founded by an ex Times man, Frederick Wicks, in partnership with the shipbuilder Sir William Pearce.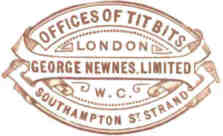 Tit Bits, a weekly paper first published in Manchester in 1880 by George (afterwards Sir George) Newnes quickly attained a huge circulation.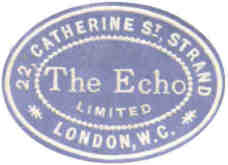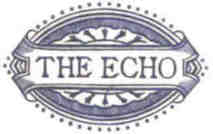 The Echo was the first successful halfpenny evening paper. "A'p'ny Evenin' Ekker!" was the familiar cry of the London news vendors of the second half of the nineteenth century.
The major publishing houses are represented
along with some not so well known
Burg & Daniel of St Leonards-on-Sea were publishing in 1868; Jones & Sons of Woodford Green in 1881-82 and Jarrold & Sons are middle rank publishers still based in Norwich.
Clarendon Press was the imprint of the printing house of Oxford University taken from the premises, Clarendon Building, in which it was housed from the early eighteenth century. The imprint was used to the end of the nineteenth century to be replaced by Oxford University Press.
The Portsmouth Times & Naval Gazette was published by Holbrook & Sons in 1877.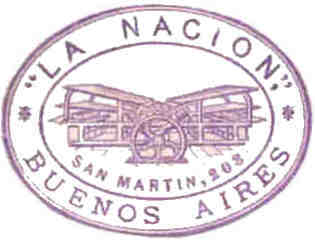 A rotary printing press on a South American Newspaper crest.
Return to HOME
or to TOPICS PAGE
Page revised 4 May 2001