EDWARD LAW
ARMS, CRESTS & MONOGRAMS
ADHESIVE WAFER SEALS
Whilst adhesive wafer seals are in many cases very similar in appearance to diestamped crests, they are distinct items and were produced for a different purpose. Envelopes, which had been available but little used prior to 1840, because they incurred higher postage, came into much wider use following the introduction of uniform penny postage in Britain in 1840. Initially the envelope was not gummed and they were sealed as the letter sheet had previously been sealed, with sealing wax or a simple paste seal.
The adhesive wafer, a small slip of paper with paste on the reverse, was introduced a little before 1840. The paste was wetted and affixed partly on the flap, and partly on the back, of the envelope, effectively sealing the envelope. When an envelope was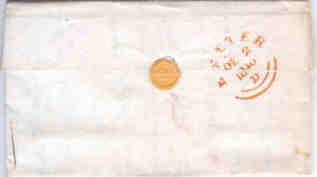 opened the wafer was often cut or torn. Wafer seals are collected by both postal historians and social historians, and have a monetary value far beyond that of a crest.
If found in situ on an envelope or entire they are generally easily recognisable, but where they have been removed from an envelope they are sometimes indistinguishable from crests which have been cut from envelope or notepaper and precisely trimmed.
The heyday of the adhesive wafer was through the 1840s. Gummed envelopes were being mass produced by the early 1850s doing away with the need for seals of any sort. Even so wafer seals continued to be used for another decade.
Because crest collecting commenced, almost at a stroke, in 1862, by which time adhesive wafer seals were very little used, the latter are seldom found in crest albums. In my collection of some 50,000 crests there are perhaps a dozen identifiable self adhesive wafers.
Wafer seals vary from about 10mm to 25mm and were produced in a multitude of shapes: circles, shields, ovals, lozenges etc. Mostly they appear to have been stamped out and thus have regular edges which serve to distinguish them from cut out crests. Having no expertise on the topic I have found this distinction to be the most reliable evidence.

Seals were supplied in attractive, circular card boxes, which can still be found. It was apparently usual for them to have an example of the contents affixed to the top, as in the example illustrated here:
Wilkins Flasher, Esquire, was balancing himself on two legs of an office stool, spearing a wafer-box with a pen-knife, which he dropped every now and then with great dexterity into the very centre of a small red wafer that was stuck outside. (Pickwick Papers, Charles Dickens, 1836-37)
The box is 42mm in diameter and 7mm deep.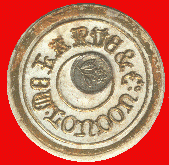 The second box illustrated here is interesting in that it carries the name of the manufacturer, De La Rue & Co. London, as well as a wafer seal in silver. The box still contained a number of wafers, all in silver, all 10.5mm, representing 4 different flowers.
It also contained a single example of a wafer of a stag trippant, passant, also in silver, but 12mm.
The 5 types of wafer are illustrated below.
The principal work on wafer seals, from which much of this information is drawn, is Adhesive Wafer Seals by Champness & Trapnell. Illustrated in that book is a label on an envelope with gilt initials EAR in a gilt rectangle that has clearly been cut to shape, this with its late date, 1863, suggests that it may not be a purpose made wafer seal.
The following details of wafer seals among my collection may be of interest in extending slightly the listings available in Champness & Trapnell's invaluable work.
Single Initial.
Old English L, circular, 14mm, embossed circle and initial on ribbed background in pale orange-yellow. On entire [illustrated above] of December 1840 signed Lisle (George Lysaght, Baron Lisle.)
Old English T, circular, 15mm, embossed circle and initial on ribbed background in orange.
Seriffed capital F, circular, scalloped edge, 18mm, edge, inner circle and letter all embossed and gilt, the

background of mother-of-pearl effect. (in an album of 1910)
Seriffed capital I, circular, scalloped edge, 18mm, edge, inner circle and letter all embossed and gilt, the background of mother-of-pearl effect. On the reverse 'printed in Germany'.
A similar item, probably a crest, bearing the name Grizel rather than an initial, strengthens the German connection, but the language on the reverse of the I suggests some were for the English market.
Two horizontal rectangles, 10 x 13mm. Letter A on a coloured circle (red and green), the letter and the background in silver. Mounted together in a crest album of c. 1864.
See Champness & Trapnell, plate 1.3 for letter B on blue background.

Heraldic.
Above, left to right.
Crowned eight-pointed cross (Maltese cross), circular, 12mm, circle and device in silver on a blue disc of the type which Champness and Trapnell describe as having the appearance of celluloid, and which are perhaps "translucent colored scented wafers made of fine animal glue or isinglass", a class of wafer noted by Elissa O'Loughlin in Wafers and wafer seals: history, manufacture and conservation (The Paper Conservator 20, 1996).
Lion's head erased holding in the mouth a club, over old English C, shaped shield, 13mm maximum. 3 examples, all in solid colour: red; green; blue.
Stag trippant passant, silver, 12mm. Probably De La Rue & Co.
Eagle displayed over a crown, vertical rectangle with cut corners, 13 x 6mm, red.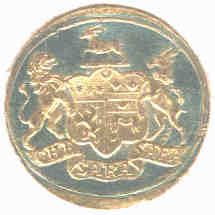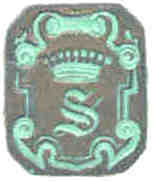 Right.
Crowned S in a border of scrolls. Vertical rectangle with cut corners, 14 x 7mm, green on a gold background. (Mounted in a crest album of c. 1864)
Left.
Crest, supporters and motto of Russell, the arms Russell impaling Hastings-Rawdon. The design an oval on a circular wafer, 17mm. Pale blue on gold background. (Mounted in a crest album thought to date from the 1860s.)

Left. Fleur-de-lys issuing from a coronet, circular12mm,
on lid of original box (see illustration above).


Right. Lion Rampant passant, circular, 10.5mm, red.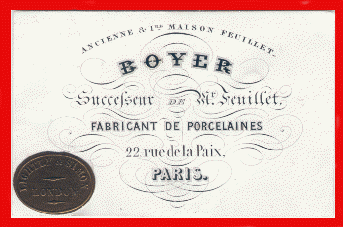 Commercial.
Lightly & Simon, London (forwarding agents), the gold wafer, 16 x 21 mm, applied to the business card of a Parisian manufacturer of porcelain.
Below left. Gothic quatrefoil with Prince of Wales plumes above a portcullis, flanked by old English letters W and O [Westminster Fire Office], dated 1717 below, upright oval, 21 x 16.5mm, deep blue on blue paper.
Below centre. A wafer on a cover of 1849 posted in London, 15mm.
Below right. Inspr genl of stores East India Company (lion rampant guardant holding a crown), vertical oval, 25 x 19mm, red.
Embossed and coloured.
When the first box illustrated above was acquired it did not contain any of the seals illustrated on the top. More interestingly it contained the seven seals shown here, which are embossed and coloured, all with original gum. Very small at 10mm.

Floral.
[not recognized], circular with scalloped border and flower in silver on a blue background, 11.5mm.
Thistle, silver 10.5mm, De La Rue & Co.
[Not recognized], silver 10.5mm, De La Rue & Co.
[Not recognized], silver 10.5mm, De La Rue & Co.
Tulip, silver 10.5mm, De La Rue & Co.

Military.
Dorsetshire 39th Regt. Gibraltar, Plassey, Peninsula, Maharajpore (with crown), horizontal rectangle with cut corners, 17 x 23mm, red. [The regiment's battle honours date this between 1843 (Maharajpore) and 1854 (Sevastopol)]
Topographical.
Hanwell church. Alius seminat alius metit, vertical rectangle with cut corners, 20 x 17mm, border of C's, building and lettering in silver on a blue background.

Four floral seals by De La Rue & Co.
In addition to the foregoing there are various foreign wafers, of which I have little knowledge. However, I have two packets of what are apparently French wafer seals, the packets are lettered Mon Cachet, Marque Déposée, Rgt 817, and contain and are sealed with wafers, one, perhaps unused holds 25 seals. The seals are lozenge shaped, showing two devices, and of different sizes, 25 x 17mm and 23 x 14mm.
The following advertisements for wafers and embossed stationery have been noted from the Athenaeum of 1847
9 Jan No. 1002. A box of 50 wafers stamped with 2 or 3 initials, warranted adhesive, for 6d. A box of 48 Shakespearian motto wafers 6d. H Dolby, Heraldic & official die engraver.
6 Mar No. 1010. 1,000 private crest wafers for 21s, including the die. Shakespearian mottoes on note paper, adhesive envelopes and wafers -72 now ready. H Dolby, armorial stationer.
17 Apr No. 1016. Fashionable armorial stationery. A crest or elegantly reversed cypher die engraved and 1,000 superb wafers made therefrom for 1 guinea, or the die and 1,000 best adhesive envelopes stamped with your initials in full, for 1s 6d; 100 wafers with initials in full 1s; quire packets of cream-laid and adhesive envelopes, all stamped with any combination of initials to match, for 1s. H Dolby, armorial stationer, 69 Berners Street, 3 doors from Oxford Street
1 May No. 1018. Gentlemen's crests. A crest engraved and 20 quires of note paper embossed from the same for 12s. Cypher dies for ladies, at the same price. 8 dozen best adhesive envelopes (cream-laid embossed with 2 or 3 initials or crest) for 1s 6d. A crest or cypher die engraved and 500 best wafers embossed from the same 15s. F C Westley, plain and fancy stationer, 163 Strand.
The source of most of the background information is
Adhesive wafer seals: a transient Victorian phenomenon
by Michael Champness and David Trapnell.
Return to HOME PAGE
or to TOPICS PAGE to view further pages.
Page updated 19 June 2007