LETTERFRACK
FURNITURE
COLLEGE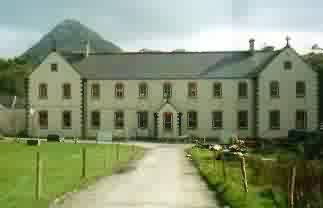 Introduction
Welcome to the Furniture College, Letterfrack
In 1987 The Regional Technical College Galway and Connemara West, (a community development company in North West Connemara jointly initiated a two year National Certificate in Furniture Design and Manufacture. This educational partnership between RTC Galway and Connemara West is jointly managed and run as The Furniture College, Letterfrack.
The aim of the Furniture College is to enable its graduates to contribute to, and influence the field of design processes and manufacture of modern furniture in ways that are innovative, creative and responsive to the need and development of a quality Irish furniture industry. It also aims to promote the use and value of native timber in the furniture manufacturing industry.
Within its first ten years of operation this two year national certificate course has developed a reputation for quality and high standards in the education of people for the wood and furniture industry through the successful merging of design education and technological skills. Currently 90% of former graduates of this course are employed. Overall 68% are directly employed in furniture or wood related industries and 15% have established their own furniture workshops in Ireland.
In 1995 a new two year add-on B.Sc. Degree in Furniture Technology commenced at the Furniture College. The overall aim of this course is to equip students with the theoretical and practical techniques which will enable them to function as professionals within the furniture manufacturing industry. This degree is characterised by theoretical and applied studies in resource management, materials, plant design, product development and market influences necessary for a modern Irish furniture industry. The programme incorporates the views and needs of the furniture industry gathered though consultation and review.
The first students of this course graduated in June 1997.
A new National Certificate course in Furniture Production is scheduled to commence in September 1998 subject to NCEA approval. This new certificate programme aims to provide an education for furniture production personnel with a developed knowledge of manufacturing technologies
Other developments in Letterfrack include the establishment of a Furniture Technology Centre.
It aims to support the development of the furniture industry in Ireland by providing practical expertise, training, research and information services to the industry and by helping companies to identify and implement improvement strategies in product design, manufacturing and associated management areas.
There is a high demand by employers for graduates of the programmes, and demand always exceeds supply. The College has established linkages with both industry and colleges abroad over the last seven years. Through these linkages the college places a significant number of students on work experience each year under the EU Leonardo programme.
In May 1997 substantial grant aid was announced by Government to assist with the development of facilities at Letterfrack. This grant aid will go towards transforming The Furniture College into a modern college campus, thus enabling it to meet the current and future education and training needs of the Irish furniture industry.
This site was last updated on 5/4/2000