1998 - 2004 Part of the ZURBRICK PAGES
compiled by Linda Zurbrick O'Halloran.
Not for commercial use. All rights reserved
by the author /contributor of this material.
Believed to be 1889 Wedding Photo of
Levy ZURBRICK (b. Jul 1861) & wife Caroline M. (b. Feb 1868)
Levy was son of Peter ZURBRICK (b. 1820) & Christina (nee ZURBRICK, b. 1832) who
were 1st cousins. His paternal grandparents were the immigrants Nickolaus ZURBRÜCK
& Maria Elisabetha GERBER. His maternal grandparents were Georg ZURBRÜCK
& Elizabeth BURKHALTER. So Levi must be very "Zurbrick-looking" since he had a
double-dose of Zurbrick DNA. This appears to be taken in Falls City, Richardson co., NE.
Levi was living & farming there in 1900 with his brother William living next door. Both
men married Nebraska-born women. Levi was married about 1889, and this appears
to be the wedding photo. (William was married in 1888 to Bertha M. __ .) In 1910,
Levi was still in Falls City, NE (with children Anna C. & Lloyd), but William lived
elsewhere by then. Levy's descendants lived around Kansas City for some time.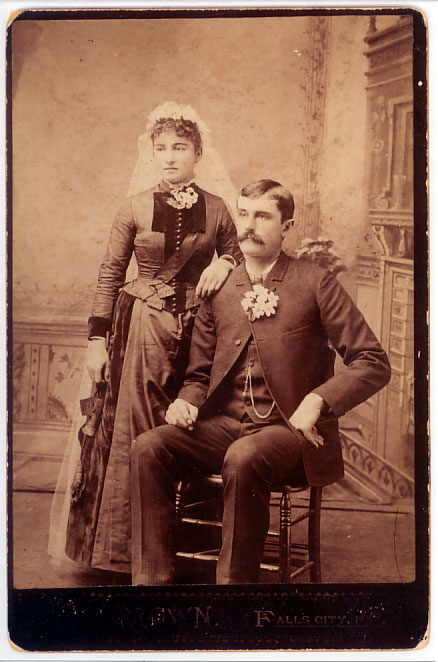 Contributed by Sean Zurbrick of Ohio.
---
Back to Zurbrick Page