1998 - 2004 Part of the ZURBRICK PAGES
compiled by Linda Zurbrick O'Halloran.
Not for commercial use. All rights reserved
by the author /contributor of this material.
ZURBRICK RELATED PLACES
Lancaster, Depew, Cheektowaga Area, Erie co., NY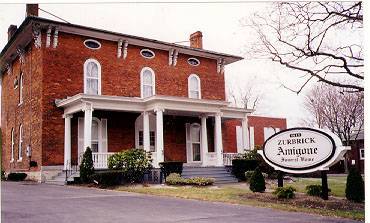 Zurbrick-Amigone Funeral Home, 5615 Broadway, Lancaster, NY.
Depending on the source, this house has been called the "Stephen's Mansion" and
also the "Koopman-Hoffeld House" (of Dutch immigrants).
Gerald Stutzman & Howard Zurbrick started the
Stutzman-Zurbrick Funeral home, which became Zurbrick-Amigone.
From The Lancaster Legend,
Newsletter of the Lancaster Historical Society, 1997:
"Next we go to the corner of Brookfield Place, where
Frank SEEGER operates a furniture store and undertak-
ing extablishment. He will later sell the furniture busi-
ness to Bill BESSER, who later moves to West Main Street.
Frank will move his undertaking business to East Main
Street, east of School Street. He later retires and sells
his business to Gerald STUTZMAN and Howard ZURBRICK.
The business will become Stutzman-Zurbrick (later
Zurbrick-Amigone) and be located in the Stephen's mansion."

---
BACK TO ZURBRICK PAGE
BACK TO MAIN PAGE