1998 - 2004 Part of the ZURBRICK PAGES
compiled by Linda Zurbrick O'Halloran.
Not for commercial use. All rights reserved
by the author /contributor of this material.
Early ZURBRICK Family Tree Diagram
by Linda Zurbrick O'Halloran
with many thanks to Pierre Balliet
Phil Zurbrick & other family researchers.

Showing the ZURBRICK family groups that
came from Hangviller & Pfalzweyer, France
to Erie co., NY in 1830-1833.
Additions & corrections are welcome - email Linda.
See Surnames Page for more details.
See Zurbrick History section.
---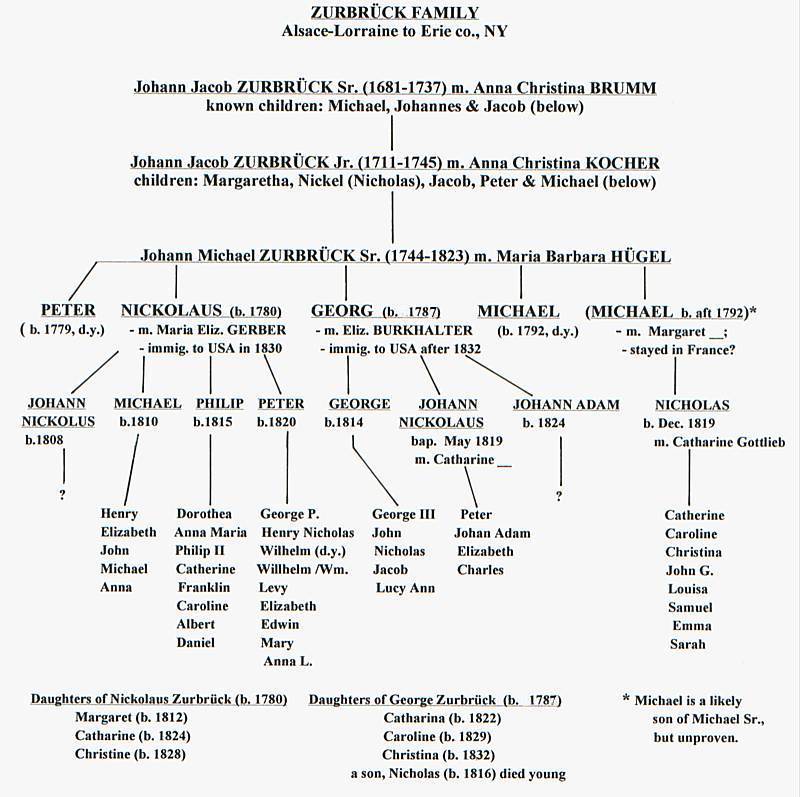 A note on naming traditions...
Johannes = John in German-speaking families.
Johann is distinct from Johannes; Johann is a common first name (like Hans) that is usually not significant, since the middle name is what the person is called.
Maria or Anna are the most common first names for women in German records, but they are called by their middle names.
Middle names are usually taken from the baptismal sponsor of the child (often an aunt or uncle), so names are often repeated within a family.
---
Back to ZURBRICK PAGE