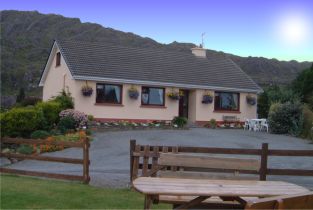 Welcome to Magannagan Farm B&B which is situated adjacent to Glengarriff and on the Ring of Beara. Magannagan Farm is on the inner Ring of Beara and is also adjacent to Kenmare Bay and Bantry Bay. We lie beneath Irelandīs most picturesque Mountains and we over look spectacular countryside.

We are the perfect base for touring many of the local areas, including Glengarriff, Kenmare, Castletownbere, Garnish Island, the Beara Way, the Beara Peninsula and so on. The local region claims some of the most breathtaking and famous scenery in all of Ireland.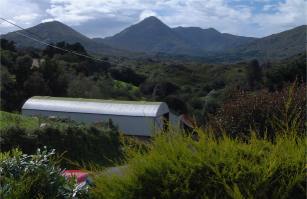 The proprietress of Maganna

gan Farm (Mrs. Bridget O'Shea) is also a well known painter and some of her work can be seen at her home in Magannagan Farm B&B. Inspiration for her paintings comes predominantly from the local area of Glengarriff where she has lived for all of her life. The many scenic attractions in the local area of Maganagan Farm offer her a basis from which her paintings evolve. The local scenery and beauty has complimented her work favourably and as well as being able to view and purchase some of Bridget's work at Magannagan Farm B&B you can also see some of her work on her personal web site at homepage.eircom.net/~bridgetoshea.

Other leisure activities in the area of Magannagan Farm B&B include horse riding, fishing, walking, mountain climbing, boating, sightseeing, and so on. The sea and coastline is only a short spell down the road. There is also a superb choice of restaurants, pubs and entertainment facilities nearby.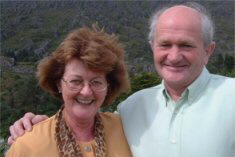 Ensure to book on time to save being disappointed, as this part of Cork is a very popular and a truly special area. Features of Magannagan Farm B&B include Turf Fire in TV Lounge, Central Heating and Ensuite Rooms. At Magannagan Farm B&B Cash, Cheque and Travel Agent's vouchers are welcome. There are also special 3 night breaks and off season rates and there is a 50% reduction for Children under 12 years.

Email: magannagan@eircom.net
Tel : 027-63361 (+353-27-63361)