The Pharaohs
The Egyptian Pharaoh was not just an ordinary king. The ancient Egyptians adored their pharaohs because they believed he was a god who had come down to earth from the skies. They also feared him because he had the power of life or death over them.
The pharaohs had great wealth. They used this to build pyramids, temples and statues to honour themselves and their gods. The pharaohs believed in many gods. They had jewels and pictures in their tombs to greet the gods.
Tutankhamun was a famous pharaoh. He became pharaoh at 16. He died at 18. His tomb was found in the Valley of the Kings by Howard Carter in 1922. It was full of treasures. Jennifer O'Grady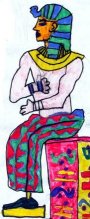 The Pharaoh was a King. This is a picture of the Pharaoh by Natasha Ray.
Egyptians believed in life after death. When the pharaohs died they believed that they would need his body for that life so they tried to preserve the body of their pharaohs. To do this they mummified them. They covered the bodies with oils, salts, and spices and wrapped them in layers of linen cloth. They also placed treasures and jewellery in the pharaohs' tombs. Dena Rowe