Mother of Fair Love School opened on 3rd October 1966 in two borrowed pre-fabricated wooden buildings, located in the grounds of St. Mary's Cathedral, James's Street.On the first day of school there were 4 staff and 25 students but by the end of the first week the students numbered 49.
The school moved, in October 1968, to new premises opposite the Cathedral onto the site of the old St. James's Chapel and the home of former bishops.In September 1969 an extension, comprising of an Assembly Hall / PE room and three additional classrooms, was completed and occupied.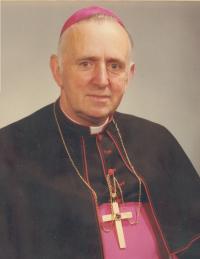 Bishop Peter Birch, who was then the newly appointed Bishop of Ossory, had made planning and fundraising for the new school a priority when Kilkenny Voluntary Social Services were established in 1963. He was a frequent presence in the school until his death in 1981. As the school's founder he took the name for the school from a quotation from the bible
"I am the mother of fair love, and of awe, and of knowledge, and of holy hope. In me is all grace of the way and of the truth, in me is all hope of life and of virtue". (Eccli. 24, 23-24)
In 1986 the Designer Student Programme in Kilkenny Design Workshops was asked to produce a logo for the school and after extensive consultations the form of the birch tree was adopted - echoing the memory of the school's founder and symbolising the growth that education brings to the individual. This logo can be seen on the top left of each page of the website.
Since 1966, Mother of Fair Love School has seen over 600 students with special education needs from counties Kilkenny, Carlow, Waterford, Wexford, Laois and Tipperary come and go with some of the first students of the school now in their late 40's.
Mr. Patrick McAlinney served as Principal of Mother of Fair Love School from its origins in October 1966 until his retirement on 6th January 1998.
Today the school and its staff, which currently numbers a Principal, Mr. Peter Donohoe and Deputy Principal, 9 Classroom Teachers, 1 part-time P.E.Teacher, 4 Special Needs Assistants, 1 FÁS Classroom Assistant, Secretary, 3 visiting SEHB Therapists, 1 part-time Speech & Drama Teacher, 1 part-time reflexologist and 100 students between the ages of 5 to 18 years all strive for knowledge , as the school's founder had envisaged, in an atmosphere of hope and fair love.