Welcome to www.danu.net and www.danu.ws, the official website of DANÚ, Ireland's most popular young band on the international festival circuit.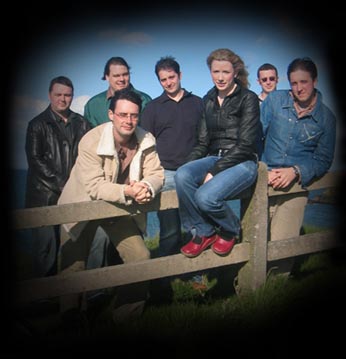 Dónal, Tom, Donnchadh, Oisín, Muireann, Éamon & Benny.
Thursday 14th April 2005:- Our new album "When All is Said and Done" is ready to hit the shelves! We will be bringing the first copies with us to England this month (April 2005) and they will be on sale at our concerts there. It will be on full release by the end of this month also and will be available in the shops, on the internet etc. As soon as it is available, we will link to it from our CD page.
Our DVD has also been released - it is called "One Night Stand" and it is available in the States now and will be available in Europe and elsewhere within the next few weeks. It has a full live concert in Dolby 5.1 surround sound, filmed in "Vicar St." concert venue in Dublin, Ireland. Also, there are short individual documentaries with each of the band, a 20-minute documentary on the band, the story of Danú from the beginning to now and finally, our own home videos from our times on the road - as much to show our friends & families what we actually get up to when on tour!! 3 hours and 15 minutes in all!! Special guests include John Sheahan of the Dubliners, Liam Clancy, Phil Cunningham, Sharon Shannon, Des Dillon and many others. Watch this space........
More awards?? - It seems so! We are told that Danú have received 2 more awards for the mantlepiece - this time from www.liveireland.com - Vocal/Instrumental album of the year for "The Road Less Travelled" and Female singer of the year for Muireann! So thanks to all involved!
By the way, for anyone interested, we will be scaling back our tours from April 2006, as our comittments at home grow. Don't worry, we will still be doing concerts, but we will be making our tours shorter and are already planning anotther album for 2006/2007.
Our good friend, piper David Power from West Waterford, Ireland has just released his first album which was produced by Dónal and is on the Claddagh record label - check it out at www.claddaghrecords.com
Don' forget our alternative website address www.danu.ws - (just think of danu-dot-website and bookmark it!!) Handy, in case of any problems connecting...
The Danú CDs "The Road Less Traveled", "All Things Considered", "Think Before you Think" & "Danú"are all available online from our CD Page (click here) - Audio samples are available on danu.net and the Shanachie website. Check out the CD page and enjoy!