MOUNT SCOTT LIMOUSIN
Michael Sexton
Mullagh, Co.Clare, Republic of Ireland. mpsexton@eircom.net
Welcome to our home page and welcome to the home of GAMIN one of the most successful Limousin bulls ever to leave France.!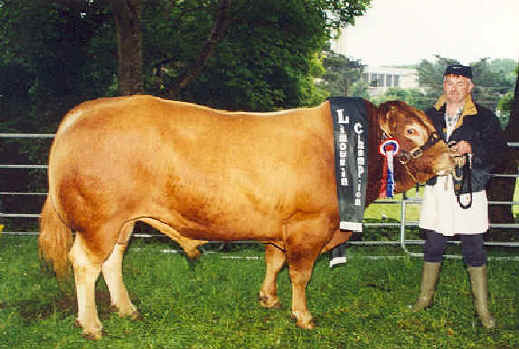 Bred by Earl Laleu C.et S. in France, this Delta son out of a Billy cow, was exactly what was needed in Ireland, having the two traits that in the latter half of the nineties came into most demand, namely docility on one hand and muscle development on the other. Along with this he had excellent growth rate, with a French index of 118, very good ease of calving at 104 and a skeletal development index of 111. Michael Sexton, the owner of Mount Scott Limousin purchased him as a five year old, and a very good purchase he has been. Over the past five years, thousands of his straws have been used on both pedigree and commercial females and the resultant progeny have consistently topped the sales since then. Due to continued use of his semen back in France, he has now reached the stage of achieving a very respectable IVMAT index, and furthermore is the sire of MADISON, one of the top young bulls in France at this time. The table below shows his current French indexes.
| | | | | | |
| --- | --- | --- | --- | --- | --- |
| ease of birth | growth rate | muscle dev. | skeletal dev. | ISEVR | IVMAT |
| 105 | 117 | 110 | 108 | 117 | 110 |
| 83% rel. | 81% | 83% | 83% | 82% | 49% |
Please now move down to the links below so in a flash we can take you to learn more about the Mount Scott Limousin breeding enterprise.
STILL BUILDING
design by Webtech Miltown Malbay