Our proposed Norwegian Fjords Cruise May 2011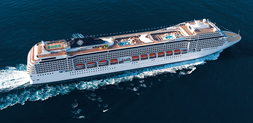 Starts 7th May 2011. Cruise - 8 day 7 Nights, on board the MSC Orchestra. Departing from Copenhagen and calls to Kiel, Hellesylt, Flåm, Stavanger, Oslo, Copenhagen . Flights and overnight stay in Copenhagen. We have booked 26 ...Balcony cabins... so we can sit on the balcony and see the wonderful scenery.
This trip is organised through Travel Counsellors and is fully bonded. While the Cruise is intended for members of the Naval Association, families and friends are also welcome.
Please remember we have no control over the cruise we are guests and on holidays the same as everyone else booking the cruise. If there is a complaint that might spoil your holiday we will do our best to assist but it is the ships staff who will have to deal with any complaints.
See what the real charge should be and remember Flight and overnight Hotel is not included in these prices Click Here