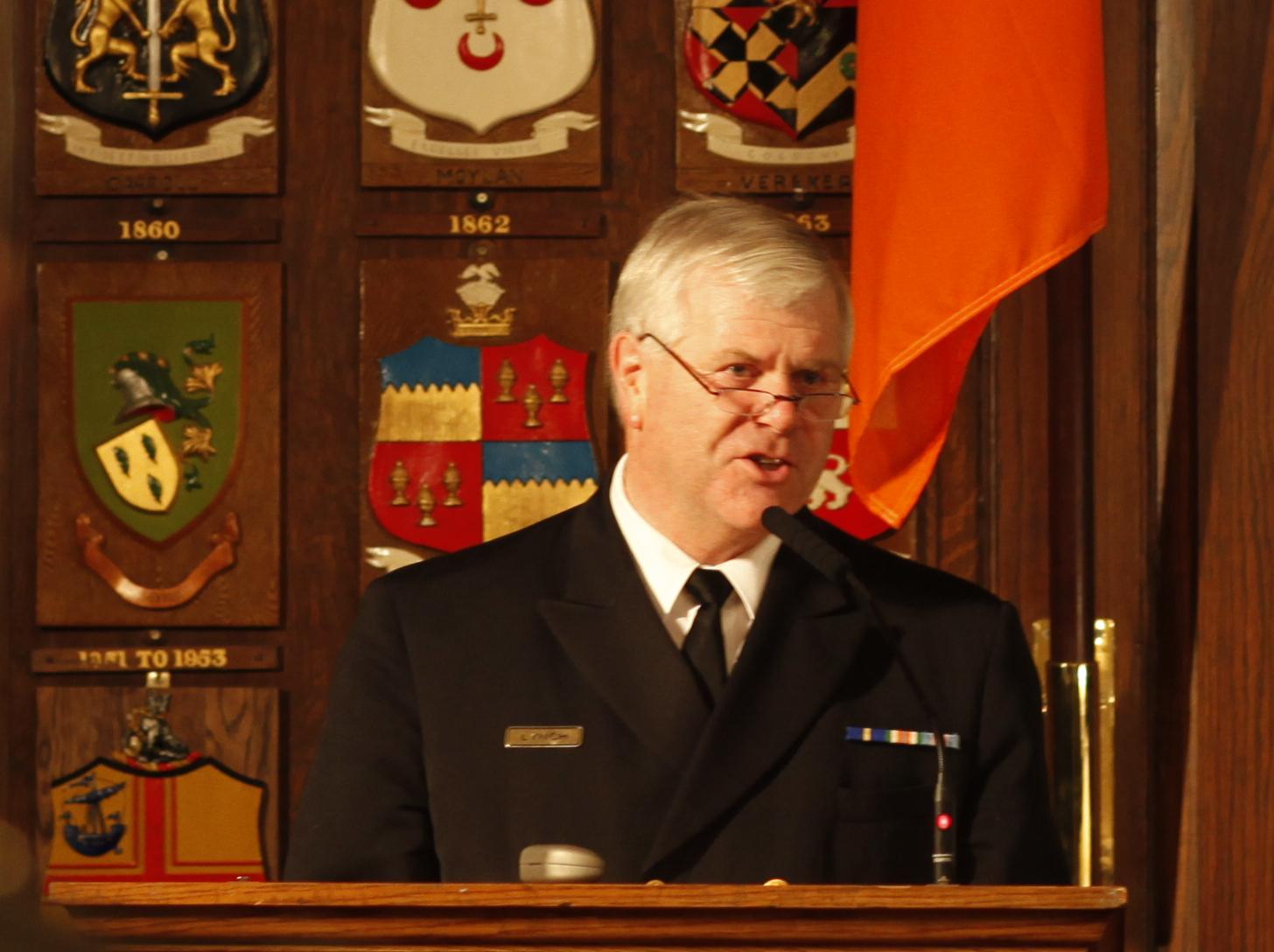 Commodore Frank Lynch will retire from the Naval Service on the 17th December 2010
Commodore Lynch was born in county Galway in Dec 1949 to parents Jim Lynch (BEng) and Emily Delaney (BA) A member of a family of 12 (7 sons & 5 daughters) He joined the Naval Service in November 1968 in a class of two Cadets (there had been no cadets for the previous 6 years) spent 1 year as a Cadet at Britannia Royal Naval College.. After 2 years training in such locations as; Army Cadet School, Britannia Royal Naval College and ashore and afloat in the Naval Service; he was commissioned into the Naval Service of around 360 people (and NO ships for a three month period at the end of 1970 into 1971)
Three minesweeper were procured from the Royal Navy in 1971, followed by the LE DEIRDRE built in Rushbrooke Cobh Co Cork.
One of two Boarding Officers involved in the seizure of the gun running vessel CLAUDIA and the support vessel
First Command was on the Minesweeper LE FOLA in Aug 1977 at 27 years of age.
The courses Commodore Lynch attended both at home and abroad included Ships Diving Officer course in August 1969, International Sub-Lieutenant's course UK from September 1971 to May 1972 and a Military Intelligence course in September 1981. He completed his Command and Staff course in Ireland's Military College from September 1984 to May 1985.
Commodore Lynch has held various junior Officer appointments, ashore and afloat in the period 1972 to 1977. He commanded the following ships for 2-year postings - the ton class minesweeper LE FOLA 1977 to 1979, the patrol vessel LE EMER 1982 to 1984 and the patrol vessel LE EITHNE 1993 to 1995. He has also held various staff appointments at Naval HQ and in the Naval Base. He was promoted to Commodore (NS) on the 22nd July 2002 when he was appointed Flag Officer Commanding the Naval Service.
Since 1990 he worked part time in the pursuit of re-organisation in the Naval Service, culminating in a year full time duties as head of the NS project team for the civilian consultants Price Waterhouse's review of the Naval Service 1996/1997. From April 1997 to May 1998 he served with UNIFIL in the Lebanon as Camp Commandant in UNIFIL HQ in Naqoura.
Commodore Lynch holds a higher Diploma in Information Technology and he graduated with a Bachelor of Science Degree in Information Technology from Dublin City University in 1994. He completed an M Sc in Operations Management through Dublin City University in August 2002. Commodore Lynch has a career which has spanned great changes in the development of Ireland's maritime awareness: From a small "no ship " navy with a 12 mile limit; To an 8 ship navy with a continental shelf claim over 400 miles of the coast and significant exploitation of the offshore resources.
On the 2nd of March 2006 Commodore Lynch was honoured to be awarded the Argentinean Order of May to Naval Merit in the degree of Admiral Brown Grand Cross.
He is married to to wife Janette bormn in Birmingham who he met while studying in Liverpool University and was training with the Royal Navy in 1969.and has a family of two, a son Kristian and a daughter Nikki (who are pursuing their own careers in Tampa, Florida and Dublin respectively). Son Kristian who is working as an Assoc. Professor in the University of Florida Tampa. Daughter Nikki who is Management Consultant with Accenture (and Husband Matthew) Commodore Lynch will retire on the 17th December 2010 and no doubt will then have time to persue his interests in golf, swimming and swim teaching/coaching.