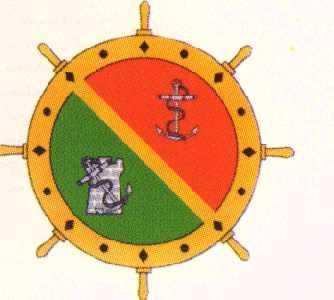 Ireland 1939
Following the Insurrection against British rule in Ireland in 1916 and the conflict that raged for 5 years, a treaty was signed between Ireland and Britain in 1921.In this treaty, the Republic of Ireland (26 of the 32 Counties and called Eire) was denied certain powers in to having its own navy. It was, however, permitted to have a seagoing coastal service which although formed after the treaty survived for less than a year and was subsequently disbanded. Ireland's responsibility for naval defence of its Irish waters came in 1938 when Britain handed back the Irish Ports it had retained as part of the treaty agreement of 1921.These Ports were Cork Harbour (South Coast), Berhaven (SouthWest) and Lough Swilly (Northwest).
In 1939, at the outbreak of World War II Ireland opted to remain neutral. Ireland was now responsible for the defence of its ports and territorial waters. Its Navy was non-existent and its only armed vessels were 2 Fishery protection vessels.
As part of the emergency steps taken, two services were set up under the command of an Army Officer, Col. A.T. Lawlor .
1.The Marine and Coast Watching Service which would be a full time service.
2. The Maritime Inscription which was a volunteer Naval Reserve Force to be based in the main Sea and Fishing Ports with responsibility for Port Control and Ship Examination.
Prior to the arrival of the MTB,s Ireland had to make do with a Steam Trawler built in 1936. "Fort Rannoch", and the "Murichu" formally HMS Helga armed with a 3 pounder gun and used by the British to shell central Dublin during Easter Week 1916.
Irelands sea power during the war was 10 vessels:-
6 Motor Torpedo Boats.
2 Inshore Patrol Vessels.
1 Mine Layer.
1 Sail training Vessel.
At the end of the War it was obvious that Ireland would continue to need a naval force. The Marine Service was dis-banded in 1946 and reformed as the Naval Service.
The Maritime Inscription was disbanded in 1947 and reformed as An Slua Muiri (men of the sea) with 5 units:-
No.1 Company (Dublin)
No.2 Company (Dun Laoighaire)
No.3 Company (Waterford)
N0.4 Company (Cork)
No.5 Company (Limerick)
---

Post World War 2 Years
Britain had a surplus of warships at the end of the War (WW2) Ireland bought 3 Flower Class Corvettes, and renamed them LE Macha, LE Maev and LE Cliona.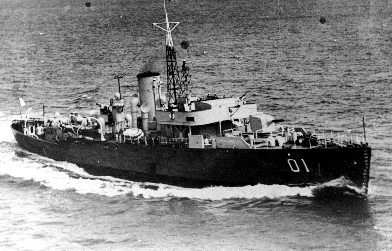 "LE Macha".(01)
During the 1950s Ireland's Navy consisted of the 3 Corvettes. Its primary role always was and always will be defence of the state at sea. However, fishery protection has been the main employment. In the 1960s these ageing vessels were scrapped until only one corvette was left as the sole Naval Vessel in Service entering the 1970s.
The Modernisation of the Irish Navy
The threat to internal security during the troubles in Northern Ireland and the new scourge of drugs and gun running created a change of emphiasis in employment of the Naval Service. The Government decided to purchase 3 Coniston Class Coastal Minesweepers fromBritain. These three Minesweepers were renamed "LE Grainne" (CM10), "LE Banba" (CM11) and "LE Fola" (CM12).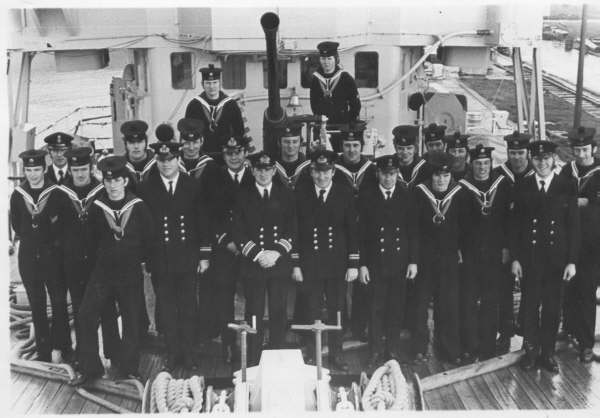 "LE GRAINNE" (CM10)
In conjunction with the purchase of the 3 Minesweepers it was also decided that a custom built all weather vessel would be built at home. This new modern all weather vessel would be capable of operating in the particularly extreme weather conditions on the Atlantic coast of western Ireland. Irelands first home built Naval Vessel came into service in May 1972 and named LE Deirdre (P20). This Offshore Patrol Vessel was followed by four more vessels to be built at home LE Emer (P21), LE Aoife (P22), LE Aisling (P23).
The last naval Patrol Vessel to be built in Ireland wasLE Eithne (P31) this vessel equipped with a Dauphin Helicopter is one of the most modern vessels of its class. The 3 Coastal Minesweepers were disposed of between 1984 and 1987.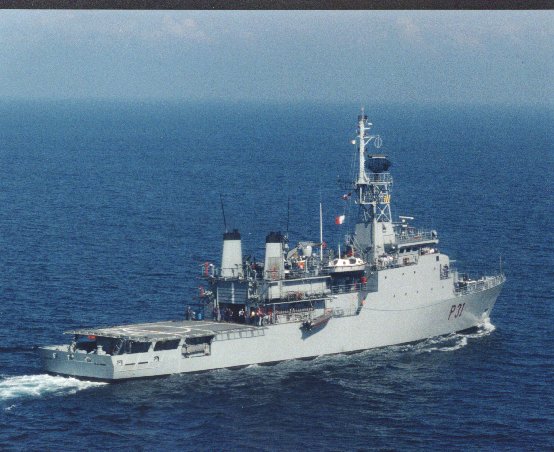 The Irish Navy Flag Ship "LE Eithne" (P31)
Further additions to the Irish Navy
Two Peacock Class Vessels, (which cost £10 million to build in the 80s)were purchased from Britain in 1988. They are purpose built warships with 76mm Oto Melara Guns plus 4 single 7.62 machine guns and two 12.7mm heavy machine guns. The Peacocks renamed LE Orla (P41) and LE Ciara(P42) are capable of speeds in excess of 30 knots.

.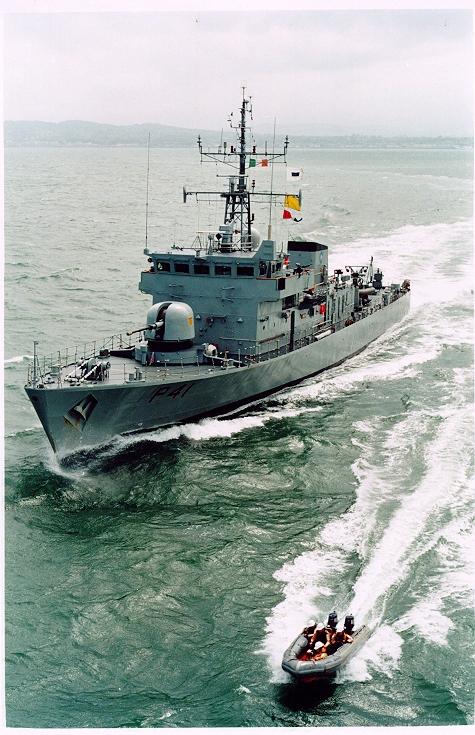 Aloutte Helicopter from LE Eithne and the Peacock Class LE Orla (P41)
Today the Irish Navy is a proud, well equipped, professional and efficient service and has received many credits for its drug detection, sea rescue, and prevention of gun running.