Annual Mass for deceased members of the Naval Association (Waterford)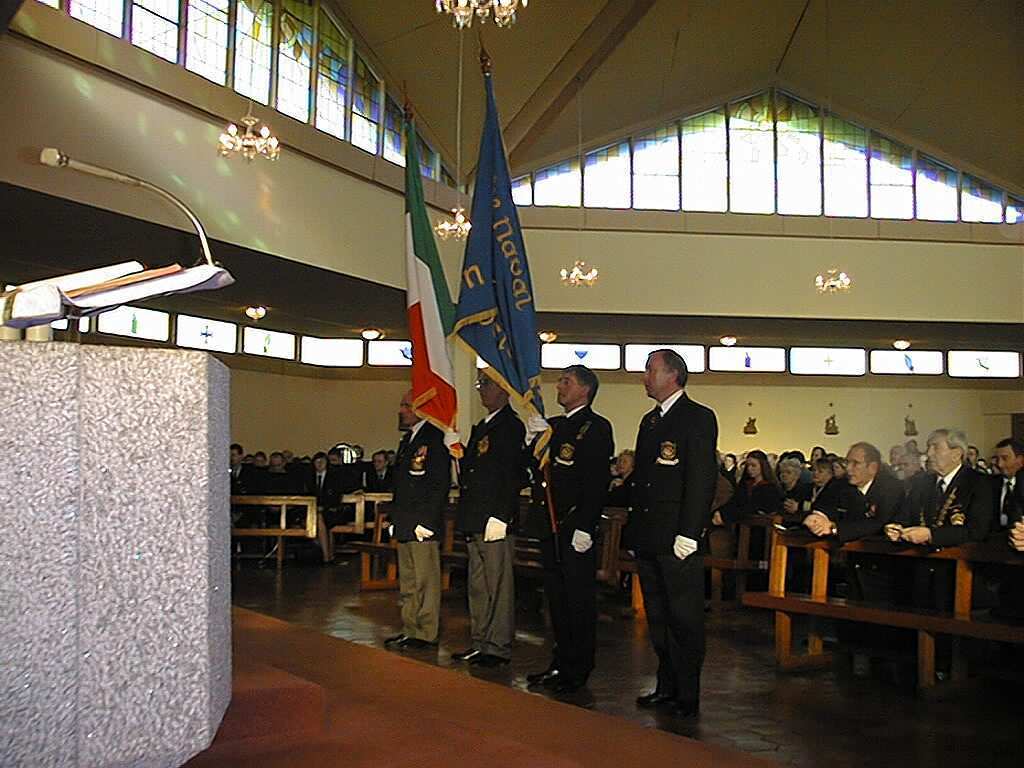 The Waterford branch of the Naval Association hosted a very enjoyable weekend on the 25/26th November 2000.
The main purpose of the weekend was to remember all our deceased members. Very recently we lost a great friend SCPO Seamus Dalton, who had been ill for a number of years. No matter how long a person is ill it does not ease the pain for the family or his many friends when he finally passes away.

The Colour Party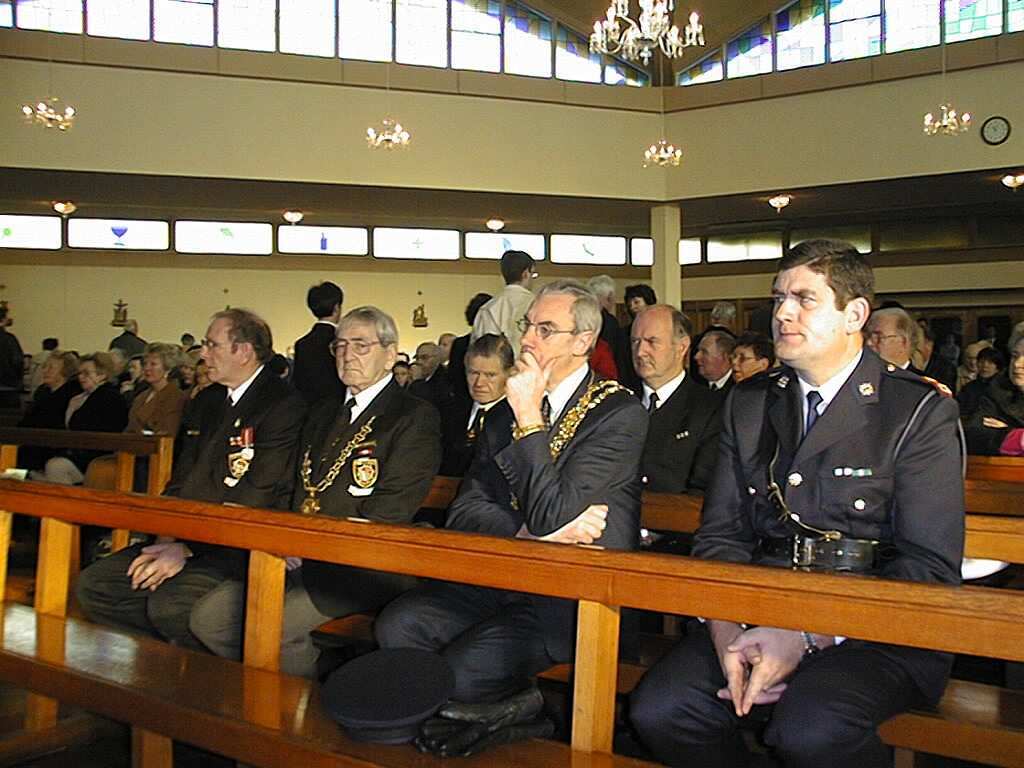 At the Mass all departed friends are remembered. Tony O'Halloran from the pulpit remembered the Dunphy brothers Paddy and Michael whose untimely deaths took place within a short time of each other. Tony also recalled the deaths of Fred Penkert and SCPO Clery who died in recent times. Tony recalled the deaths of the members of the Dublin Branch who died. SCPO Dick Larkin, Christy King, Peader Somers, Jim Lambert and Pat Butler.
(L/R)Tom Kavanagh (chairman) Ray Murphy (President),The Mayor Mr.David Daniels, Superintendent McGarry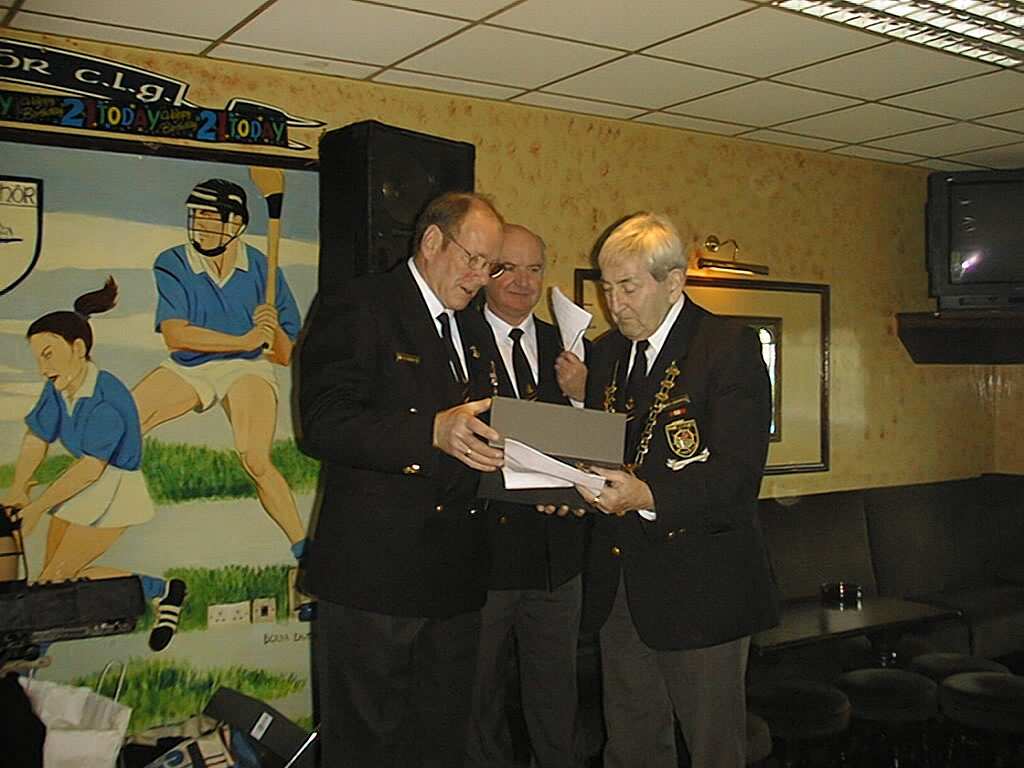 At the Mass celebrated by Fr. Fitzgerald, the large attendance also included the Mayor of Waterford Mr. David Daniels, The Garda Superintendent Michael McGarry (Irish Police), and Lt. Michael McGrath representing the Officer Commanding Waterford Naval Reserve.

Music in the church was provided by The Barrack Street Brass and Reed Band under the Baton of Mr. Liam Daly. The Mass ended with the band playing the grand march from Aida, not one person left the church until the band was finished. Excusing the pun, it is true to say the Mass ended on a high note.
Following the Mass all adjourned to the GAA social club where the music, song and dance took up where it had left off the night previous. During the afternoon the chairman of the Waterford branch made a presentation of beautiful Waterford Crystal to the Naval Association president Mr. Ray Murphy who is stepping down at the end of this year. Thanking the Waterford Branch for their generous gift and their hospitality shown to all visiting members of the association not only this year but last year as well. Ray complimented the Waterford branch and their wives for the excellent entertainment and food provided on the evening previous and after the Mass.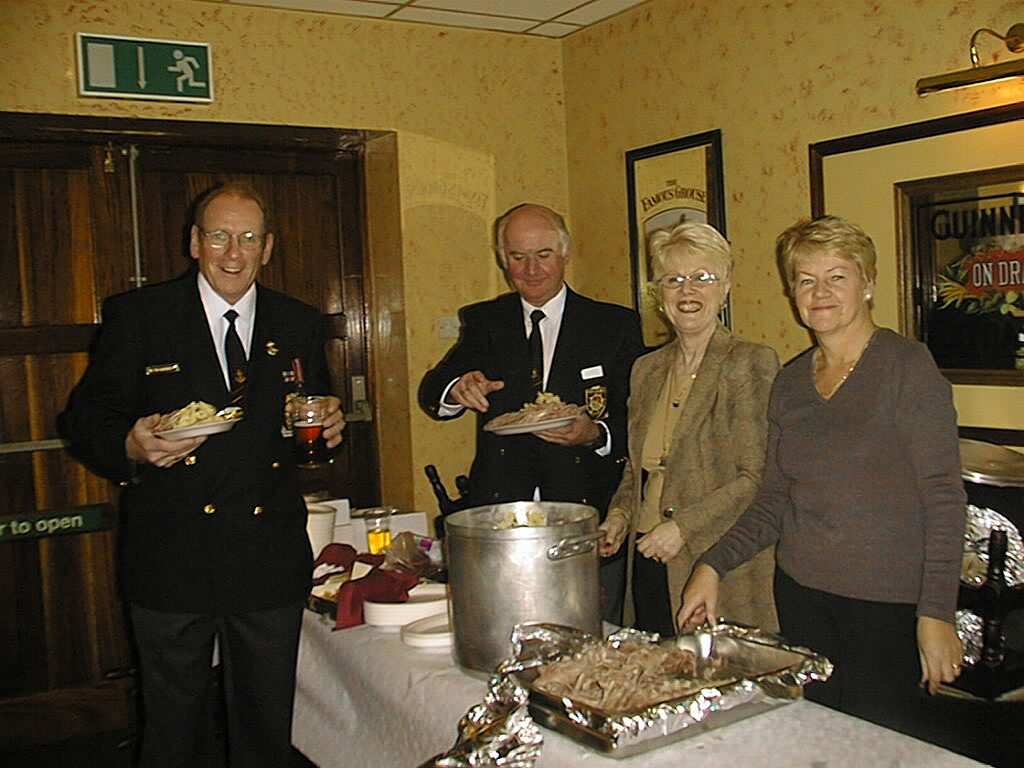 Just as we were all feeling that little bit hungry Christine Kavanagh and Mary O'Halloran wheeled in a table with a large selection of Irish Bacon pieces and ample portions of tasty potatoes. If this was not good enough next came large portions of home made cakes and fresh cream. As we always say in Dublin "Trust the Waterford lads to do it right".
Tom Kavanagh (chairman) Tony O'Halloran, Christine Kavanagh and Mary O'Halloran. The hard workers who also organised the entertainment and food the night previous.