When Bishop de Mazenod sent Fr. William Daly to England in 1841 to examine the possibilities of establishing Oblate foundations there, his avowed aim was to contribute to the conversion of England. He realised, however, that if his aim was to be implemented, English-speaking peoples, and not merely foreign priests with some knowledge of the language would have to be provided. He looked to Ireland for men who would staff his foundations in England and in this he showed a remarkable degree of foresight that was uncommon then.
Fr. Daly made a tour of Ireland seeking postulants, but even so, no Oblate foundation could be established there until 1856. His first contact then, would seem to have been a failure, but, as it was admitted later, if the Oblates had succeeded in establishing themselves in Ireland, the work of preaching missions would have proved so attractive and rewarding that the foundation of the English mission would been delayed still further. It was then that Bishop de Mazenod was induced to send his most trusted assistant, Fr. Casimir Aubert, to co-operate with with Fr. Daly in starting the Oblate apostolate in England.
A beginning was made at Penzance where Frs. Aubert and Daly came at the invitation of Fr. Young, an Irish priest, to assist him in building a church and caring for the needs of scattered families who had for long been deprived of all spiritual help. When the building of the church was completed, the fathers extended their missionary and pastoral apostolate throughout the Cornish countryside. Mass centres were set up nearby and elsewhere the Fathers preached before mixed assemblies, often in the open air, with beneficial results. Two schools were opened and two Oblate sisters and a brother were placed in charge of them. Novices were received and transferred to France to begin their priestly and religious training.
In 1845 the Oblates took charge of a chaplaincy at Grace Dieu, Leicestershire. Fr. Aubert assigned three fathers to this mission and Bishop de Mazenod sent Fr. Cooke to assist them. The pastoral work at Grace Dieu was similar to that undertaken at Penzance. Later foundations were made at Everingham in Yorkshire, in Aldenham and later, in Failsworth, Manchester.
These, though interesting, proved merely transit stations, en route for the more permanent urban missions that were to follow in quick profusion.

Temporary missions they may have been but they were destined to help the founding fathers to become spiritually conditioned to their new milieu. It was in these quiet rural centres that these devoted fathers served their apprenticeships before taking up the incalculably larger apostolate in the cities.
In December 1849, the Oblates were invited to extend their work to the city of Liverpool and were entrusted with the mission of the Holy Cross.
The new mission was situated in the very heart of the slum area, marked with all the squalor of industrialisation at its worst. Social conditions, though they had been appalling for many years, were rendered even more intolerable by the presence of many thousands of Irish famine victims. Bishop Brown of Liverpool had done what he could for his stricken flock, but to no avail. In the course of the year 1850 Bishop de Mazenod visited England and came to Liverpool. He was distressed as much by the hideous squalor of the Mission as he was Impressed by the faith of the people who attended there.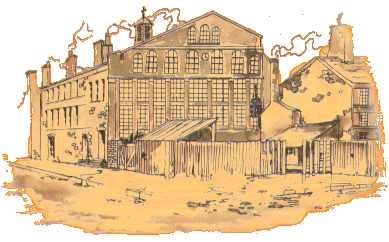 "The area of this extraordinary building", wrote Fr. Cooke. "consisted of a cow house and a coal store; the first floor was occupied by as a rag and bone store; the second as a poor school and the third served as a temporary chapel."
In 1857, Bishop de Mazenod re-visited the Province. Heart warming scenes marked his progress everywhere. His visit to Dublin was especially dear to him as he had heard wonderful stories about the first Oblate foundation in Ireland at Inchicore. He expressed his gratitude to the local workers who had wrought such a miracle of faith in building a church in four days, when he celebrated Mass in their "Wooden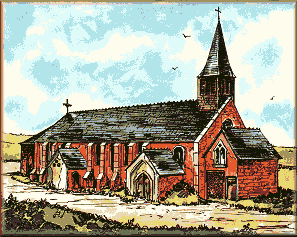 Church". The hierarchy in Ireland and England were profuse in their praise of the wonderful work accomplished by the Oblates everywhere. He made an acquaintance of several patrons of the Oblates who pledged him the assurance of their continued support. He was gratified above all by the love and zeal of his missionaries and by their obvious acceptance as an integral part of the spiritual life of the people. Many houses had been established since his last visit and many more would come into being before his death a few years later. Much good had been done, he noted, and the authentic stamp of Oblate devotion marked all their undertakings.
Today, the Anglo-Irish province, with 40 foundations and nearly 150 Oblates working for the spiritual and temporal betterment of their people at home and abroad, has extended its mission to Brazil. We may assert in truth that the zeal of Bishop de Mazenod, which inspired our early fathers, lives on in the missionary apostolate of those who have succeeded them.