Mick was born on 28th November 1983 in Blarney, County Cork; the son of David and Elaine (née Sullivan) Flannery - both lecturers at the Cork Institute of Technology, teaching Mathematics and Biology & Microbiology respectively; with brothers Brian, David and Eamonn, and sister Sarah. He was educated at Scoil Mhuire Gan Smál in Blarney, and Music College in Cork.
Mick is a talented singer-songwriter and plays both piano and guitar. In 2005, he was the first Irish musician to win awards in the prestigious U.S. International Songwriting Competition based in Nashville, Tennessee. His song "The Tender" won First Prize in the "Lyrics Only" category, and "In the Gutter" (based on Cat Stevensí "Father and Son" tune) took First Place in the "Folk/Singer-Songwriter" category. The competition submissions were judged on the basis of five criteria: Creativity, Originality, Lyrics, Melody and Composition; and the competition judges included Tom Waits, Loretta Lynn, Sonny Rollins, John Scofield, Macy Gray and others.
He has released a number of CDs as a solo performer, and writes all of his songs (lyrics and music).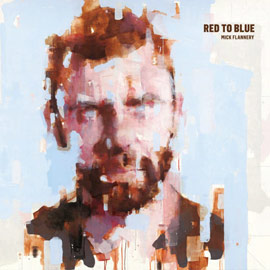 Mick has been featured on Irish radio and television (RTE "Other Voices" etc.) and signed with EMI in 2007. He currently tours Ireland with his band and his popular gigs are often sold out in advance.
In 2009, he won the prestigious Meteor Music Award for Best Irish Male, as voted by the general public in Ireland.
His albums have performed very well in the Irish Charts: "White Lies" reached #6 in 2008, and "Red To Blue" reached #1 in 2012.
---
[his portrait is illustrated above, courtesy of "Irish Times"]