Sarah was born in 1982 in Blarney, County Cork; the daughter of David and Elaine (née Sullivan) Flannery - both lecturers at the Cork Institute of Technology, teaching Mathematics and Biology & Microbiology respectively; with brothers Mick, Brian, David and Eamonn.
She was educated at Scoil Mhuire Gan Smál in Blarney, and rocketed to fame at the age of sixteen by winning the Young Scientist of the Year Award in 1999. Her project, entitled "Cryptography – A New Algorithm versus the RSA", was all the more remarkable for baffling the judges who were hard-pressed to match her technical acumen.
She subsequently represented Ireland at the EU Contest for Young Scientists, held in Thessalonika, Greece on 30th September 1999, and won a first prize. She was also awarded an EU Young Scientists Honorary Award to represent the EU at the Stockholm International Youth Science Seminar.
Her research developed a computer algorithm - named the Cayley-Purser Algorithm, after Arthur Cayley, an eminent 19th century Cambridge mathematician, and Michael Purser, a cryptographer and founder of Baltimore Technology who inspired her - which allows encrypted data to be transmitted at high speed.
She has delivered a number of lectures around the world, and co-authored a book entitled "In Code, A Mathematical Journey" (2000) with her father.
Her decision to eschew commercial advantage and maintain an academic approach to the cryptographic project was widely praised. A security flaw was eventually detected in the Cayley-Purser Algorithm, which precluded direct commercial application, but in no way detracted from the academic exercise of its derivation.
Cork City (European Capital of Culture, 2005) undertook a facelift of its main thoroughfare Patrick Street in the run-up to the celebrations. The new street furniture, designed by Spanish architect Beth Gali, is strikingly modern and features the Flannery Lamp. The X-shaped street lights (pictured below) were named in honour of Sarah Flannery.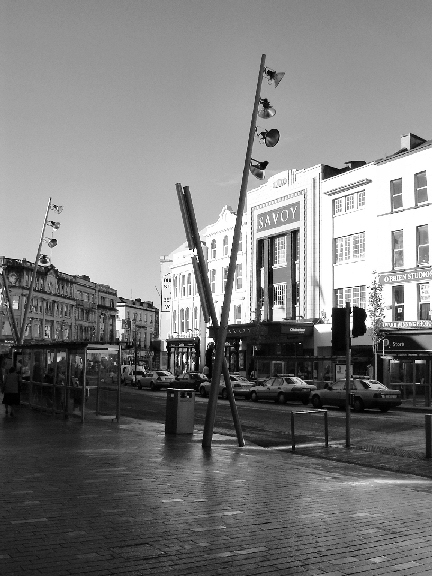 Sarah earned a Bachelor of Arts degree in Computer Science at Cambridge University (Peterhouse College, 2003) followed by a Masters degree.
She worked on the highly-regarded Mathematica package for Wolfram Research, continued as a software engineer for Electronic Arts, and co-founded Tirnua Inc. (a very entertaining virtual world; Tír Nua = New Country) where she is currently engaged as a senior computer scientist.
---
[her portrait is illustrated above, courtesy of "In Code, A Mathematical Journey", Profile Books Ltd., 2000]