West Cork Table Tennis Assoc.
NEWS 2001-2002
Archive: 2000-2001 Season
Archive: 1999-2000 Season
2002 All Ireland Schools Table Tennis Championships, IWA Clontarf.
Munster walked away with all six titles at the All Ireland Schools Championships. This was not the first time that Munster have totally dominated the event winning six in 2000 and five titles in 2001 with North Monastery Cork taking 3 boys titles and St.Angelas College, Cork, taking 3 girls titles. This year however there were five different schools representing Munster and all from Cork County.


West Cork School Bandon Grammar were the surprise debutantes beating St.Angelas in the Munster U13 Girls finals they went on to win the All Ireland title at their very first attempt. St. Angelas did retain the U15 Girls as well as the U19 Girls for the sixth win in succession. Scoil Eoin, Ballincollig, took their first ever All Ireland title having narrowly missed out on a number of previous occasions. Colaiste Choilm, Ballincollig have won an U13 title previously but this was there first ever U15 title. The North Monastery who have one of the best records at All Ireland level took the U19 title for the fifth time in succession beating St. Aidan's CBS Whitehall in an exciting final. North Monastery Coach Con Higgins was presented with an award from Irish Schools Association for his tremendous contribution to this area of the sport. Con Higgins won a number of titles with schools in Limerick before moving to Cork and repeating his record at the North Monastery School where he is currently principle. North Monastery recently captured the Mainport Cork Schools League for a remarkable 9th successive year.

2002 Junior Interprovincial Table Tennis Championships, Ballina, Co. Mayo.
West Cork continued it's extraordinary record when 14 Munster Junior Caps were awarded to WCTTA members, from all over the region. The U12 Girls were completely made up of girls from the West. Marie McSweeney & Ruth Cocoran from the Kinneigh TTC, Eliza Wood and Ronja Bailey from the Goleen TTC and Etaoin Melville from Dunmanway TTC all represented Munster for the first time with both Eliza and Ronja eligible for next season.

Barry Horgan (Kinneigh TTC) and Andrea Shorten (Kinneigh TTC) are both currently West Cork No.1's and represented Munster extremely well with Andrea Shorten beating Irish No.1 Amy Tobin (Leinster) during the competition. Emma Jane Helen (Kinneigh TTC) added to her 5 consecutive Munster Caps being selected for the U17 for the first time and was part of the Gold medal winning team. Alan Hurley became the first ever Kinneigh player to be selected for the U17 boys and performed extremely well against the top players in the country. Killian Healy and Mike Spitere from the Ballincollig Club joined Alan on the Junior team and Killian played the tournament of his life taking some major scalps including Colin Byrne (Leinster) Irish No.4 and Dane Smith Irish No.6 (Ulster).

Ivan Shorten (Kinneigh TTC), Vicky Ridgeway (Dunmanway TTC) & Owen Kelly (Goleen TTC) were all selected as Munster Captains for the event. The reputation of West Cork Table Tennis continues to grow and Andrea Shorten has been selected for the International Youth Cup in Belgium. Emma Jane Helen will also fly out with Claire Quinlan (Blarney), Anna D'Arcy (Cork), Clare O'Callaghan (Cork) & Grainne McKenna (Dublin) as part of a Cork based development squad.

Junior Boys
Final Places
1. Leinster 2. Ulster 3. Munster 4. Connacht

Junior Girls
Final Results
1. Muster 2. Leinster 3. Ulster 4. Connacht

Cadet Boys
Final Results
1. Leinster 2. Ulster 3. Munster 4. Connacht

Cadet Girls
Final Results
1. Leinster 2. Ulster 3. Munster 4. Connacht

U-12 Boys
Final Results
1. Leinster 2. Ulster 3. Munster

U-12 Girls
Final Results:
1. Ulster 2. Leinster 3. Connacht 4. Munster

WEST CORK TABLE TENNIS TEAM CHALLENGE
Ballincollig dominated the event with players from Scoil Eoin and Colaiste Choilm taking top honours in both events.

The WCTTA Team Challenge took place at the St. Patrick's Hall, Dunmanway. Teams of three from as far away as Thurles and Spanish Point, Co. Clare, competed within two divisions.

The event also included players from the Munster U12 Girls & U14 Girls as well as the Boys U14 & U17 teams.

The Final of Division 2 was between the "Red Devils" made up of players from Scoil Eoin and the Beech Hill Club, Cork, (Scott Shellard, Darren Casey & Aaron Kelleher) and the all girls "Hell's Angels" from Goleen, (Kloe Wood, Janna Bailey & Deirdre Cotter). The "Red Devils" took an early lead and proved too strong for the girls winning 4-0. The girls will be in action again as part of the first Goleen & District Community Games team at the Cork Community Games Finals in Cork on April 28th.

The Final of Division 1 was a three-way group match between Ballincollig A, Ballincollig B and Kinneigh A. The first match between Ballincollig B and Kinneigh A saw a surprise victory for the Ballincollig players: with Chris O'Brien beating Donal O'Leary, Eoin Hegarty beating Alan Hurley and only Jason Crowley pulling one back for the Kinneigh team. The deciding doubles went to four sets with three going to deuce. However it was Ballincollig who sealed their victory 3-1. Kinneigh A then had to play Ballincollig A and went down 3-0.

The Final was a very close affair with all players knowing each other's game extremely well and there were many tense and exciting moments. Eoin McNally took first blood with a four set victory over David Buckley, to put the A Team one up. Killian Healy then took another for the A Team against Chris O'Brien. The B Team needed a win in the third to take it into the doubles and this looked likely as Eoin Hegarty was 2-1 up reaching the fourth. However Mike Spitere made an excellent comeback to take both the fourth and fifth sets, to crown Ballincollig A with their first West Cork Team Challenge Title. This was excellent preparation for the Boys of Colaiste Choilm as they travel out to Slovakia in two weeks to represent Ireland at the ISF World Schools Championships captained by local Kinneigh Coach Ivan Shorten.

The Division 1 Plate saw the "Kinky Kenneigh's" take on St.Angelas B, an all girls final. Kinneigh went on to win but the girls from St.Angelas A & B who are likely to represent Munster at the All Ireland U15's showed some good form. The Division 2 Plate saw a local clash between the "Lightings" & the "Thunderbolts." An U12 Dunmanway Girls and Boys team. The boys team proved the stronger of the two, Marie McSweeney from the Kinneigh Club took the only win for the girls as they went down 3-1.

Results:
Div.1: 1st Ballincollig A, 2nd Ballincollig B, 3rd Kinneigh A
Div.1 Plate: 1st Kinky Kenneigh, 2nd St. Angelas B, 3rd St. Angelas A.
Div. 2: 1st Red Devils, 2nd Hells Angels (Goleen), 3rd The Alliance.
Div.2 Plate: 1st Thunderbolts, 2nd Lightnings, 3rd Goleen Bandits.

WEST CORK OPEN 2002 FEBRUARY 23rd-24th

With just so many events it is difficult to give a complete report on every event. Local West Cork interest was focused mainly within the younger age categories. Eliza Wood (Goleen) won the U10 Girls and managed an excellent third place finish in the U12 Girls, which was won by team mate Ronja Bailey from Marie McSweeney (Kinneigh TTC). West Cork had similar success in the U10 Boys with Eoghan O'Keefe (Bantry) taking second and Aidan Grabb (Blarney) taking third. Ian Shellard from the Beech Hill TTC in Cork took the overall U10 Title. The U12's saw Barry Horgan (Kinneigh TTC) take a surprise victory from Munster No.1 Ross Griffin (Ennis, Co.Clare) this moves Horgan into the Munster No2 slot and guarantees him a place on the Munster U12 Team. Andrea Shorton (Kinneigh TTC/TDC Financial/Celtic Table Tennis) was favourite coming into the event having won the U12 Title last year and currently No.3 in Ireland. She had a closely fought final with Jessica Kelleher (Beech Hill TTC) and managed to add the Cadet Title to her long list of achievements this season. The surprise came in the early exit of Munster No.2 Clare O'Callaghan (Beech Hill TTC) being beaten in the last 16 by Kloe Wood (Goleen) who went on to finish third in the event. The U14 boys saw Munster No.1 Jason Griffin (Ennis, Co.Clare) take his first ever West Cork Title and there was further celebration from the Griffin family when Ross Griffin added an Bronze medal to his U12 Gold. Denis Mullane (Thurles, Co.Tipperary) finished second preventing any Co.Cork player from any of the medal positions, the first time in eight years and an indication of the expansion of table tennis in Munster at the moment.

The Junior (Under 17) age group is one of the strongest in Ireland and this was shown to great effect in the standard of excellence in the Junior Girls event. Six of the top 10 Juniors in the country competed for the West Cork open title and it once again went to Irish No.1 Linda O'Sullivan (Beech Hill/ Celtic Table Tennis), who has had a remarkable season being selected for the Irish Ladies Team at the British Leagues last month. Team mate Rachel O'Connor finished second with local girl Emma Jane Helen (Kinneigh TTC/Celtic Table Tennis) taking third. It has been confirmed that all three of these girls have been selected for the Junior Munster Team. All three girls are sponsored by Celtic Table Tennis who also sponsored the event itself. The Junior Boys event had even more importance this season as the last Munster Ranking event and the search for points in order to guarantee selection for the Munster team was on offer. Mike Spitere (Ballincollig) started the season quite poorly finished on a high taking a surprise win from Munster No.1 Killian Healy (Ballincollig). Alan Hurley (Kinneigh TTC/STIGA) had his highest finish of the season and all three have been selected for the Munster team.

The Senior Ladies Open saw top junior Linda O'Sullivan defeat Louise Long (Beech Hill) in the final with Emma Jane Helen taking another third place finish this time defeating Rachel O'Connor in the play off. The Men's Open was dominated by top Munster Veterans Dan Foley and Tom Elliott (Harlequins) and the Vets final saw victory for Dan Foley while a repeat in the Men's was won by Tom Elliott. ITTA PRO and local man Owen Kelly (Goleen) made a rare appearance away from the organiser's table and took the third place spot from David O'Rourke (C.I.T./North Mon.) Kelly also made the doubles final with local boy Jake Warne (Dunmanway) but was beaten by an impressive performance by Alan Hurley and Jason Crowley (Kinneigh TTC).

The three days of competition saw over 260 entries from all over Co.Cork and Munster and attracted a large amount of visitors to Dunmanway. The facilities at Immaculta Convent are ideal for table tennis and the hall held ten tables during the competition with a viewing gallery, café and equipment shop. Local businesses including McCarthy's Furniture, Super Value, Tri Na Locha and Galvins as well as some further afield (Dermot Sheehan Properties, Quick Pick Goleen and Camier's Garage Ballydehob), were generous with their support of the event and the organisers would like to thank all of those who gave of their time. A number of tables are staying at the hall for a trial period as a club will be opening on Tuesday 5th March from 5pm – 7pm. Anyone who is interested in being coached or would like to try it for the first time or maybe would like to pick up the bat for the first time in a few years! Please contact Owen Kelly 028-35371.

West Cork Rising Sport's Star.
Within the space of one week Emma Jane Helen from Rossmore, Co.Cork managed to retain the Cork Interparochial Senior Ladies Title and reach the semi-final of the Junior Girls at the Munster Open. Emma Jane Helen a pupil of Sacred Heart Secondary School Clonakilty beat the current Irish No.3 Rachel O'Connor from Cork in 4 sets, coming back from 8/2 down in the final set. Emma Jane went onto play Irish No.1 and defending champion in an exciting 5 set match only loosing 11/9 in the fifth. This is all the more remarkable considering she is still only 14 years old and has another two years at this age group.

Emma Jane Helen started playing when she was very young and came to the attention of her present coach Owen Kelly when she was 9yrs. In the last 4 years she has been ranked in top three in Ireland at both U12 and then at U14 level and has been the Munster No.1 at both age groups. Emma Jane Helen trains at the Kinneigh Club and Skibbereen Sports Centre and has been awarded 4 consecutive Munster Caps and 3 Irish Caps during her short playing career, she is however philosophical about her chances of playing for Munster this year.

"I am very pleased with my performances this season and I have achieved all my season's goals. I would of course like to play for Munster again this season and I now have a good chance of being selected but I am just delighted for now to have made the semi-final of the Munster Open and to have put in a good performance against Linda O'Sullivan."

This result moves Emma Jane up to fifth in the Irish Junior Rankings. It was announced after the tournament that Linda O'Sullivan has been selected for the Irish Senior Ladies team to play in the British League next weekend.

Andrea Shorten from the Kinneigh Club also had a great result over the weekend finishing 3rd in the U14 Girls event. Andrea who is in her first year at Bandon Grammar School has had an excellent season so far and is currently ranked third in Ireland putting her in a good position for an Irish selection latter this year. Andrea at 13yrs old has already an Irish Cap to her credit and is currently No.1 in Munster.

Both players are sponsored by Celtic Table Tennis equipment specialists and will be showing off their skills along with all the top players in Munster at the West Cork Open on the 23rd & 24th February in Dunmanway. The West Cork Schools Cup precedes this on Friday 22nd February. With over 20 schools competing at National and Secondary Schools level this is the largest table tennis schools competition in the country. Any schools that are interested in participating in the event or would like information on how to start table tennis in their school please contact Owen Kelly 028-35371.

West Cork National School Table Tennis Challenge 19-11-01
Preparation for the West Cork National Schools' Cup in February is already underway. The Schools' Cup is the major event on the West Cork Schools Calendar with 9 National Schools and 12 Secondary Schools' teams taking part. Togher National School from the Dunmanway area and Gael Scoil from Bantry had the first in a number of challenges that will take part all over West Cork in order for these under age players to prepare for the main event. Togher School who finished 7th last year above Gael Scoil in 8th travelled with their school coach Vicky Ridgeway to play the away leg at the Gael Scoil in Bantry.
The opening matches were very close and the teams stood at 1 all. Gael School took the lead when Muris Buttimer unexpectedly beat Robin Smiles and Gael Scoil's Keith Young beat Michelle Crowley in two very close matches going to four sets. With a 4-2 lead the match moved into doubles. Gael Scoil again took the advantage taking maximum points. The Bantry School dominated the second half of the match, unfortunately Gael Scoil No.1 Christopher Ducker was forced to concede his last match when he retired with an injury. The final match of the day came between Keith Young and Robin Smiles, this was the tensest game of the day going all the way to a fifth set, both players displayed tremendous skill and concentration with Keith finally taking the final set to leave Gael Scoil 8-2 winners.
Togher NS: Cloudy Heartly, Iris Swift, Michelle Crowley, Robin Smiles.
Gael Scoil: Chris Ducker, Eoin O'Keefe, Muris Buttimer, Keith Young.

West Cork Junior Ranking - Kinneigh TTC - 11-11-01
The 1st West Cork Ranking of the season was held at the Kinneigh TTC on Sunday 11th November. Entries from all over West Cork including Bantry, Goleen, Clonakilty, Rosmore, Dunmanway, Enniskean, Kinneigh and Ballincollig made this a truly regional event. The event was of a very high standard including some top Irish juniors. Andrea Shorten who is currently No.3 in Ireland took the U17 title from her sister Rebecca in the Girls final, while Jason Crowley from Clonakilty who plays for the Kinneigh Club took his first West Cork trophy in the U17 Boys. Barry Horgan who is currently Irish N0.6 took the U12 title from Kinneigh team-mate David Shorten. Barry will be travelling with a number of West Cork players to the Irish Junior Ranking in Dublin on the 17th November. Marie McSweeney (Kinneigh) No.5 in Ireland took the U12 Girls title from Eliza Wood from Goleen. Eliza who is also U10 took her second medal, this time gold in this age group from Ashling O'Callaghan from Kinneigh. Ashling Healy the first player to enter a West Cork Ranking from Ballincollig took third in this event. Brian Corcoran also playing in his first U10 West cork Ranking took first place from Dunmanway's Robin Smiles. The event was very well attended and is the first in a series that takes place across the region throughout the season. The next West Cork Ranking will take place at Ballydehob on Friday 23rd November, for more information contact Owen Kelly 028-35371.

U10 Girls
1 Eliza Wood Goleen
2 Ashling O'Callaghan Kinneigh
3 Ashling Healy Ballincollig

U10 Boys
1 Brian Cocoran Kinneigh
2 Robin Smiles Dunmanway
3 Jonathan Reidmuller Kinneigh

U12 Girls
1 Marie McSweeney Kinneigh
2 Eliza Wood Goleen
3 Ruth Cocoran Kinneigh

U12 Boys
1 Barry Horgan Kinneigh
2 David Shorten Kinneigh
3 Padraic McSweeney Kinneigh

17 Girls
1 Andrea Shorten Kinneigh
2 Rebecca Shorten Kinneigh
3 Marie McSweeney Kinneigh

U17 Boys
1 Jason Crowley Kinneigh
2 Brian Horgan Kinneigh
3 Darragh O'Leary Kinneigh

Munster Junior Ranking, Thurles 8-9-01
The first Munster Ranking of the season saw a squad of 25 travel up to the event. This is the first event of the season using the new 11 point system, which was not well received by most players. Andrea Shorten won the U14 Girls event, Barry Horgan won the U12 Boys, Marie McSweeney won the U12 Girls and Killian Healy won the U17 Boys. This would be the most successful Munster Ranking for the West Cork squad with 4 Munster Titles. Only four players failed to reach a Top 10 placing in their respective age group competitions and with entries up this year that could be an indication of things to come. Special thanks goes to Vicky Ridgeway and Owen Kelly for taking the squad up. Good luck to Alice, Deirdre, Emma Jane, Andrea and Barry for the Interpros next week. (And All in the Munster Team!)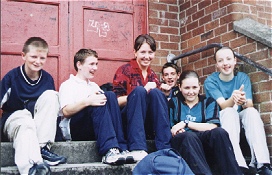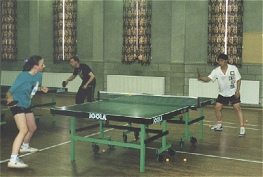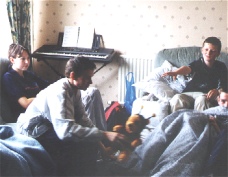 WEST CORK HEADS NORTH
Six West Cork players attended three days of a coaching camp held at the Glenburn Club in Belfast. The camp was run by Jing Yi Gao and four other Chinese Coaches. The facilities and training was excellent and it was a great opportunity for the players to gain valuable experience. The squad were very well accommodated by the Ross family and much thanks has to go to them for opening their doors to the West Cork players. On one evening we all went off bowling Kevin Coffey suprised everyone including himself with his skills. Rebecca only damaged the lane she was on and the two next to her very slightly! The Graham family were far too professional and we won't go into that! This was the first time away for three of the lads and we made it back in one piece. Thanks to the Ulster Branch and all those who helped with the trip.
WCTTA Squad: Girls - Emma Jane Helen, Andrea Shorten, Rebecca Shorten. Boys - Kevin Coffey, Martin Hurley, DJ McSweeney.

Community games - Gold for Ballincollig
Ballincollig boys table tennis team took a well deserved gold medal at this years Community Games and in doing so turned the tables, with clinical efficiency, on Mayo and Cavan, both of who had beaten them last year. In the semi-final against Mayo, Killian Healy, Eoin Hegarty and David Buckley achieved victory with a straight 4 to nil margin.

In the final against Cavan, Killian Healy, Eoin McNally and Mike Spitere produced another 4 to nil result to take the Gold Medal.

WEST CORK SUMMER CAMP - DUNMANWAY 16-20th JULY
The West Cork Summer Camp was held at the Immaculata Sports Hall in Dunmanway, this is the first time that Dunmanway has hosted the annual Summer Camp.

Around 40 children from all over West Cork as well as a number of holiday makers from around Ireland as well as the UK and France took part in the camp that was held over 5 days. The first two days introduced the sport to beginners while the second two days were for intermediate level. 16 were awarded their ITTA 1 Star badges and a further 7 passing their 2 Star. A number of the top West Cork juniors also came together as part of their preparation for the Junior Inter Provincial Championships to be played on September 15th in Dublin.

ITTA PRO Owen Kelly presented the awards during the week. Owen Kelly who is based in West Cork was recently elected as the new Chairman of the Irish Table Tennis Development Committee and this camp was the first in a series that will take place all around the country this season.

West Cork has the largest concentration of qualified coaches in Ireland at the moment and a number were in attendance during the week. Camp organiser Vicky Ridgeway coaches in both Togher National School and Colaiste Carbery in the Dunmanway area. Iain O'Neill who is also from Dunmanway and Ivan Shorten from Kinneigh, who coaches in Scoil Eoin and Colaiste Choilm in Ballincollig, assisted during the week.

On Friday the kids put their newly learned skills into action in a fun tournament. Div.I: 1st Andrea Shorten, 2nd Rebecca Shorten, 3rd DJ. McSweeney. Div.II: 1st Joe Sherlock. 2nd Christopher Ducker, 3rd Joseph Hurley. Div.III: 1st Barry O'Mahony, 2nd John Coffey, 3rd Marie McSweeney.


Back To Top