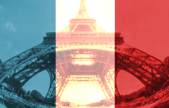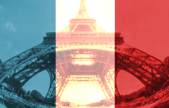 Brian Fitzgerald is originally from Cork and was the Irish No.1 from 1999-2002. In 2000 he moved to Paris, France in November 2000. He found a job and and a club in Paris. He agreed to keep us updated on his experiences away from Ireland and you can follow his adventures in Paris here, in "Brian Abroad." It all starts at the bottom of the page!























Coming to the end of my stay in Paris, this will be the last diary instalment!
Period Covered: 1 May to 18 June

Since coming back from the Worlds, there hasn't been much competetive action for me in France. However, the season here effectively runs from the start of September to the end of June so I have had no shortage of opportunities to get good practise.

Also, as these were my last weeks in Paris, I was determined to make the most of the quality training while I was here. Beauchamp, the team Darren and Andrew play for, won Nationale 2 so are now promoted to the second best league in France. My club for next season, Meaux, were champions of their division and got promoted to Nationale 3. Meanwhile the club where I train, Neuilly, won Regionale 1 so are promoted to Regionale 1. All round it's been a pretty good season for the clubs that I have met during my stay!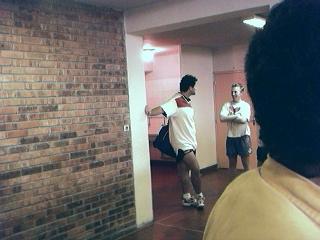 My current French ranking is 313, although that may improve because yesterday I won the Championnats de Paris and ought to get some ranking points for that. I was seeded two for the tournament but the top seed, ranked N° 150 in France, lost to a clubmate of mine (he is ranked N° 980) in the semi final. In the final I beat Franck, thus finishing the season on a good note.

Here is a photo of me and Franck discussing tactics just before our respective semi finals. That's about all my news from Paris, anybody looking for a club for next season should think about coming here, there's no shortage of clubs with money and good players to play against.

If you are interested mail me because there were clubs asking me yesterdayif I knew players: mailto:bfdcu@yahoo.com























Period Covered: 4th March to 1 May
To avoid making this diary too boring, I will not go week by week in the usual format, I'll only describe the highlights over the past few months!

Weekend 4th March 2nd Round of Individuals

Having won the first round in January I had been promoted to Division R2. I played 7 matches during the day and won them all, the highest ranked player that I played was the French N° 652, the standard was still a little below what I expected. However, because of winning I was promoted to Division R1 where there would be many players ranked ahead of me in France and it would be interesting.

Weekend 18th March Irish Training Camp, Hamburg

Colm arranged a training camp in Hamburg for some of the players going to the World Championships in Japan in April. At the training were German Ladies Champion Christina Fischer and a friend of Colm's who plays Bundesliga (and beat Jorg Rosskopf this season) so it was good practise.

Weekend 25th March Bangor Open

4 of us made the trip from Paris to the Bangor Open at the end of March. I promised the guys, Darren Blake, Andrew Hubbard and Trevor Brown a good night out in Ireland and that's why they came. Unfortunately because the tournament dragged on until 1am and Darren was in the final we didn't get one! Alan Cooke (former World N° 29) beat Darren fairly comfortably in the final. I lost to one of the two Chinese players in the last 16, but played reasonably and could have won that match. Trevor lost in the semi-final and Andrew in the last 16 as well...people didn't believe me that these guys aren't even ranked in the top 100 in France!

Weekend 1st April 3rd Round of Individuals

Well, my clubmates were right, the level here really was much better than R2 and D1. In my oroginal group of 4 I beat guys ranked 282, 485 and 760 but they were all tough matches. Unfortunately I lost 22-20 in the third to the N° 275 in the last 16. This was my last chance to get promoted as it was the final Individuals tournament of the season and I had to be in the Top 2 to get up to National 4. That is my objective for next year...after that there is still N3, N2 and N1!

23 April to 1 May World Championships, Japan

I really looked forward to the Worlds this time because I felt we had a strong team that had every chance of getting promoted from Section 3 (teams between 49and 92) to Section 2 (teams between 25 and 48). We started off in Section 3 and won our group of 4 quite comfortably... beating Venezuala, Cyprus and New Caledonia. We then got to play off against a team that came bottom of their group in Section 2 and we were drawn against Bulgaria. This was the worst draw we could have hope for to be honest and we lost 3-0. This was a major blow as we were now consigned to Section 3 for the Championships. After this we picked ourselves up to beat Pakistan and Puerto Rico before losing a very tight match to Portugal 3-2. Colm put in a brilliant performance in that match, beating the Portugese N°1 22-20 in the third after trailing 20-17 when we were 2-1 down in the match. It was really great to be involved in such a good match. Jonny went on at 2-2 but was struggling with a foot blister and never looked like his usual self so we lost 3-2. Jonny could also not make it for our last match against Iceland which we also lost 3-2, Colm also didn't want to play so only played one in that match.

Personally, I had a nice draw in the singles beating an Argentinian and then a player from Macau before losing to somebody from Chinese Taipei in the rould to qualify for the First Round Proper. If I had won that match I would have played Kim Taek Soo, which would have been interesting. However the guy who beat me lost to Kim Taek -3, -10, -9 so maybe I'm glad I didn't play that one. Colm did qualify for the First Round Proper but lost 3-0 to Matsushita there. That was only the second match he lost out of 15, I think he will be Irish number one for a few years yet!























Period Covered: 24 February to 22 March
During the last month, I played two league matches for my club and one match for my company in the Corporate Championships. There was also an individual tournament on March 4th.
As ususal, the training has been really good over the last few weeks. In fact, besides China, I don't think there could be many better places to be for training than Paris. The strength in depth is enormous, my only problem is that most of the good players are professional and thus prefer to train mornings and afternoons. Thus, with work and all, it can be difficult fitting in with their training plans.
We won our two league matches and now look quite likely to get promoted this season. There are three matches left and we need to win two to be promoted, we need to win all three if we want to win the division. As for the Corporate Championships, the level isn't great and we look set to win the 2nd Division this year.
The indivisual tournament went very well, the division (R2) contains 32 players split into 8 groups of 4. All group winners go direct to the last 16 while the seconds and thirds all play off for the right to go into the last 16. It is then straight knockout, with the top 6 getting promoted to R1. I managed to win my division and will now compete in R1 on Saturday 31 March.
There, the standard will be noticably higher again. There are then 4 divisions which are stronger than R1, they are N4, N3, N2 and N1. N1 features players like Legout, Eloi, Varin etc, it's a superb system!

Going back for the Bangor Open this weekend with Darren Blake (ENG), Trevor Brown (AUS) and Andrew Hubbard (NZ)...they are ranked 101, 120 and 160 respectively in France.





















Period Covered: 23 January to 23 February
Having decided that life in Paris was not for me, I now set myself the task of finding a club in France that would be willing to pay for me to fly over from Ireland every fortnight or so to play League matches for them. I knew this wouldn't be very easy, after all my level in Ireland may seem quite good but in France my ranking of 300 told its own story. In fact the week after the Munster Open I played for my club Paris IX in a league match against the French number 480 and was quite fortunate to win 21-18 in the 3rd set. I don't think 480 table tennis players exist in Ireland!!!
However, fortunately for me, there is a considerable amount of money in French table tennis and getting a club willing to agree to my proposition has proved less difficult than I had feared.
About 10 minutes walk from my apartment there is, besides Levallois, another table tennis club called Neuilly sur Seine. Having found the training at Levallois superb, but not very convenient because it starts at 6.30, I was hoping to find another club near my place that I could train in regularly. And, wouldn't you know it, it turned out to be yet another really good club! They train 7 days a week, have 12 tables and a number of players ranked in the top 500 in France as well as a gym too. I liked the place and the players straight away and soon asked if they would be willing to sign me for next season. After a few days of thinking and budgeting I got a positive response and was thrilled!
Next week I play a league match with my current club Paris IX and on Sunday there is the 2nd round of the individual championships in which I will again try get promotion to the next level. This time it will be alot harder though I'd say.
Lastly, my two English speaking training partners- Darren Blake and Andrew Hubbard- are going to come over to The Bangor Open on March 24th. It will be a good chance for us Irish players to measure our level against 2 full-time players ranked in the French top 100!





















Week Beginning 1 January
Levallois was closed for 2 weeks over the Christmas holidays so I had to find other places to train this week. There was an individual tournament on Sunday the 7th of January so it was important to get in some training prior to that. The tournament system here is superb. They are split into categories from Nationale 1 (all professional top 30 in France players) down to Departmentale level which is for club players. I was made start in D1 (having no real French tournament background), so the level was not too high. I won the tournament, so was promoted to Regional 2 for the next round of tournaments in early February. There the matches should be more interesting.

Week Beginning 8 January
Fresh from that successful tournament I was quite keen to practise this week because now I have a goal which is to qualify for Nationale 4 Singles by the end of this season, it will require a lot of work. Played a league match with my company this week in the Corporate Championships. As usual, the facilities were perfect even though the standard was quite poor. I also played in the Championnats de Paris for my club Paris IX this week and we won that much too. All in all, a successful week!

Week Beginning 15 January
Monday night went training in Paris IX with Darren Blake and a New Zealand international called Andrew Hubbard who has just arrived here and knew me because his wife went for the same job interview as I before I came to Paris...small world! It was fortunate because he is a very good player and it also helps to have a network of English speaking friends. On Tuesday I brought Andrew to Levallois, the club I normally visit Tuesday and Thursdays and as usual the standard was really good but the atmosphere is a bit intense. A lot of other players here had told me that about Levallois and last night was my first time coming away thinking I might not go back there. On Wednesday I went training at Beauchamp, the original team I was supposed to play for, with their first team. I really like practising there because the standard is high but the atmosphere is still friendly, unlike Levallois. Thursday I went training just with Andrew in my club, Paris IX...his level is quite good and practising with players like him 4 or 5 nights a week is the reason I think my move to Paris is worthwhile!





















Week Beginning 3 December
I had planned to take a bit of a break from table tennis after the Leinster Open to enable myself to devote some more time to work and exploring Paris. However, I must say I was very disappointed with the way I played in Dublin so decided instead to continue training right up to Christmas. I have a new training schedule, which fits fairly well with my working week:
Monday 8-10 with Paris IX
Tuesday 7-9 with Levallois
Thursday morning 8-9.30 with Paris IX
Thursday 7-9 with Levallois
Matches at the weekends
This was my first week of putting the system into practise and it was quite good. It strikes the right balance between playing enough to improve greatly but at the same time allowing enough spare time to work, study and live.

Week Beginning 10 December
The training plan as outlined above describes how the week was spent. Given that I now know I cannot play in the Championnats de France until next September I have decided to play in the Championnats de Paris with Paris IX. This is a league just for the Paris region but the level is still quite strong with a number of players in the top 200 in France participating. The regulations for playing in this league are slightly more relaxed and that is why I will be allowed play. Unfortunately, our next match isn't until January 12th. Also, I will be able to play for my company AXA in the Championnats Corporatifs as well as play in the Individual tournaments so I should get enough match practise after Christmas.

Week Beginning 17 December
I went to see Levallois play in the European Champions Cup at the weekend. There were about 2,500 spectators there, which was pretty good for a table tennis match. Unfortunately they lost 3-1 against a German team called Greznau, I knew that training on Tuesday would be more difficult than usual after that...the Levallois coach does not like losing!! Also, this week, I received my ranking in France...it is 300. Which, from the practise I have had against people ranked from 50 to 800 I would say is about right.

That is all the news from Paris and I am going home to Cork for the holidays so talk to you in 2001 and happy Christmas!!























Monday 20/11/2000
This weeks training started off really well, I went to Beauchamp and took part in a training session with their 2nd team...as it turns out the 1st team trains on Tuesday, Wednesday and Thursday. The practise was good, we did exercises for about an hour and a half and the coach made sure that they were pretty intense. Afterwards I hung around for some matchplay with a couple of first team players who showed up to get in some extra training before our match on Saturday. This was really good because just playing for an hour against one of those players is a real lesson, they don't make any mistakes!!
Wednesday 22 /11/2000
I decided to visit one more club on Wedneday night, becuause Beauchamp is about 45 minutes journey from my apartment I am not really able to make it out there after work more than 2 or 3 times a week so I am still looking for an ideal 'Practise' club. This club plays in the French Nationale 2 Division, which means they are quite strong and they certainly had between 8 and 12 players of a good standard. The practise was good but it was almost all matchplay and there was no coach which was unusual for a good French team. what's more, they were still using the 38mm ball which made the matchplay very difficult.
Thursday 23/11/2000
Found out that I am not allowed play for Beauchamp on Saturday!! The French Federation declared that I arrived too late to register in time to play for any team in the French National Champ's this year. To say that I was upset would be a bit of an understatement! Beauchamp told me that they would appeal the decision and it is currently being considered. Our Number 2, a Swedish player, was also told that he has played his last match for Beauchamp because he broke the French rules by playing in the Swedish league at the same time as in France.
Saturday 25/11/2000
We lost 11-9 to Beauchamp, which wasn't a surprise given all that had happened during the week, in fact it has been a terrible week for the club.
Sunday 26/11/2000
Training on Sunday morning, still a bit upset about the current situation but at least I am getting good practise I guess.























Monday 13/11/2000
Following on from my visit to Beauchamp last week, when I decided they were the team for me, I returned on Monday evening to train with the Number 4 on their team in a sort of trial session. In the French Nationale 1, there are 6 players on a team so I knew this would be a good chance to evaluate my standard against an "average" Nationale 1 player. We trained for an hour or so under the coaches supervision and, even though I lost 2-1 in our match at the end, they must have thought my standard was reasonable because they tole me to return to the club on Wednesday for a team photograph for the local press! I was delighted because I came to France primarily to play TT and now I am set to play in a league which features international players from England, Hong Kong and New Zealand.
Tuesday 14/11/2000
Visited a club called Paris 13 for training on Tuesday night, this was the last club from my original list of ones worth visiting that I had not been to yet. They play in Nationale 3, so the standard is quite good and the cinditions were superb as usual with 23 tables!! All French teams outside Super Division and Nationale 1 still play with the 38mm ball, so they were still using that ball here which made training a bit more difficult. They had some good players, their best being ranked about 600 in France which would make him roughly the same as a top player in Ireland.
Wednesday 15/11/2000
Back to Beauchamp for the photo shoot and training with the club's ladies team because none of the other guy's wanted to train. Beauchamp ladies play in the Super Division which means they are very strong... I was training with the Number 22 Ranked lady in France and I would not fancy playing her in a match! Our next match is on Saturday 25th of November against a team called Dijon, who are fairly strong. We are away, which means a journey of around 300km just to play a league match. The Number 2 on our team, a Swede called Adam Razberg, may be ineligible for this match and for the rest of the season because he has been playing for a team in Sweden as well as in France this season. This is completely against French rules but Adam had thought that nobody would find out, in fact a Swedish player from another French club side reported him to the French association.
Thursday 16/11/2000
I returned to my "original " club Paris IX tonight for training. It is a nice club, with alot of reasonable players and a good atmosphere so I am going to continue to train here 2 or 3 times a week as it is much closer to my apartment than Beauchamp is. As for Beauchamp, they don't mind where or when their players train as long as they win matches! I'll let you know how our match on Saturday goes in next weeks report.
10-11-00
Been in Paris for about 5 days now and I must say I was very nervous and lonely when I left Cork Airport last Sunday. However it is often said that sport is a great way to meet new friends and it has certainly proven to be true in my case. Before I left Cork, I printed off a list of TT clubs in and around Paris from the internet, and during this week I have visited a number of those which I figured would be the best.























On Monday I visited a club called Paris IX. The facilities were absoloutely outstanding and the people very friendly. However the standard was not quite as high as I had hoped to find. Incidentally, they offered me a contract to play immediately for them but I didn't like the way they were rushing me so I said no. This was just as well because Jonathan Cowan subsequently informed me that any such contract would have tied me to the club until September 2001, so not everybody was as nice as they seemed at first! This club is near to where I live so I have asked if I can practise there if I play with a team in a different division to their team and they had no problem with this, so they weren't all bad.

On Tuesday I visited a different club in Paris and once again the facilities were superb although they "only" had 12 tables!!! This club also offered me a contract but again I managed to delay having to make a decision. By now, you can probably see, there is alot of competition within Parisien clubs for players as they all want to get promoted from their Regional leagues to the National league.

Wednesday I decided to take a break from trekking around Paris and training and it was to prove a good decision. I made a few phone calls and got in touch with a very good team on the outskirts of Paris called Beauchamp. They play in a league called Nationale 1, which is the second best in France after the Super Division. On Thursday I visited the club for some training and was pleased to see a familiar face in the form of Darren Blake an English player who I came across before when we were Cadets and Juniors. This team also has a player who picked up a Bronze Medal in the World Champ's in 1985 so I knew I would certainly get superb training here. The facilities are superb with 8 tables in a really nice hall. Hopefully I can get myself a place on the First Team!!

09-11-00
That is sorted so! At the moment I'm living in a hotel which is nice but I'd like my own place. I will soon send you an e-mail on the TT in Paris, but not yet because I have visited 3 clubs but the 1 I am going to tonight is the 1 I hope to end up playing with because I have heard it is really really good (not that the others were bad!).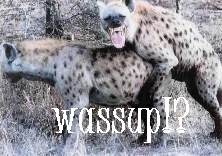 Paris Night Life?