Sowing the Seeds
A Profile of Coach Ivan Shorten by Owen Kelly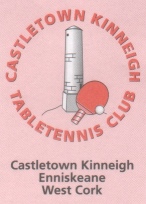 Blink at you might miss the small West Cork village of Castletown Kinneigh. Located on the road between Coppeen and Enniskeane it is well off the main routes for those who venture into the west from Cork City. Famous for its round tower, Kinneigh also has a good reputation for GAA within the locality. For those of you who have seen the film Broken Harvest, the stern looking man sat at the bar, sipping his pint, with the flankers ears, is better known to many as one of the most dedicated table tennis coaches in Ireland.

Ivan Shorten became involved in table tennis when the local Mrs Giles, Chairperson of the Kinneigh club retired. Ivan almost fell into the role, not because of any personal history in the sport but because he recognised the important role that this community based club had in providing opportunities for the local kids in his area.

Table Tennis had been a bit of a hobby but his sporting life had mainly been dedicated to rugby. Rugby is not a sport one can play as one gets to a certain age. His gained some of his coaching experience through playing and coaching at Bandon, Cork Constitution and Dunmanway as well as captaining the Munster B's be he realised it was time to try something new.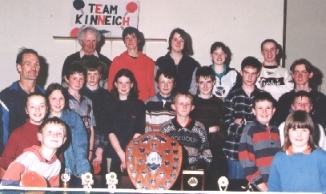 Ivan is a true competitor and a lover of sport in general. He won his first of twelve All Ireland titles with the Ladies GAA Football team and is as happy on the pitch and putt course as he is overseeing his young charges at the table. His dedication to sport has also extended beyond the role of a coach to that of an organiser and was involved with developing the excellent facilities at Dunmanway Rugby Club. Once he turned his attention to developing the Kinneigh TTC it was not long before a new extension was built and the club moved from a successful one table venue to a more established club with its present 4/5 table capacity in 1988.

Even prior to the extension Kinneigh dominated the local Interparochial league at junior level with individual successes at U12, U14 and U16 levels. However with the new extension it was not long before it started to attract an even higher standard of player. In a bold move they brought in an outside coach for the first time and laid the foundations for a remarkable series of successes.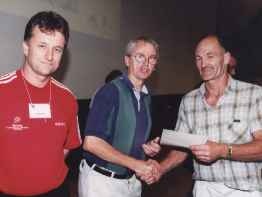 Never one to sit back on what had already gone before Ivan put himself forward and was one of the first coaches to qualify as an ITTA Level 1 Coach. Along with a number of other West Cork based coaches the standard and participation of the sport began to grow. Kinneigh opened its doors to players from all over the area acting as a "hub" club and then it quickly established itself as the premier training facility in the region.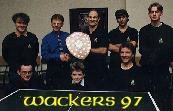 In 1996-97 on the back of this development the West Cork Wackers became the Cork County League Champions, five out of the seven players have gone on to represent Munster and West Cork currently has 13 qualified coaches.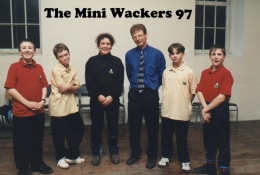 The U12 mini-Wackers played a number of matches and two out of the four on that very first U12 team have now qualified as Level 1 coaches! In the same year Kinneigh produced its first junior Munster player when Emma Jane Helen travelled to Connaught to win the first of her 8 junior Interprovincial caps. She also became the first Kinneigh player to win an International Schools Cap and was soon joined by Ivan's daughter Andrea.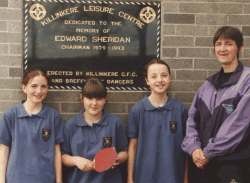 The Kinneigh club has never looked back with its first Munster U21 cap in 1998. Ivan's wife won her first Munster Cap as U12 Girls NPC and went on to hold the Munster Open Veteran's title as well as gaining a place on the Munster Veteran's team. At that time Kinneigh held the No.1 Ladies Veteran spot as well as the U12 Girls spot, bridging the generation gap. As Ivan points out the Kinneigh Club is built on the principle of the family and the community and it has successfully reached out to both.

There is always a driving force behind any club and Ivan Shorten has fulfilled that role for many years now and as the old adage goes behind every great man there is a great woman. Ivan would be the first acknowledge the huge support he has had from all his family especially his wife Ina. Ivan was not alone in his quest for developing the club into the dynamic enterty it is now, Sarah Duke, who died recently was a great supporter of the club contributing much to their success.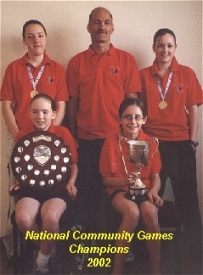 As anyone knows who lives in the countryside trying to run a dairy farm is a full time business and juggling the farm and the ever increasing demand that his table tennis coaching has presented has been one of the biggest challenges facing Ivan and his family. Ivan had to turn down playing for Munster on a number of occasions, as Ina's position on the team was crucial for the team's participation. However he eventually realised his ambition at the senior Interpros when they were held in Killarney.

But it is as a coach that Ivan has excelled, he has taken school teams to a remarkable 11 All Ireland titles and that includes one for Bandon Grammar in the U13 girls. This was particularly special for Ivan as it was the first and currently only All Ireland title that a West Cork school has claimed, add to this the fact that his daughters Andrea and Rebecca were both involved in the victory. The National Community Games title in 2002 was yet another title to add to the expanding list.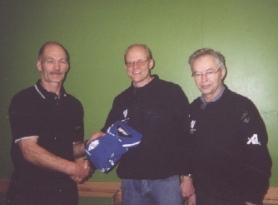 It is with Ballincollig Schools Scoil Eoin and Colaiste Choilm that Ivan has delivered All Ireland Schools titles over the last few years. He recounts that his trip to the ISF World Schools Championships in Slovakia in 2002 was one of the many highlights of his career so far. Others include his trip to Sweden with a Cork squad of players and a number of trips to the Goudelin Club in Brittany, he is rightly proud of the special relationship between the two clubs. As well as developing a relationship with the very strong Cippenham Club in the UK and the Hayes family'sw West cork connections.


I was lucky enough to travel along side Ivan to Slovakia with the St. Angelas girls'. From a personal point of view his ability on the table, as well as his ability to cross the cultural barriers with the coaches and player from various countries was a credit to himself and to Irish table tennis in general.

I personally do not understand why as one of the most successful schools coaches that Ireland has ever produced, he has never been given the opportunity to bring his individual style and experience to captain an Irish schools team? It would be a true and worthwhile investment in the future.

Ivan continues to dedicate himself to his coaching and is always first to take up any opportunity to learn new skills. He is a qualified Level 1 SAQ Coach; he has attended first aid courses, code of ethics courses as well as trying to attend most of the National Coaching Forums when farming would allow. Currently he is the Munster Participation Director and gives freely of his time to the training camps in Cork. Within the world of administration he has been an active member of WCTTA, Church of Ireland League, the Munster Branch for many years and has been the Munster representative on the ITTA Board of Management. There can be few that have given more.

The Here and Now
So here we are in 2006 and Ivan has stepped up yet another gear over the last 12 months. Ivan is a now the second full-time table tennis coach in West Cork working in a number of different schools. Just last weekend he took an U13 Scoil Mhuire girls' team to Meenkilly in Limerick and will have yet another charge along with the U13 boys, U15 boys and U18 boys Munster schools teams at this years All Ireland Schools finals. Locally he looks after Coppeen, Munster NS Mixed Champions, Tirelton NS, and Bandon Grammar and along with Vicky Ridgeway Maria Immaculata in Dunmanway. I have probably left a number of others out, it is difficult to keep up with all what he does!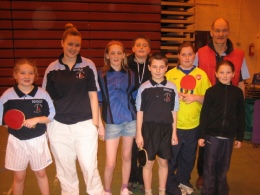 As Head Coach of Kinneigh he has what he describes as an "unhidden agenda" when it comes to Munster Rankings, as the vast majority of the underage players playing for the clubs in Cork are also coached by him in their schools! At Munster Rankings he is clearly in the Kinneigh corner and respected for it, even though he makes time for any parent or player even from outside his club or school. With a new structure in place for Kinneigh he has brought in some of ex-juniors to coach in the club. It was not by accident that the last Level 1 Course was held in Kinneigh and it was Ivan Shorten who assisted me on that course. If what I saw on the course was anything to go by those ex-juniors, Alan Hurley, Emma Jane Helen and his eldest daughter Rebecca Shorten could prove to be yet another asset to the Kinneigh Clubs every increasing development.

At the last Munster Ranking in Ballincollig Kinneigh club players were involved in 5 finals at U21, U10 Boys, U12 Boys, U12 Girls and U14 Girls. And that all achieved with current U14 No.1 Sinead Hennessey in bed with flu!

With all this success and ever increasing number at the club I had to ask the question what was his biggest disappointment. After some thought he revealed that the failed attempt by Colaiste Choilm to gain their fifth All Ireland title in a row.

This of course was due, not to the performance or the result of the competition but to being left stranded in Cork by Aer Aran as they cancelled the flight to Belfast at the last minute. Not being able to find another flight even via the UK I can only imagine his level of disappointment. He pointed out to me that his disappointment was for the players and even though he thought that flying up was in the best interest of the team, he learnt a lot from that experience! Still I say the bus or train could have broken down as well.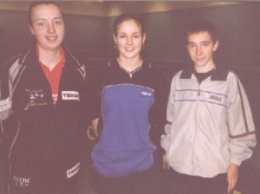 On a personal level he feels very lucky to have had a daughter who represented Ireland on a number of occasions but has some regrets over her early retirement from the game at that level. Some of this was brought about he feels through a lot of the psychological problems faced by young players in the game. As a result he feels that the ITTA should do more in regards to looking after young athletes. The NGB has made some attempts over the last few years in this regard, spurred on by initiatives directed through the ISC. He feels there was very little done in regards to catering for the individual needs of young players. The ITTA have encouraged the appointment of Children's Officers but they are usually just volunteer parents who have attended minimal training who try their best but have limited experience in regards to needs of a young table tennis player and the demands put upon them. There is a lack of continuity as they often leave after a year or so. On a high note he is delighted to see Andrea back in the sport and as the current Munster No.1 U17 she is likely to be selected for the Interpros this season.

"If I had 6 fingers maybe I could cope better, I have to wear too many hats in order to move things forward. We need to address the volunteer issue as a major priority."

Ivan when pressed about other problems he has to face sites the lack of opportunity to input into meetings without having to travel large distances and personal expense. He believes there is a lack of communication between the grass roots, the backbone of the sport and those in the NGB.

"It is just not possible to implement the national strategy without communicating with the coaches on the ground."

Coaches like Ivan are at the coalface of the sport and Ivan feels as many I've talked to that he is isolated and under supported in his efforts from those "on high."

"I believe there are too few opportunities for coach education, it should be given the highest priority." Over the last couple of years we have seen developments in the area of performance but within coach education and participation things are just not moving forward. "The NGB should be doing more in this area."

"We all acknowledge that we need more parents involved and it is being left to the coaches to do this. That is just another hat for coaches to wear. I don't have a problem with getting kids involved in the sport I just can't maintain high standards at the same time, I don't feel this has been addressed and it is fundamental if we wish to see table tennis developed."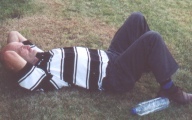 However Ivan is not one to stay still for long. He is the driving force behind the bold plans for the future of the club. "Planning permission, the land and the architects drawing have nearly come together and we hope to have everything together by 2007. I feel confident that finance will not be a problem as the community is getting on board."

Looking back to the last expansion and the results of moving from 1 table to 4 are there for all to see. I think the Kinneigh TTC maybe unique in Ireland, as they already own their own building and land. Just what could be achieved when the club is able to provide purpose built modern facilities in an area where table tennis is expanding at an alarming rate. In the first 4 weeks of opening the new club in Bantry it has 50 members, Skibbereen TTC has broken the 30-member barrier and a new club is due to open in Goleen in 2007. 4 new school-coaching schemes are also set to come on line in September.

As acting Chairman of the West Cork TTA, I can point to the fact that over 20 schools have participated in the WC Schools Cup and we expect that to rise again this season. It is hoped that the Kinneigh TTC will resume its role as the West Cork Centre of Excellence and we are rolling in 100% behind Kinneigh's ambitious plans for expansion.

Kinneigh is a long way from the table tennis heartlands of Dublin or Belfast and has been treated as a wilderness. However what the club and its members have achieved is remarkable by anyone's standards. The driving force behind those achievements is its Head Coach and Chairman Ivan Shorten and many, many players, parents and schools outside of the small village of Kinneigh have also benefited from the commitment, dedication and skill of a remarkable coach and table tennis lover, Ivan Shorten. As Head Coach for Munster Special Olympics I am especially delighted that Ivan is expanding his interest in the sport even further as he is soon to start work at Cope in Clonakilty.

I am sure there are others out there working away, putting in many long hours both at the table and in meetings. Lucky for West Cork and me we have Ivan. If you know of anyone who you feel deserves to be credited for his or her efforts in your corner of the country. Success does not have to be measured solely by match results. Why not drop me a line or even write me an article and lets try and appreciate what we have.

Email: owen@ttireland.com